Hello friends,
I'm here today again with an amazing blog which is a marvelous city of Punjab Pakistan. The city name is Rawalpindi and it is an amazing city.
Image Credits: http://i.dawn.com
Dear friends, Rawalpindi is very beautiful, ancient and lovely city which contains hundreds of old buildings connected with Mughal empires and old people of the subcontinent.
Before I proceed, I would like to tell you some initial historical background of Rawalpindi.
Image Credits: http://www.hcs.com.pk
History:
Rawalpindi city is explained in following words by Wikipedia.
The word "Rawalpindi" consists of two Punjabi words; Rawal, and Pindi. The origin of the name may derive from the combination of two words Rawal, meaning "lake" in Punjabi, and Pind, meaning "village." The combination of the two words thus means "The village of the lake". Other sources have posited a Sanskrit origin of the city's name
Image Credits: Wikimedia.org
So we can understand very clearly the meaning of Rawalpindi. The city is connected with Islamabad which is the capital of Pakistan. The Rawalpindi city is very old and ancient and has an amazing historical background. It was also known as Fatehpur in old times.
Image Credits: https://www.jovago.net
Rawalpindi is also very close to Taxila city which is also a historical hub of Punjab. Rawalpindi got the boost when Islamabad capital city was established. Now Rawalpindi has become a cultural and historical hub of Punjab. The Buddha fasting which is displayed in a museum of London was first discovered in Rawalpindi.
Rawalpindi got so much popularity due to Islamabad which is the capital of Pakistan. Rawalpindi and Islamabad are connected with each other now. Both cities are very close to each other and the distance is also no more due to Metro Bus. Metro Bus connects the major stops and shopping areas of both cities and ticket of this bus is also very low. Now everyone can travel in it and can reach anywhere in both cities.
Image Credits: http://www.johnthemap.co.uk
Dear friends, here now I will tell you some major shopping areas of Rawalpindi.
Raja Bazaar:
Image Credits: http://citypictures.org
Raja Bazaar is one of the main and major areas of Rawalpindi which has many shopping malls and shops. Raja Bazaar contains many shops of clothes, hosiery, and electronics. This area is very popular and the majority of whole sellers are located here. Raja Bazaar has several ways to go there. You can either go through Murree road or you can choose Bank Road from Sadder. You can also go from Liaqat Bagh Chowk. There are many old buildings and old markets here. Major markets are Sarhad Plaza, Imperial Market, Bara Bazaar, Sabzi Mandi and Machli Mandi bazaar.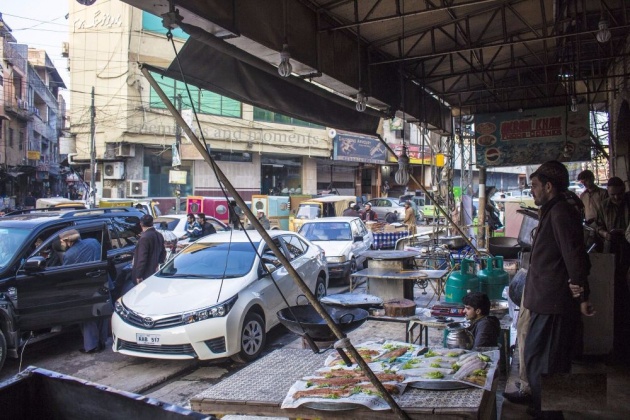 Image Credits: http://cheflingtales.com
Image Credits: http://iksaconstruction.com
Sadder is the busiest area of Rawalpindi and this area has many commercial and non-commercial markets. Sadder is also popular because it contains Bank Plaza and Bank road. On bank road, you will find almost all branches of banks which are in Pakistan. Sadder also has a good market for vehicles and their parts. The Chandni Chowk is also located in Sadder where you can find Dubai plaza. Dubai plaza is the very popular market of computers and mobiles and almost major whole sellers of computers and mobiles are working here. Dubai plaza is very active and famous market which remains open late night. The lights are the rush of people explains its beauty. Majority of local businessmen go there to fetch the accessories and computers for their shops.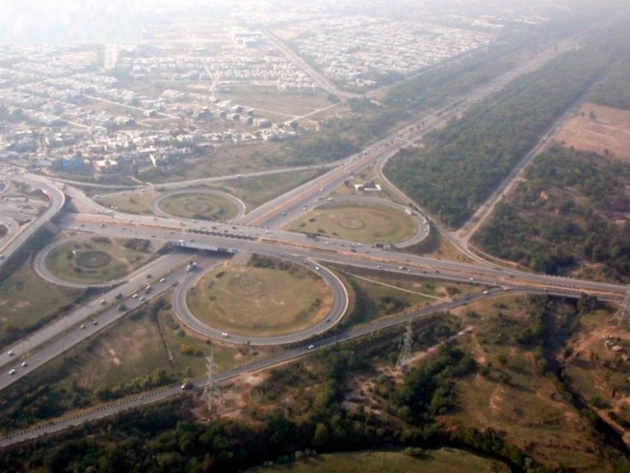 Image Credits: http://static.panoramio.com
Faizabad is a main stop of Rawalpindi which popular due to Bus stand and automotive workshops. Faizabad is also very popular because it connects Rawalpindi with Islamabad the capital city. Faizabad has also a major market where you can buy second-hand clothes and dress coats. Mostly Pathans are working here and they will treat you very well. Faizabad is also popular because Pakistan motorway M2 is very close from here and most vehicles go through Motorway from here.
Sawaan Bus Stand:
Image Credits: http://static.panoramio.com
Sawaan bus stand is very near to Rawat and it is located on G.T road Rawalpindi. Sawaan is also a very popular and active bus stand. The local transport is found mostly here which comes from G.T road. Sawaan stand is very near from Rawat and it is almost starting point of Rawalpindi. You can go to the Sadder right from here very fast. It is very beautiful stand and has a huge capacity. Vehicles go to Lahore, Chakwal, Gujarat, and Gujranwala and to other places from here. There are separate stands for every location here and you will find a signboard for each category.
Marrir Hassan & Marrir Chowk:
Video Credits: Jamal Ahmed Channel via Youtube
Marrir Hassan and Chowk is located on Murree road and very close point from Sawaan bus stand. Here is a metro bus stop and you can take ticket right from here. Pakistan Army offices and camp is also here and you can go to their base right from here. Marrir Hassan is a beautiful point and roads are also very fantastic because mostly Army uses these roads for passing by their camps.
Sultan Khoh (Sultan Point):
Video Credits: Rehanmedia1 Channel Via Youtube
This place contains only vehicle points, accessories and old vehicles. This place is very popular in our whole area of Punjab and we go there to find old parts for our vehicles. You will find many types of old and new parts of wholesale rates. There are several whole sellers here which will give you mostly all types of parts which are used and new too.
I think I should stop by blog here because I have to attend a party today. Dear friends, Rawalpindi has the major market of all items and you can have a great shopping here.
Thanks for reading my blog today and I will be waiting for your comments and suggestions on my blog. Thanks for your kindness and keep on visiting for future posts like this.
Best regards
Asad Munib
© All right reserved