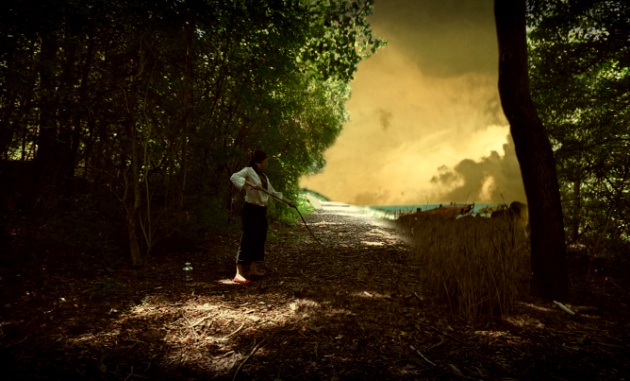 I'm not entirely sure I'd call it a reboot - but it feels like one. I've been working on my feature film TITANIA for the last 6-7 years. Along the way, I've had many hurdles to jump, some tragic, some nonsense... I've done test shoots, a short film prequel, several photo shoots, convention booths - all in the name of developing the project and building a base of resources to get the feature off the ground. In the process, I ended up confusing a lot of people.
Recently, several friends have asked me when they can see the film, they were under the impression that I had filmed the feature already, when in truth, I have yet to film one scene. In recent months I've pulled back a bit to reassess my approach, and somewhat took it off the radar. With the script rewrites I did last year, some of what we've filmed for TITANIA no longer makes sense to the project. So, I needed to come up with a way to 1. reintroduce the project to people who have been following it for 6 years, 2. keep those people from experiencing "Titania Exhaustion", and 3. find new audience members. All of this leading to investors. It's not easy to get a feature off the ground, particularly when you're temporarily living away from your home city where all your connections reside (as is my case).
But here is where I can start to get creative. As we develop the feature length version, I can step back and wipe the slate clean a bit. My first idea was to let everyone know where the project stands: The feature length version in development.
Then how to do it? Visually, simply, and hopefully hook them.
So, I introduced a character in the film I've never shown to the public before - Britomartis (she also happens to be my character!) - something fresh for them to take in. She is the ferry captain who brings Titania into exile. A hundred years ago (when the film takes place) I figure a ferry captains life was on the water or near it, at the dock, waiting for the ferry to take her shift - and there it hit. I decided that Britomartis would reflect what stage of production I'm in. She is waiting for the ferry, to take her shift, as we are working on getting production afloat (please forgive the metaphor). This video runs on a loop, and will change periodically, depending on what is happening with production. For instance, when we get funding for the Winter Scene, she can see the ferry and walk toward it. (Getting closer)
The idea was inspired by my "Witch, Bride, and Bone" series that I started in 2012. It asks the viewer to participate and create theirr own story. (Not unlike Eren Gulfidan's "Refresh The Movie" - which I love) I hope that viewers will check in on her periodically and see what she's up to - in turn seeing what we're up to with the production; like putting pieces of a puzzle together that will lead the audience to the bigger picture - quite literally!
You can see what Britomartis is doing right now at: www.TitaniaFilm.com
Lisa