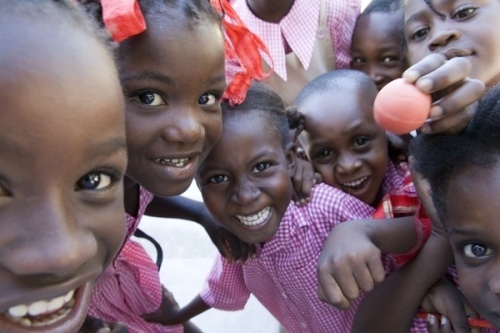 Two years since the catastrophic earthquake in January 12, 2010, devastated Haiti destroying millions of lives, the country is still struggling and reconstruction continues.
Education is the ticket out of poverty and the hope for Haiti's next generation. Getting children back to school in a nation strangled by poverty and lacking safe school buildings has been an ongoing challenge to the recovery of the country.
Rebuilding Haiti means rebuilding schools and educating it's children.
Education for All is a government run World Bank co-financed program aimed to provide every child an education. It is currently benefitting more than 405,000 Haitian school children. The World Bank financing has provided school waivers for 210,000 disadvantaged children giving them access to education. The program also provides 70,00 hot lunches each day and health services for children in need.
The World Bank is also taking disadvantaged young Haitian men and women and training them in a three-year intensive program to become primary school teachers. The goal is to have 10,000 teachers by 2015. Young adults are gratefully seizing this opportunity not only for their own employment but because they see the special role education plays in healing
their country and educating the next generation.
Two years after one of the most horrific natural disasters of our time, Haitians together with the help of the world community, are rebuilding their lives one child at a time.
by Wendy Sachs