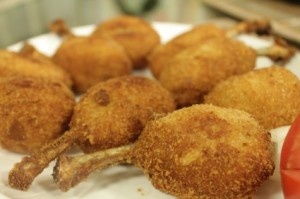 RECEPIE OF BADAMI DRUMSTICKS
Today I will share with you recepie of "Badami Drumsticks".It is a very easy and quick recepie.You can enjoy it at tea party or at iftar also, as the holy month of ramadhan is coming so do try this recepie and enjoy.
INGREDIENTS:
Wings drumsticks: 8
Ginger garlic paste: 1 tsp
Salt to taste
All purpose flour: 1/2 cup
Corn flour: 1/2 cup
Baking powder: 1 tsp
Black pepper: 1 tsp (crushed)
Mustard powder:1 tsp
Soya sauce: 2 tbsp
White vinegar: 2 tbsp
Bread crumbs: 1 packet
Almonds: 20 – 25
Egg white:s 3 (beaten)
Oil to fry

METHOD:
First of all take a pan and add ginger garlic paste.salt and drumsticks.Cook it till all of its water is dried off.
When water is dried,take out the drumsticks and add soya sauce and white vinegar on drumsticks.
Then take a dish and add corn flour, all purpose flour, baking powder, mustard powder and black pepper in it and mix all these well.Roll the drumsticks in te mixture.
Add the almonds in bread crumbs
Then dip the drumsticks in egg white and coat with bread crumbs.Deep fry the drumsticks in oil till they get golden brown.
Garnish the drumsticks beautifully and serve with ketchup to your loved ones and enjoy.
Badami Drumsticks are ready to eat.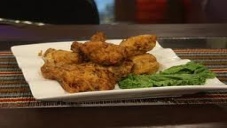 Thank you.
Written by: BRIGHT AQUA
Blogger at Filmannex