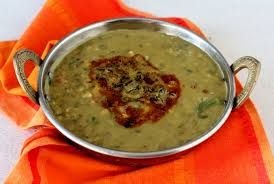 According to Indian tradition if food in festival is not good then festival gets spoiled. Festival Special Dish Today we will tell you that you can make easily and quickly.
Amritsari Dal
Recipe:
For Dal -
1 cup urad dal with skin
1/4 cup chana dal
4 to 5 cups water
For tempering (Tadka) -
5 green chillies
1 finely chopped onion
2 teaspoons finely chopped ginger
2 teaspoons finely chopped garlic
1/4 teaspoons red chilli powder
2 spoon oil / ghee
Salt according to taste and coriander leaves to decorate
Procedure :
Place the washed dal soaked in water for 4-5 hours. Then in the pressure cooker, mix lentils, water, turmeric powder and half-half teaspoon finely chopped garlic-ginger powder. Leave it to cook on low flame until soft. On the other hand in a pan heat ghee/oil and find a choppy cumin. Add onions and fry until golden. Now chopped green chilies, add remaining ginger and garlic, and fry for a minute. Mix red chili powder with chopped tomatoes. Add ready mixer to the cooked lentils and let it boil. Add salt and stir the lentils 4 to 5 minutes. Amritsari dal is slightly denser, so let the lentils thicken slightly. Garnish the pulse with the butter and coriander and serve with paranthas(Indian Bread).