CINNAMON CHIP SCONES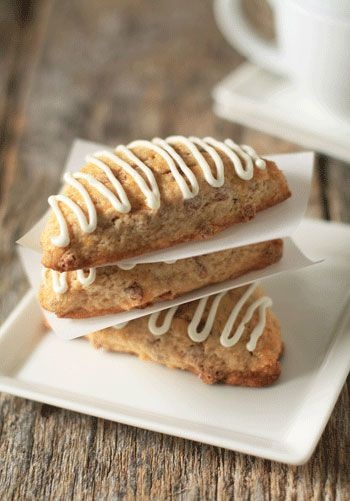 INGREDIENTS:
For the Scones
1 cup sour cream
2 teaspoons pure vanilla extract
1 teaspoon baking soda
4 cups all-purpose flour
1 1/4 cup white sugar
2 teaspoons baking powder
2 teaspoons cinnamon
1/4 teaspoon cream of tartar
1 teaspoon salt
1 cup butter; very cold cut into pieces
2 eggs
1 cup *mini cinnamon chips
optional egg wash
1 egg beaten with 1 tablespoon water
For the Cream Cheese Glaze
1 (4 ounce) package cream cheese, softened
1 tablespoon butter, softened
2 cups confectioners' sugar
1/2 teaspoon vanilla extract extract
2 tablespoons milk
DIRECTIONS:
For the Scones
1. In a small bowl, blend the sour cream, vanilla and baking soda, and set aside.
2. Preheat oven to 350 degrees F. Lightly grease a large baking sheet or line with parchments paper.
3. In the bowl of your food processor, place the flour, sugar, baking powder, cinnamon, cream of tartar, and salt. Pulse a few times to incorporate. Add in the butter and pulse until butter is in pea-sized pieces.
4. Add in the sour cream mixture and eggs into the flour mixture and pulse until just moistened.
5. Remove scone dough from the food processor and into a bowl, fold in cinnamon chips.
6. Turn dough out onto a lightly floured surface, and knead briefly. Roll or pat dough into a 3/4 inch thick round. Cut into 12 wedges, and place them 2 inches apart on the prepared baking sheet. You can easily shape these any size you want.
7. Optional: Brush the tops lightly with egg wash.
8. Bake 13-16 minutes in the preheated oven, until golden brown on the bottom
For the Cream Cheese Glaze
1. Mix the cream cheese with the butter, confectioners' sugar, vanilla extract, and milk in a bowl.
2. Drizzle over cooled scones in any fashion you choose, I used a pastry bag with a Wilton #3 tip to achieve the look shown in the photos.
NOTES:
- If you cannot find mini cinnamon chips, simply chop the standard cinnamon chips to make smaller pieces.
- No food processor? Simply cut the butter into the flour mixtures using a pastry blender.
- You can also freeze your butter in whole sticks and grate it using the large holes of a box grater; this will allow you to incorporate the butter into the flour mixture without too much effort.