OREO CUPCAKES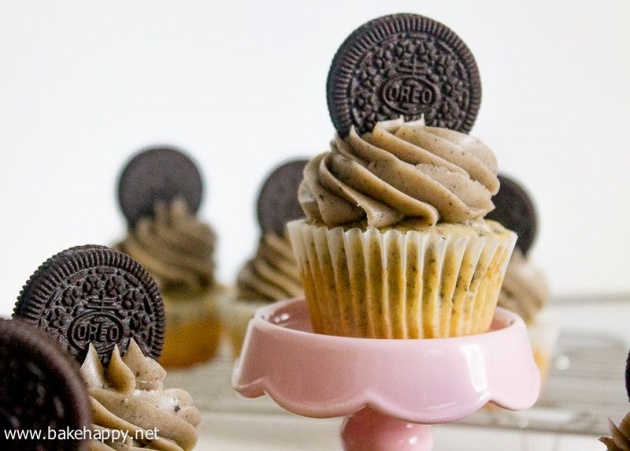 FOR THE CUPCAKES:
1 3/4 cup all purpose flour
1 tsp baking power
1/4 tsp baking soda
1/4 tsp salt
1/2 cup butter
1 cup sugar
2 eggs
1/2 cup milk
1/2 cup yogurt
2 tsp vanilla extract/1 vanilla bean
1 cup crushed Oreos
FOR THE FROSTING:
2 cups powdered sugar
1 cup unsalted butter
1 tsp vanilla extract
1 tbsp milk
1/2 cup crushed Oreos
16 Oreos as toppers
METHOD
Sift together all the dry ingredients, flour, baking powder, baking soda and salt - the dry ingredients.
Cream together butter and sugar until light and fluffy. Then add in the eggs one at a time.
Mix together the yogurt, milk and vanilla extract - the wet ingredients.
Add in one third of the dry ingredients and then add in one half of the wet ingredients.
Repeat step 4 untill all our combined. Just barely mix, until you cannot see streaks of flour in the batter. Fold in crushed Oreos.
Line cupcake pans with cupcake liners, the batter will make 16 cupcakes. Fill each 3oz sized cupcake liners with 1/4 cup batter.
Bake at 350F for 15-18 minutes or until golder brown. Let the cupcakes cool to room temperature.
To make the frosting, mix together butter, vanilla extract and milk. Sift the powdered sugar and add to the butter mixture slowly. Fold in crushed Oreos. Pipe frosting into the cupcakes. Top with Oreos.