If you want cookies that will impress a mob of people and get them on your good side, these are those cookies. These Peanut Butter cookies are packed with peanut butter flavor and Reese's Pieces making them the perfect cookie for any peanut lover.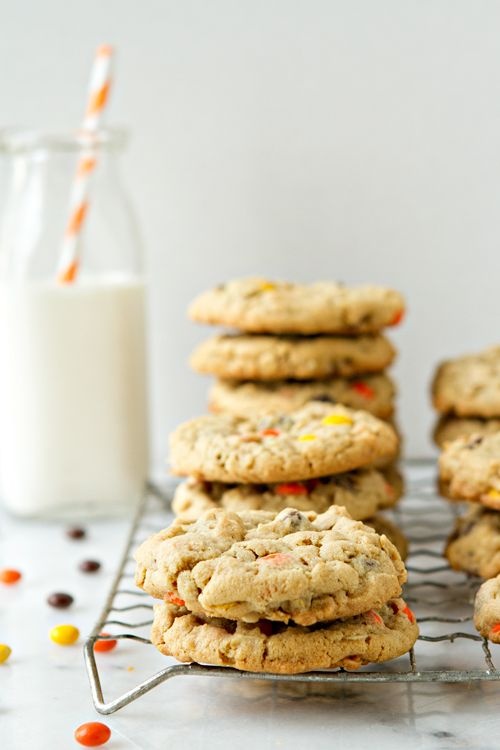 REESE'S PIECES PEANUT BUTTER COOKIES
Ingredients:
1 cup unsalted butter
1 cup sugar
1 cup lightly packed brown sugar
1 1/2 cups chunky peanut butter
2 large eggs
2 teaspoons pure vanilla extract
1 3/4 cup all-purpose flour
2 teaspoons baking soda
1 teaspoon salt
1 1/2 cups quick cooking oatmeal
1 10-ounce bag Mini Reese's Pieces (1 1/3 cups)
Procedure:
In the bowl of a stand up mixer fitted with the paddle attachment or in a large bowl with a hand mixer, cream butter, sugar, brown sugar and chunky peanut butter until light and fluffy, about 2 minutes. Beat in eggs, one at a time and add vanilla extract until well incorporated.
In a large bowl, sift together flour, baking soda and salt. Gradually add the dry ingredients to the butter and sugar mixture and mix until thoroughly combined. Mix in oats and Mini Reese's Pieces. Cover and chill the dough for at least 3 hours or up 2 days.
When ready to bake, preheat oven to 350 degrees and line baking sheets with parchment paper. using a medium cookie scoop (about 1 1/2 Tbsp.), scoop cookie dough onto prepared cookie sheets. Bake in preheated oven for 12-15 minutes or until edges are golden brown. Allow cookies to cool on cookie sheets for 5 minutes before transferring to wire racks to cool completely.
Makes 3 dozen cookies.