Firstly, if you're still confused about the "base buzz" and the "direct powerups", I suggest you should see this first.
There is actually no secret nor trick to be able to earn more here. All you need is the perseverance, a 'lil bit of effort and a pinch of your time. And then some of you will sure say, "I post a lot in microblogs and buzz a lot everyday and yet, my B score still goes down". I guess I found the answer to that mystery as I observed other members here for days who earn here daily more than I do.

With their stats, I noticed that they only have 1/4 of the total number of my "Sharing" and "microblogging" stats yet they earn big. Now here's my updated stats as you can see below.

I shared 56,848 posts already since I first started here. While as, I saw some veterans who earn big whose sharing stats is just around 12,000. I don't mean to say that you don't have to buzz/share other's posts. Of course you still need to share and post microblogs but it isn't so necessary to flood your microblogs section everyday. That's what I noticed. (I still and will continue to share your posts as much as I can)

Here's the list of what I suggest you must and must not do.This is all based on what I did which I found effective.
I'll start first with the MUST DO:
1. Post high quality blogs as you can receive higher buzz score from it. If you can't post daily, at least post even once in a while. Here is what I found in the FAQs section in case you haven't see it yet.

2. Be consistent in uploading photos in the gallery. 2 or 3 photos a day would suffice. I found this very effective in maintaining and increasing my Base Buzz. Also, uploading videos would help as well.
3. Share contents from Bitlanders to other social networking site. You can share your own posts and posts of your friends here, may it be video, blogs or even photos from the gallery.
4. Browse your content feed and send invitations to facebook friend. Now right after sending the invitation, message your "friend" right away and give him/her your referral link and ask him/her to register through that link. Here's what the customer service emailed to me before.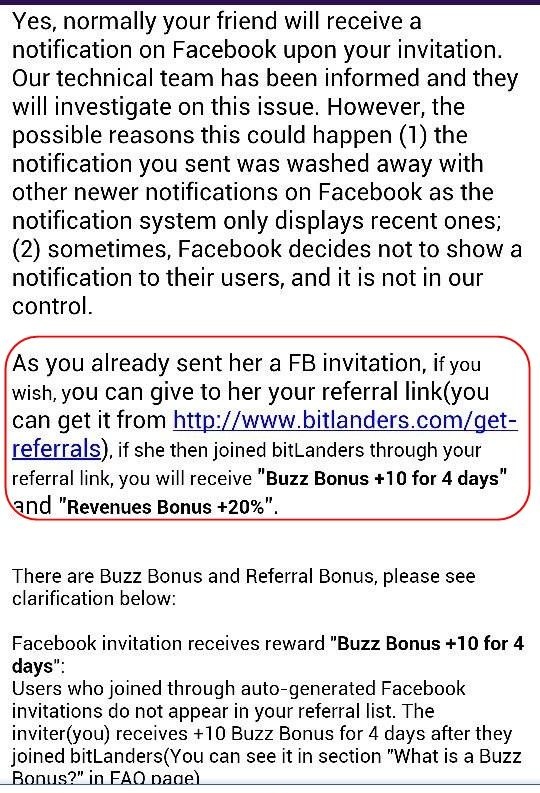 When this friend join you'll receive +10 buzz bonus for 4 days. But there had been an adjustment in the system just last December 2 or 3 and with that, there had been a change in the pointing system as well. Click here for the details. But honestly, before this change was implemented, it really helped me a lot in achieving a high direct powerups making me earn more. Here's the proof.

I believe we could still earn more here with the help of referrals even with a lower buzz score. Let's see. :)
5. Make your posts/contents sensible. The more comments you get from other members, the higher your score will be.
MUST NOT DO:
1. Spamming in microblogs, such as mentioning different members here using the same words.
2. Buzzing/sharing those spam microblogs.
3. Sharing of referral links of other online earning sites.
There you go. That's all I know for now. Try and see for yourself! Goodluck! :)
P.S. For veterans out there, you might want to add something here if ever I missed one. :)