Video Credits: Sharon Lopez via YouTube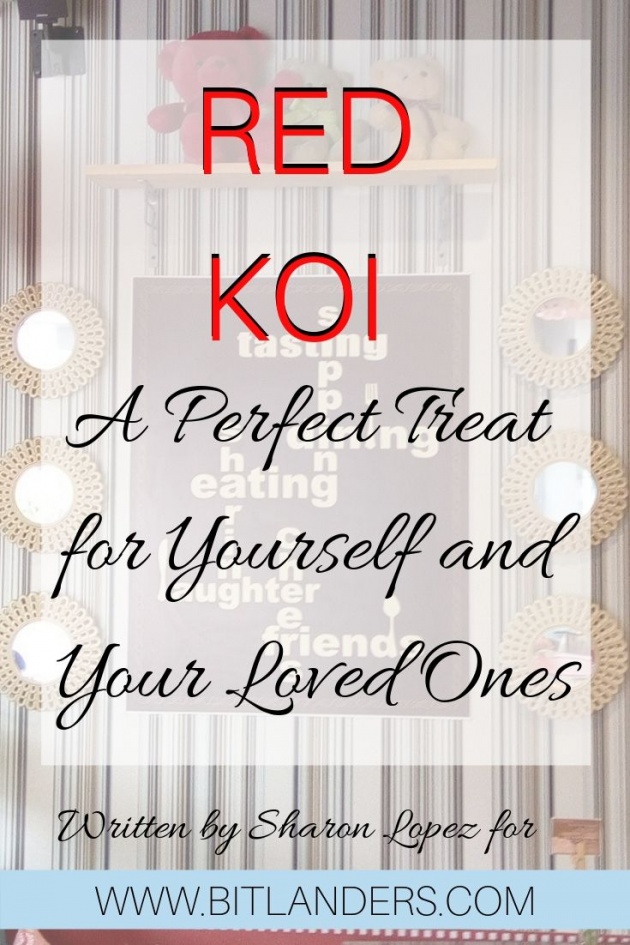 Image Credits: Sharon Lopez via Bitlanders
Its' been a while since I submitted a restaurant review. I shared before that I have yet to avail of a good camera which could help me get good photos of the places that I visit and would be visiting, so I decided to set the plan of writing restaurant reviews.
But this morning, when two of my colleagues decided to accompany me in getting the required documents from a certain supplier, we decided to drop by to one of the newest and most popular restaurants in the city, Red Koi.
The restaurant is easy to find because it lies within the city and you will certainly not miss it because it is located inside the hotel of the same name. Moreover, those who visited the place could not keep from telling the beautiful experience they had. One of them is my colleague who already visited the place, she told us to try it too.
ABOUT RED KOI RESTO
The restaurant was opened in 2016. The owner, Dr. Erwin Tan also owns several other restaurants in the city. The name was taken from the name of a Japanese fish which is known for bringing good luck to those who own one.
We know Dr. Tan personally because we used to conduct some of our events on one of his resto and function hall, One Burgos. We can attest on the quality of the services of his company.
TIME OF OPERATION
Red Koi usually opens from 10 AM to 2:00 PM and 5:00 PM to 9:00 PM. Though you can book your own schedule on special occasions. There are also events when they invite a live band to render acoustic music for the occasion.
LOCATION
The resto is located inside the compound of the Red Koi Residences which you can access from making a right turn from the National Road in front of the Bulwagan ng Katarungan in Sorsogon City.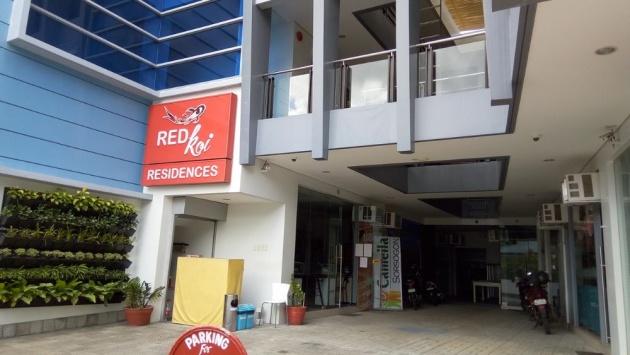 Image Credits: Sharon Lopez via Bitlanders
THE PLACE
Who wouldn't fell in love with a lovely place like this? The gorgeous wall with an awesome wallpaper design that complemented with the overall color of the place. I can't take my eyes off the light blue loveseats and the lovely glass tables with a plain wood underneath.
The round, pink, folded paper hanging beside the glass window will certainly make anyone come in and take a look at the lovely place.
Image Credits: Sharon Lopez via Bitlanders
Looking above the ceiling, I was amazed by the creativity of these bamboo poles tied together and the lovely flowers placed in between the bamboo slits. These piece of art is something worth seeing.
Eating inside the place will make you feel so special. A feeling of being so close to nature while inside a fully airconditioned place. I should say Red Koi is a perfect treat for yourself and your loved ones. You will certainly not regret spending precious moments in this place.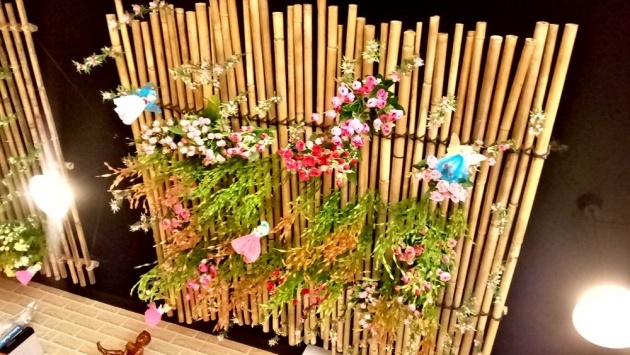 Image Credits: Sharon Lopez via Bitlanders
These tiny stuff toys place on mini hanging bookshelves certainly caught my attention. Beneath are two false windows which are truly admirable. I can't help myself from appreciating the creativity of the person who designed the place. I even thought of replicating this style in my own home.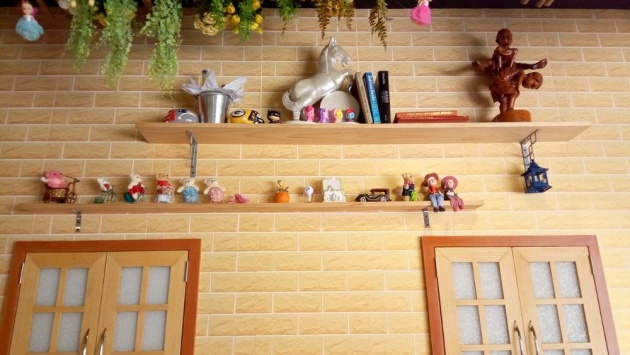 Image Credits: Sharon Lopez via Bitlanders
While my colleagues are busy taking orders, I decided to take pictures so that I may be able to write this review.
Can you see these Capiz shells hanging on the ceiling? They are so adorable! What is more admirable is that when the shells sway as the air coming out of the air conditioning touches them, they are producing a lovely melody.
And, oh! Those lovely flowers, the neat place, and the girly overall look are what makes me love this place. Something that is worth spending time with some friends and loved ones.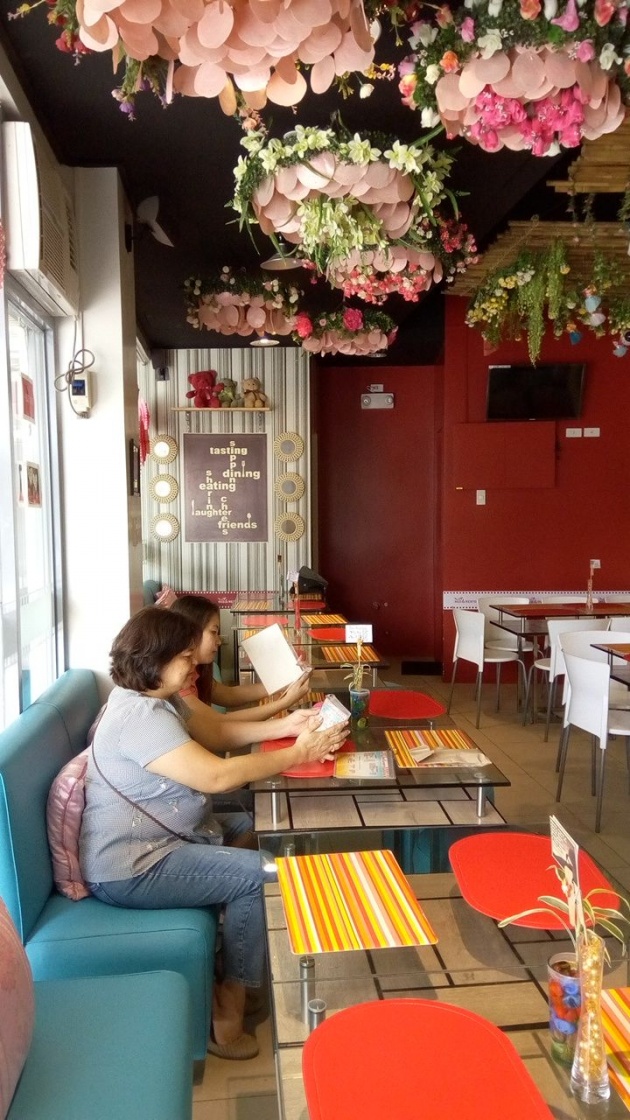 Image Credits: Sharon Lopez via Bitlanders
Another thing that caught my attention is the lovely frame with reminders about table manners. Just perfect for the dining place.
Image Credits: Sharon Lopez via Bitlanders
The frames hanging on the wall were carefully selected complementing the overall look of the place.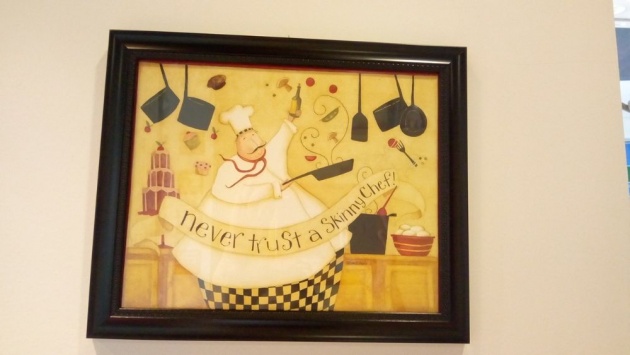 Image Credits: Sharon Lopez via Bitlanders
THE FOOD
We order Red Koi's specialty from their menu, the Red Koi's Spicy Seafood Pancit Canton, their signature dish which is gaining popularity among the Sorsoganeous. The tasty noodles with seafood and a touch of spiciness will make you crave for more.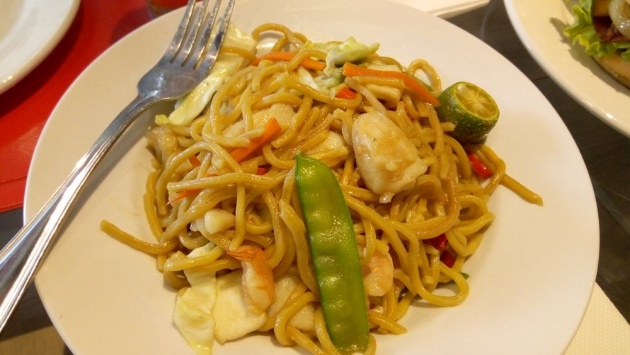 Image Credits: Sharon Lopez via Bitlanders
We also ordered Red Koi Resto's Cheeseburger and Fries. One serving is consists of 2 cheeseburgers served in 4 halves and fries with a dash of cheese. It's 100% delicious!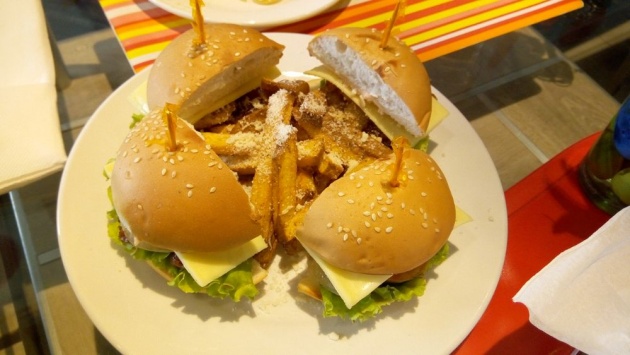 Image Credits: Sharon Lopez via Bitlanders
There are other dishes which we are planning to order during our future visits to the place. We haven't tried the nachos, crispy fried chicken wings, pork steak, and their drinks and beverages. Can't wait for the day to come.
Here's another video that was taken inside the restaurant. Enjoy watching!
Video Credits: Sharon Lopez via YouTube
OVERALL IMPRESSION
I can vouch for the high-quality service offered by the management and staff of Red Koi Restaurant. The food tastes great and the dining area is truly lovely and comfortable. It's perfect for small occasions and gatherings. I recommend that you try this place too.
The comfortable place plus the good food, it is worth visiting the Red Koi's Restaurant on special occasions and even on ordinary days. After all, every day must be special.
DISCLAIMER: The views and opinions expressed in this blog post are that of the author and does not in any way represent the agency or department she currently belongs.
ADDITIONAL NOTE: The sites mentioned in this post are for information purposes only and links are provided for easy access. The author does not receive any remuneration from the said companies or sites.
-oOo-
Written for Bitlanders
by ♥Sharon Lopez
Date: March 22, 2019
Connect with me!
♥ IDEAL CAREER IDEAS ♥ FACEBOOK ♥TWITTER ♥ PINTEREST ♥ LINKEDIN ♥