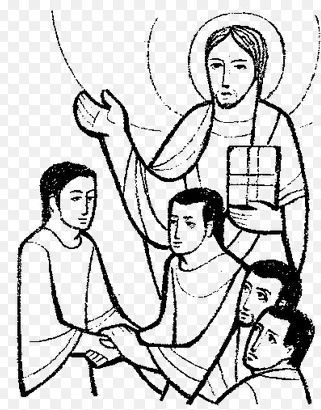 GOSPEL
Jesus said to his disciples:
'If your brother does something wrong, go and have it out with him alone, is between your two selves.
If he listens to you, you have won back your brother.
If he does not listen, take one or two others along with you:
the evidence of two or three witnesses is required to sustain any charge.
But if he refuses to listen to these,
report it to the community;
and if he refuses to listen to the community,
treat him like a pagan or a tax collector.
'I tell you solemnly, whatever you bind on earth shall be considered bound in heaven; whatever you loose on earth shall be considered loosed in heaven.
'I tell you solemnly once again, if two of you on earth agree to ask anything at all, it will be granted to you by my Father in heaven.
For where two or three meet in my name, I shall be there with them.'
Matthew 18:15-20
(Gospel source: gardinerstparish.wordpress.com/tag/sunday-gospel-reading-and-reflection-for-7th-september-2014/)
Reflection:
Before, they separate students depends on what grade they receive. Those who got high grades are in the first section. Those bad students are in the row four, those who are less bad are in the row three, those are getting good are in the row two and those who are good are in the row one. As the teachers said, those who are in the section 1 to 3 are not yet pain in the head. Different students are hard to mix. Those who are in the fourth row who are not mostly intelligent and not good are the most given attention by the teachers. There are things or some persons that are hard to combine and join together. Most of the time, it happen in our own family. There are brothers and sisters who act like dogs and cats. They quarrel even in small matters. They quarrel with attention to their parents, food, clothes, room or place to sleep, and most of the times inheritance. The gospel reminds us about fellowship this week. The Lord wants us to compromise or reconcile with others. The teacher is sad when they see their students not coordinate with each other, parents are not happy when they see their sons and daughters quarrel. It is the same with the Lord. He doesn't want us to sulk to others.
The Lord reminds us on what must we do if there's someone who sin to you. The Lord wants us to approach those who sin against us and tell their mistakes in a very nice way. Sometimes, they don't even know why you are mad at him. Tell it in a nice way and keep it between the two of you. Don't spread gossip about him with others and all of your friends. Next if it still does not work, you can ask help with other person who he trusts the most and can help with your problem. When he still not listens to the both of you, you can ask help and report it to the community. Lastly if he still not listens to you, you can treat and think of them as those who charge tax. But what have you notice with that? In time of our Lord Jesus Christ, he really put His attention with those who sins and people who collects tax. Bottom line is, never give up in pursuing others even those who sin to you. The Lord doesn't want us to separate our selves from each other. He wants us to love each other us we have loved Him. This is one of His important commandments to us.