Inspired by the infamous American legend of "The Bell Witch" and based on the novel The Bell Witch: An American Haunting by Brent Monahan, An American Haunting (2005) is a modest horror/drama with a few things to offer.
The story: an angry spirit attacks the Bell family for no apparent reason, leading to the death of one of its members. It is set in pre-Civil war America.
It is understandable why the film so underperformed at the box-office. The tone is understated, the pre-civil setting, while providing plenty of atmosphere, gives the film a repressive feeling, repellent to younger viewers, for whom most horror movies are made. The subdued tone and the lack of a bombastic ending also don't help matters much.
But that doesn't mean that An American Haunting has nothing to offer. The performances are uniformly excellent (the cast includes Sissy Spacek, Donald Sutherland, and James D'Arcy), the understated tone gives the film a classy, mature feel, and the dramatic underpinnings to the story make this more than just a simple ghost story. This is a story about family dysfunction, the horrors of child abuse, and the repressions of living in 19th century America.
What prevents the film from reaching its full potential is director Courtney Solomon's workmanlike handling of the material. His direction is competent, but it lacks style and energy, robbing the material from much of its power. The reliance on nightmares, visions and flashbacks for reveals and the filling of plot holes is also underwhelming. And D'Arcy's voice-over is unforgivably bad.
Recommended for fans of quiet horror and understated ghost stories.
Text © Ahmed Khalifa. Aug. 23 - 2014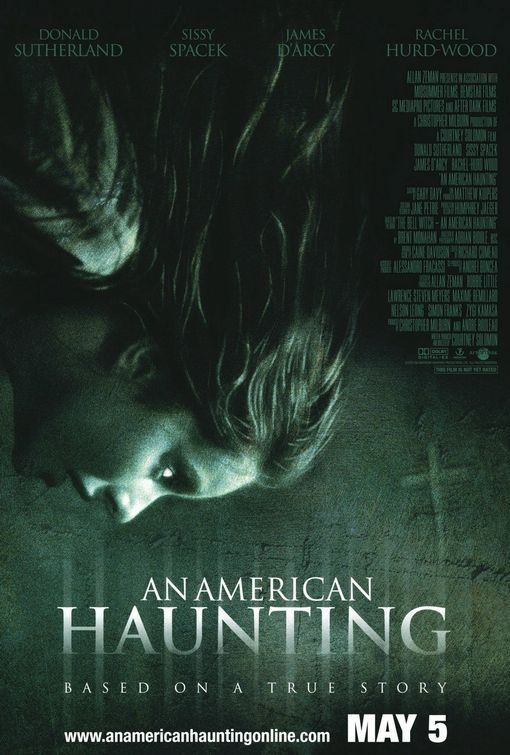 About The Author: Ahmed Khalifa is a filmmaker and writer. He is the author of Beware The Stranger, a horror novel, and Egyptian Gothic: Stories. Both books are available on Amazon here. He is also the writer/director of Seance, a Gothic/Horror film, and The Weapon, an action/supernatural Web Series, which centers on a vigilante called "The Hunter". You can watch the complete first season, for free, here. You can check out his reviews here.