Yesterday's a bit of a lay back day although it is a Monday and most people consider Monday as a dragging day since it is the first day of the week. I on the other hand is much enjoying this day because first, I am at home in Bohol with nothing to do but just face the computer of tv, hehe, the perks of being the only child aboard. My siblings are all away, one is in Iloilo, the eldest is in Dubai together with our youngest and so I was left here. If I didn't go back to the Philippines, then I should be in Dubai as well but for certain reasons, I have to go back home and I am loving it though except that there are financial issues that I am facing but these are just minor ones.

Now, let me share to you some issues I had gone today while trying to work on my bitlanders account. As you mostly know, I love blog posting, I always make sure that I have at least three blogs posted per day, yes that's three. I won't be having issues with making three because first, I can blog about my latest earning which is always given in everyday, then I can also blog about some scrapbooks I had posted on the gallery part and the third one would be the challenging one so I have to write extra one blogs per day so I can have reserves in a daily basis. That's my technique.

I submit those blogs for review so I can gain more buzz points but then there are blogs which gets reviewed as fast as less than 24 hours while the others are being reviewed for weeks. I had submitted my Wow Bohol blog two weeks ago and after that, I had submitted another one which was just a few days ago and I received a review feedback from Miss Hillary in less than 24 hours but the Wow Bohol is still pending. It then made me think if I still have other blogs which might have not been reviewed as well but it is just too much of a work going through my blog lists and so I had thought of a better plan and that is to take note each blog that I will be sending for review from now on and keep a list of when was it reviewed and what is the rating. I am keeping them in my Google Keep account so I can easily access it and easily sync it as well on other devices.

Here's my list so far: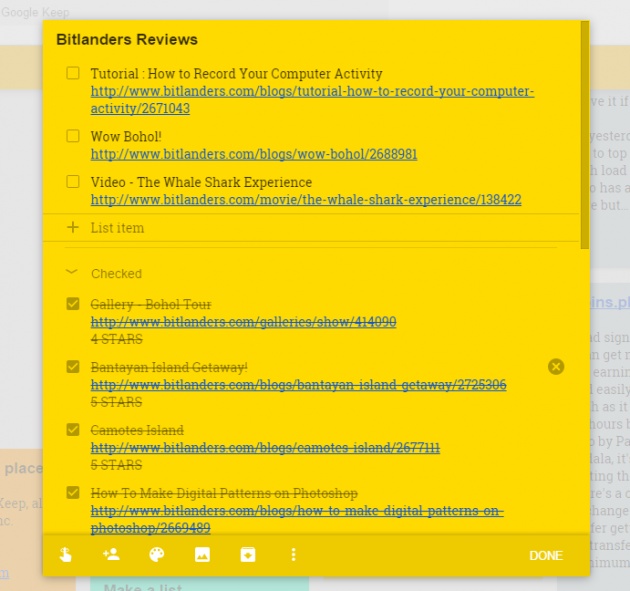 The ones below which are crushed out are already rated with their corresponding star ratings and then the ones on top are the pending ones. In the future, I will be updating each of them with the date of the review too!