Another of Francis Ford Coppola's 80's masterpieces, Rumble Fish (1983) is a film for film lovers. With its dazzling black and white cinematography (courtesy of Stephen H. Burum), powerful sound design, and brilliant music score, this is a fantastic piece of expressionist cinema for modern audiences.
Adapted by Coppola and S.E Hinton from her novel of the same name, the story centers on Rusty James, a teenager from a broken home who idolizes his older brother, The Motorcycle Boy, a revered gang leader and all-around bad boy. As the film progresses, we follow James as he is drawn deeper and deeper into a self-destructive cycle of violence, as he tries more and more to emulate his older brother's life.
Rumble Fish is not for everyone, as this is Coppola at his most free and experimental (yes, even more so than Apocalypse Now), as he utilizes every aspect of filmmaking (sound, visuals, blocking, effects) to create a mythic, black and white world, haunted by shadows and violence. Collaborating with Stephen H. Burum for the second time [after The Outsiders (1983)], Coppola creates a chiaroscuro world where fantasy and reality meet, and past and present co-exist side by side. This is Coppola's love letter to expressionist cinema and the film-noirs of the 40's, and if you love those genres, you'll adore Rumble Fish.
Performances are excellent across the board, with Matt Dillon and Mickey Rourke especially shining as the two brothers.
It is understandable that the film was a commercial disaster when it came out in 1983, as this is not a film for the masses, not a film designed to thoughtlessly entertain; this is a piece of avant-garde cinema made to be experienced with an open heart and where every frame is to be savored.
Text © Ahmed Khalifa. Sep. 13- 2014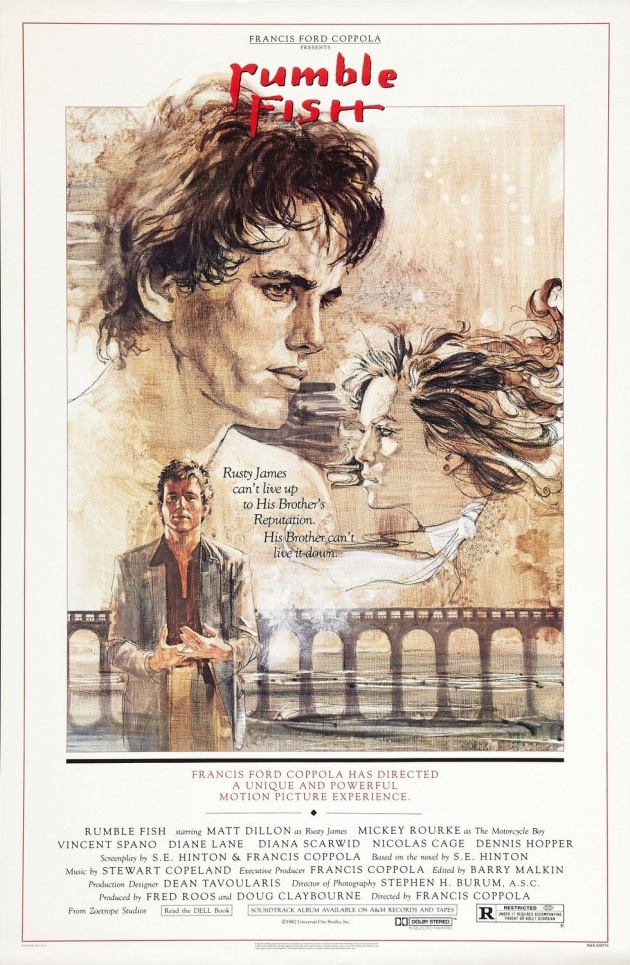 About The Author: Ahmed Khalifa is a filmmaker and writer. He is the author of Beware The Stranger, a horror novel, and Egyptian Gothic: Stories. Both books are available on Amazon here. He is also the writer/director of Seance, a Gothic/Horror film, and The Weapon, an action/supernatural Web Series, which centers on a vigilante called "The Hunter". You can watch the complete first season, for free, here. You can check out his reviews here.