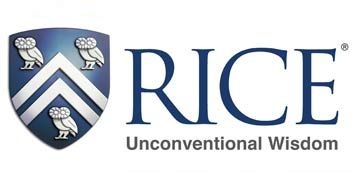 Rice University is a private institution that was founded in 1912. It has a total undergraduate enrollment of 3,965, its setting is urban, and the campus size is 285 acres. It utilizes a semester-based academic calendar. Rice University's ranking in the 2015 edition of Best Colleges is National Universities, 19. Its tuition and fees are $40,566 (2014-15).

Rice University, located in the heart of Houston's Museum District, offers a dynamic student life in the nation's fourth-largest city. The Rice Coffeehouse, Valhalla Pub and Willy's Pub are all student-run institutions offering on-campus food and drink. Before stepping foot on campus, all students are assigned to one of 11 residential colleges, of which they remain members even if they decide to move off campus. The residential colleges provide housing, dining, and academic and social events. The Rice Owls boast 14 varsity NCAA Division I athletic teams and are well known for their strong baseball program. Students receive free tickets to all varsity athletic events.

Rice is comprised of eight schools, including the School of Social Sciences, School of Humanities and Wiess School of Natural Sciences. Its graduate schools include the highly ranked Jesse H. Jones Graduate School of Business and George R. Brown School of Engineering. Rice also has a well-regarded School of Architecture and the Shepherd School of Music. Rice is home to the James A. Baker III Institute for Public Policy, a nonpartisan think tank, which offers coursework, internships and lectures. When a private detective found Rice's stolen owl mascot at rival school Texas A&M in 1917, he sent a coded message back to Rice students letting them know that "Sammy" was OK, thus bestowing a name on the school's mascot.

As a leading research university with a distinctive commitment to undergraduate education, Rice University aspires to path breaking research, unsurpassed teaching and contributions to the betterment of our world. It seeks to fulfill this mission by cultivating a diverse community of learning and discovery that produces leaders across the spectrum of human endeavor. Located on a 300-acre forested campus in Houston, undergraduate education has remained at the center of Rice University's mission since its founding in 1912. Our students have unparalleled opportunities to learn from distinguished faculty through classroom interaction and research collaboration. Rice combines the advantages of a liberal arts college with the resources and facilities of a premier research university. Some of the important engineering and science developments include Rice being the first university in the nation with a department wholly dedicated to space science; Rice researchers joining Dr. Michael Debakey and his Baylor College of Medicine team to produce the first artificial heart; and Rice professors Robert Curl and Richard Smalley and British chemist Sir Harold Kroto receiving the Nobel Prize in Chemistry for their discovery of buckyballs, which introduced the new field of nanotechnology. In addition to engineering, Rice has highly respected schools of Architecture, Business, Continuing Studies, Humanities, Music, Natural Sciences and Social Sciences and is home to the Baker Institute for Public Policy. The distinctive residential college system enhances the Rice experience by allowing students to flourish as individuals in a community of their peers. Rice boasts a 6:1 undergraduate student-faculty ratio, a median class size of 14, an endowment of $4.84 billion and numerous opportunities for undergraduates to conduct primary research. Rice practices need-blind admission, meets 100 percent of students' demonstrated need and is consistently heralded as one of the best values in higher education. Rice is surrounded by the Texas Medical Center, the Museum District, Hermann Park, Rice Village and great restaurants, and is a short light-rail ride away from theater, symphony, ballet, opera and major league sports.