Directed by - Carlos Saldanha

Produced by - John C Donkin, Bruce Anderson.


Cast:, Jemaine Clement (Nigel), Jamie Foxx (Nico), Anne Hathaway (Jewel), Jesse Eisenberg (Blu)


Genre: Adventure, Comedy, Animination,


Music:<< John Powell >> Screenplay:<< Don Rhymer, Carlos Saldanha>>


Writing Credit: Carlos Saldanha, Don Rhymer.


Release Date: <<Theaters: Apr 11, 2014 >> << On DVD: Jul 15, 2014>>


Length: 1 hr 41 min (101 minutes) .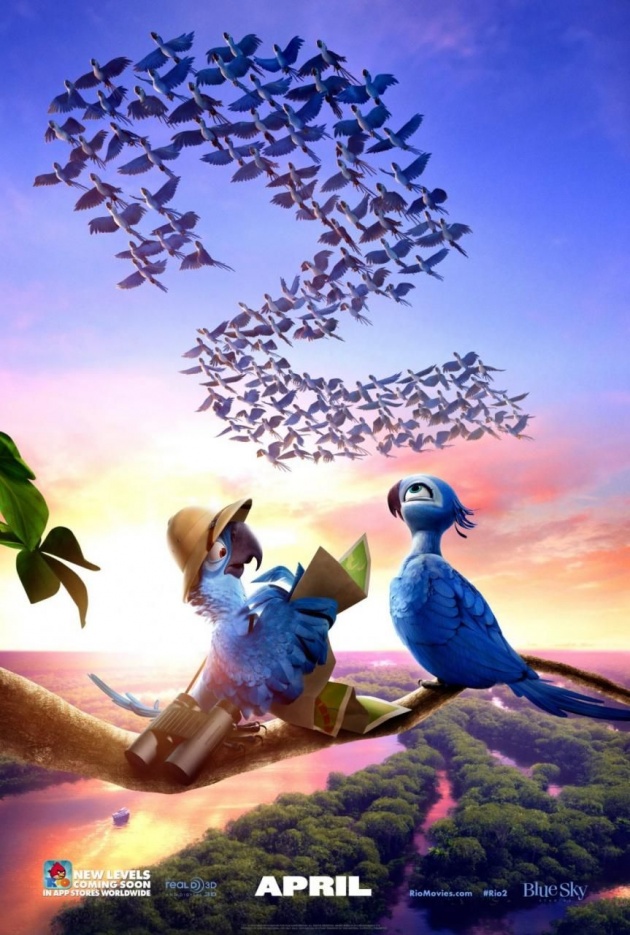 Review:
Rio part 2, is a new animation and kid movie of 2014 and a sequel of another hit and successful animated movie Rio part 1 from 2011. The movie was directed by the successful and famous director Carlos Saldanha who also directed Ice age movie series and done well in all sectors. As Rio 2 is a sequence part of Rio 1, so the story started with movement of Rio 1 and animation quality and voice generation is much more improved this time than the past one.
One thing is , you need to watch the first part of Rio series if you want to have the 100% improvement on this movie and i already posted the review for Rio 1. Visit my blog and you will find them.
Now, The lead character of the film Blu who was voiced by Jesse and Jewel who is Blu's Wife and voiced by Anne was having a real good time with their kids and family time was passing with lot more happiness and incredible enjoyment. This time, somehow they have to rush for the Big forest Amazon and Jewel found her family where she thought that they were dead already.
Jewel was so happy with this reunion but Blu was not. He felt that he was being avoided by the others for his cool and decent typical nature. He thought of days with Linda and he found lot more troubles on the forest.
Jewel's father voiced by Ande was the leading person of that tribe and he tried to teach Blu some features of their own but what Blu did was really funny. He found everything odd and unmatched for him. He decided to come back and there was a fight between two rival group of that tribe occurred. A pity football match between this two group held and that was amazing animation works.
Now, it is true that, Rio is not the most attractive and story enriched movie, but still the animation works and sensible characterization of the characters of the movie made Rio another beautiful work by the team of Rio series. The kids are gonna loving it and also the animated part is quite unique. Though the story is a not so qualified but still this is a successful movie with $496 million earning in the Box office.
Thanks, everyone for reading. Have a good day. Happy Buzzing.