River Plate 3 x 0 Tigres Final of Libertadores Cup 2015 River Play Champion for the third time
Yesterday on the River Plate Stadium in the city of Buenos Aires Argentina was the final game of the Libertadores Cup 2015, the first game was on Monterrey in México house of the Tigres team that was 0 x 0 with a very good game.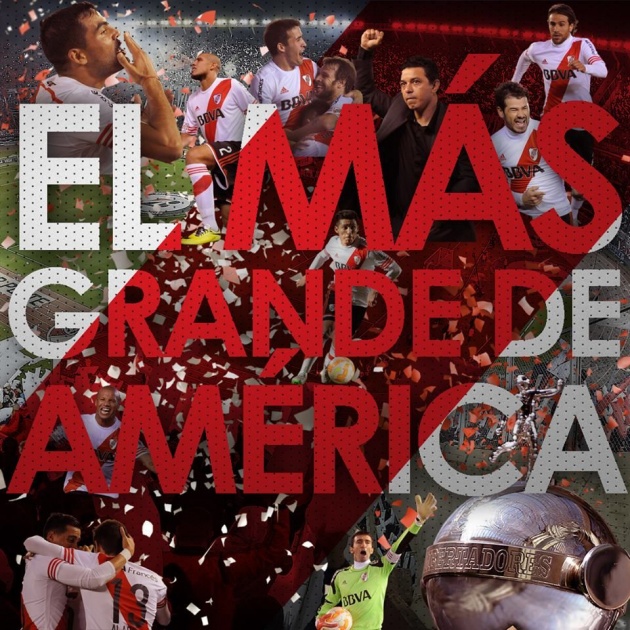 A final to enter on the soccer history maden for River Plate, that was the last team to be classified from the groups phase on the Libertadores 2015. Without hopes they played every game and getting better and better and goes to the finals against the team of Tigres from Mexico.
The game was a battle of the defenses, that most of the time enters heavy on the players, that is a way of play on the Latin American soccer. River Plate scores the goal on the last minute of the first time with a ball on the head from Lucas Alario before a great play of a fellow of the team. The second goal comes from a penalty that Carlos Sanchez ( an uruguaian player) shoots extremely well making the Tigres of mexico knoked down. To end these very well game a very good crossing played and a head on the ball that passed the Tigres goalkepper in the middle of the legs to confirm the Third Championship for the Team of Buenos Aires River Plate (the great Rival of Boca Juniors). An incredible game for the team that deserves to won these championship of the americas that they are waiting for 19 years to win again ! Salute to all the players and the coach called el muñeco that was a great player for the team on the past and now is a winner.
See the video of all the goals of these match here and enjoy: