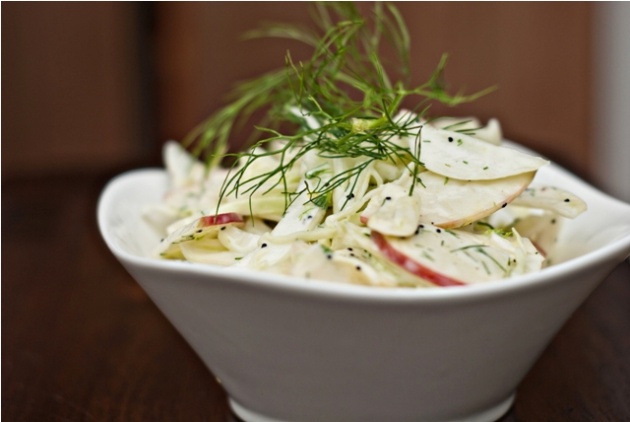 Serves 4
Fresh Fennel and Apple make this a sweet and tart accompaniment to my Slow-Roasted Chicken, or other savory dishes.
1 bulb fennel, cored, sliced into quarter-inch pieces with the grain
1 medium onion, sliced in half, then into quarter-inch slices
1 tablespoon olive oil
Salt and freshly ground black pepper
2 sweet-tart apples, like Jonagold or Braeburn
1 lemon, juiced
Quarter to 1 cup coarsely chopped fennel fronds
Preheat oven to 425 degree. Toss fennel and onion in the olive oil, season with salt and pepper, and then place on a large baking sheet. Cover with foil, and bake for 15 minutes, stirring occasionally.
Remove from oven, and place in a serving bowl. In a separate bowl, grate apples, then pour lemon juice over, to season and to prevent acidulation. Season with salt and pepper, and toss in fennel fronds.
Add the apple mixture to the fennel and onions. Serve warm.
Per serving: 104 calories, 4 g fat ( 0.5 g saturated), 19 g carbohydrates, 1.5 g protein, 4 g fiber, 182 mg sodium (8% Daily Value).