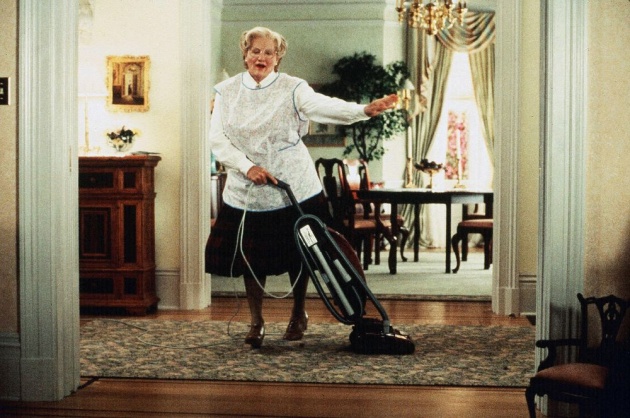 I have overslept during some great tragedies. On 7 July 2005, I didn't go to Central London in the early morning as I normally would have done, avoiding the impact of one of London's most devastating terrorist attacks. I also got up late this morning (12 August 2014) to discover the death, aged 63, of comedy legend Robin Williams.
Williams was, as many have remarked, an explosive talent. He was a compulsive stand up, whose free range mimicry and wise-cracking wit dazzled and amused by turns. He was the Speedy Gonzales of comedians, a human Warner Bros cartoon, though that studio had little use for his talents – he played the lead role in the adaptation of John Irving's THE WORLD ACCORDING TO GARP (1983), a film that did rather better for Glenn Close (playing his screen wife) and John Lithgow (as Roberta Muldoon, once seen, never forgotten) than himself.
He first made an impression as the alien Mork in HAPPY DAYS, boosting the series ratings. He excelled in the spin-off show, MORK AND MINDY. In his first (memorable) appearance, Mork was mistaken by Mindy as a priest; no, he was just wearing a suit backwards. The character popularised the phrase 'nanu nanu' – he went from this to 'nanny, nanny' in MRS DOUBTFIRE (1993) in one of his best known roles that gave free rein to his associative, political comedy.
If Williams is best known for one gag, it is 'cocaine is God's way of telling you [that] you are making too much money'. He had a problem with drug addiction as he made the transition from small to big screen. Early roles in POPEYE (1980), THE SURVIVORS (1983), MOSCOW ON THE HUDSON (1984), THE BEST OF TIMES (1985) and CLUB PARADISE (1986), where he filled in for Bill Murray, got him good reviews but not big box office. Disney – specifically director Barry Levinson – saved him. The role of Vietnam DJ Adrian Cronauer in GOOD MORNING VIETNAM (1987) offered Williams to merge his inimitable stand-up style with a dramatic role. The film was a storming success, not to mention an antidote to the slew of serious Vietnam films (PLATOON, HAMBURGER HILL and FULL METAL JACKET) that preceded it. Peter Weir proved Williams' second benefactor, casting him as inspirational English teacher John Keating in DEAD POETS SOCIETY (1989), another charismatic and funny turn. Then came the role of the genie in Disney's animated ALADDIN (1992) ('10,000 years gives you such a crick in the neck' is his memorable opening line) which proved his biggest hit, but also the source of a lawsuit as he sued Disney for a share of the profits. His winning streak with the studio ended.
Fox - and director Chris Columbus – picked up the slack by developing a starring role for him in MRS DOUBTFIRE (1993), from the children's book by Anne Fine. A father, separated from his children, masquerades as a woman to serve as their nanny in order to be closer to them. It was a monster hit, not least because it showcased Williams' flair for farcical physical comedy – he moved as fast as he spoke. The Scottish accent was a masterstroke but came from Williams' preceding collaboration with director Bill Forsyth in an ambitious 'ages of man' episodic drama, BEING HUMAN (1992) in which Williams' played six roles. Moreover, MRS DOUBTFIRE was a hit in spite of its message that parents could both be good people, divorce, and not get back together. You could be okay living in a broken family.
It's not for a film reviewer to speculate on Williams' troubled personal life. He did try to establish himself as a family comedian. Before MRS DOUBTFIRE there was Steven Spielberg's HOOK (1991) in which he played an adult Peter Pan rediscovering his inner child. This was the sort of role that reviewers began to hate, embodied by Francis Coppola's JACK (1996), in which he played a child in a man's body, and PATCH ADAMS (1998) in which he played a real-life medical practitioner who eases ailments with jokes. The sentimentality of Williams' later work turned critics – and some audiences – off him. He did patch things up with Disney and win an Oscar as the Maths professor who believes in GOOD WILL HUNTING (1997) but he could smell his own sell-by date approaching.
Having turned down the role of the Riddler in BATMAN FOREVER (1995), Williams tried to remake himself as villain, in Christopher Nolan's remake of INSOMNIA (2000) and ONE HOUR PHOTO (2002). It was not a productive career move. He returned to stand up – he is the only male comedian who performed with a visible boner and didn't seem to mind (he was just happy to see us) – but with less success.
What Williams lacked was a role to sink his talent into. He continued to appear in family comedies – RV and LICENCE TO WED – but he was never the best thing in the movie. He knew he was in trouble when Jeff Daniels stole his comedy thunder in RV; I mean no disrespect to Mr Daniels, but that ain't right.
More recently, he played US Presidents Theodore Roosevelt in the NIGHT OF THE MUSEUM trilogy and Dwight Eisenhower in THE BUTLER (2013). As Harrison Ford discovered, after playing the President, you can only go backwards.
Some of Williams' best work was in un-credited turns, as 'Rei di Tutto, the King of Everything' in Terry Gilliam's THE ADVENTURES OF BARON MUNCHHAUSEN (1987) and in Kenneth Branagh's DEAD AGAIN (1991), as a creepy advisor to Branagh's Detective Mike Church. (If I'm not mistaken, he also provides a voice in Gilliam's THE ZERO THEOREM.) Although Williams hit a home run in Terry Gilliam's THE FISHER KING (1991), opposite Jeff Bridges, generally his reunions with directors fared poorly, as lead roles in Barry Levinson's TOYS (1992) and Chris Columbus' BICENTENNIAL MAN (1999) attest.
Robin Williams' best dramatic turn was as psychologist Oliver Sachs in AWAKENINGS (1990), opposite Robert de Niro, studying the effects of L-DOPA on a patient with encephalitis. Both actors were at the top of their respective games, and in spite of the sentimentality of the film, the pair had chemistry. Williams never succumbed to the lure of buddy road movies like MIDNIGHT RUN. I don't think he ever played a cop, since most police forces would have required him to shave his forearms. He tended to be the sole name above the title at a time when comedies, particularly those produced by Judd Apatow, were more ensemble based. When he did reteam with De Niro in 2013's THE BIG WEDDING, it was in a cameo as a priest; he was hardly stretched. Though he loaned his voice to a character in Chris Wedge's ROBOTS (2005), he didn't carve out another iconic role in animation.
It was an extremely sad experience watching Williams in one of his most recent leading roles, in Bobcat Goldthwait's WORLD'S GREATEST DAD (2010), in which his character attempts to venerate the venal son (Daryl Sabara) who accidentally killed himself. The comedy focussed on an acknowledgement that the world was cruel and mean spirited; the opposite of the values that the comedian attempted to put across (people were like that, yes, but you shouldn't build a philosophy on it).
At the time of his death, Williams had returned to TV with less than stellar results. His film, THE ANGRIEST MAN IN BROOKLYN, had just received a cursory release in the US. One can see the professional reasons that might have fuelled a depression that resulted in him taking his life. However, there were some great roles that he could have played. I would have liked to have seen him as fellow Christian Scientist Spalding Grey in a biopic or as a newspaper editor. One of the things that stars in America should learn is that there is a go-round. You have fame for a little while, but then you wait your turn for the spotlight to be on you again. I wish he waited longer.