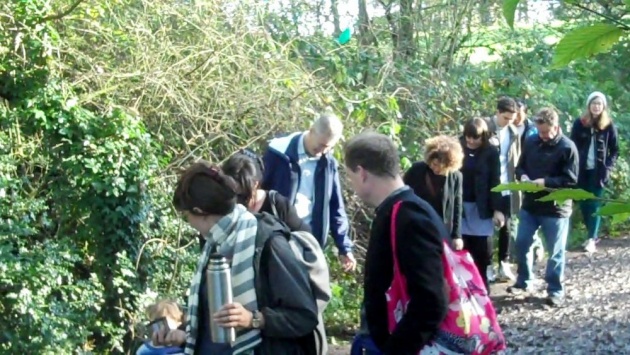 I thought it started at 14:00, but 'Roger Ebert's Perfect London Walk', which I had signed up to on Facebook, was starting at 24 minutes at 12 noon.
I was at least 30 minutes away from Daunt Books, Hampstead, if walking and buses conspired in my favour. This was London. This was Remembrance Sunday. And I wasn't supposed to run.
I took my thermos mug of hot tea and speed-walked to the 210 bus stop - just as the 210 roared away. Expletive!
It was 11:45. I walked towards Upper Holloway Train Station. I calculated that I could get a train from there to Gospel Oak, then change, and travel one stop to Hampstead.
The next train was at 12:08.
I rushed to Archway. I could get the C11 bus to Pond Street, Hampstead, if it was running on time. It was 12 noon. Surely I wouldn't be the only one late.
No sign of the C11 bus.
Nothing for it – I took a tube from Archway to Camden Town, then from Camden Town to Belsize Park! A 'V' shaped journey.
I wasn't the sort of person to stick two fingers up at bus and train services, but I felt like it.
Would generations take my imperfect journey to the rendezvous point? I hoped not. As I headed towards the Royal Free Hospital, I saw a pub advertising free coffee –
- if you had the name 'Lewis'.
Oh well. I made it to Daunt Books 30 minutes late. Gasping, I asked a store employee which way they headed, left or right. Right! I headed towards the Heath.
Just then I saw a sign for Keats House. If I was Roger Ebert, the late film critic on the Chicago Sun Times, going on my perfect Sunday afternoon saunter, would I want to doff my hat to one of England's greatest wordsmiths?
Of course, he would. There, leaving the house was a straggle of walkers. I verified their mission. I had made it.
The leader of the group was a bearded gentleman from Cinema Nation. A little behind him was the tall, silver haired American documentary filmmaker, Steve James, best known for the Oscar winning documentary HOOP DREAMS. Mr James, who was deep in conversation with another American talking about footage and using big cameras, had made the documentary LIFE ITSELF about the life and collected thoughts of Mr Ebert (1942-2013). It opens in UK cinemas on Friday 14 November.
What had I missed? The walkers had posed for a group photo, misted by lens flare, and listened to a poetry reading.
They varied from individuals with some connection to film, including a Brazilian film critic, May (Maysa) Monção from the Brazilian website revistamoviola.com to a gentleman who wanted to make a light-hearted (?) documentary about Karl Marx returning to London and complaining about capitalism. (He imagined Simon Russell Beale in the role.) There were families better prepared than I for the off-path (that is, muddy) route beloved of Mr Ebert.
Why were we doing this? Well, Ebert was fond of walking and documented his favourite strolls in a book, which the bearded gentleman read at regular intervals.
We stopped next at the entrance of the park and gleaned some fun facts. First that it was bequeathed to the people in the 1870s. Second that no film had been shot there, unless you count SCENES OF A SEXUAL NATURE, an ensemble drama featuring Ewan McGregor, which was not so much a film as something you cross off your CV after you become more famous. BELLE, the drama about Dido Elisabeth Belle, was shot at nearby Kenwood House, which doubled as the Lord Chief Justice's love shack, sorry, residence, where Dido spent an idyllic childhood being told she could not dine with noble folk on account of her skin colour – the film was a modest hit in the summer. The entrance was preferred by Mr Ebert because once through it, the sight of houses disappeared pretty quickly. I learned also even small film crews of less than five people in size required a permit, lest your equipment be seized. This was not from our Cinema Nation guide but one of the walkers.
We headed towards the bathers' lake, and there our guide made an unscheduled stop to warn us of the hazards of yesteryear; how, for example, dead bodies frequently turned up there in the 19th Century.
We ascended to the summit of the Heath, the highest natural point in London – though this fact was of some dispute. There we gathered to take stock of the view of the London skyline, though to be honest I can see similar from my flat in Stroud Green. That is not to be blasé, but familiarity dims the senses.
From there, we plunged off path into mud and sludge. My trainers acquired a chocolate underbelly, though not the sort you might think. Dog walkers are generally good about collecting their pets' poop. We arrived at a location where Boadicea, known sometimes as Boudica, Queen of the British Iceni tribe, was said to be laid to rest, though apparently her bones are said to be located under platform 5 of Kings Cross station. Maybe they were divided in a settlement ('you take the torso, I'll have the ankle bones').
As we paused to take in a historical fact, walkers took it in turns to read poetry, prose and five lines of Chaucer.
The Marx man, who recalled that Karl had taken many a walk upon the heath with his child upon his shoulders, described his favourite films of the year – THE GRAND BUDAPEST HOTEL, UNDER THE SKIN and MR TURNER. He asked whether WHIPLASH was a documentary. I told him about crowd funding and the relative success of my acquaintance Si Horrocks, who had raised funds to show his film, THIRD CONTACT in major cities. He has now raised funds for the Mobile Motion film festival and is working on a web series, KOSMOS.
We arrived at a bench for a group photo. I am barely visible.
Two of the walkers, an American and a Brit, were in animated conversation about the rules of society. If you are one person on an island what are you entitled to? Answer: defending yourself and the right to free thought. If you are joined by another, what rights do you have? The American's idea was that societies make rules that not everyone could sign up and actually limited people's freedoms. The provider of health care couldn't leave. Neither could the best warrior. By the end of their conversation, the American pronounced that there was no such thing as morality.
That's what I get for eavesdropping into conversations.
We made it to the Spaniards Inn, a hostelry at a toll point where Dick Turpin once lay in which for rich nobles to pass. There were rounds of applause. Getting a round at the bar proved rather more difficult. I left the tired walkers to their pints, to listen to my football team, Arsenal, be hammered by Swansea two goals to one in the pouring rain.
'Roger Ebert's Perfect London Walk' was organised by Dogwoof film distributor and Cinema Nation. Steve James will attend a screening of LIFE ITSELF on Monday 10 November 2014 at Hampstead Everyman, London
Photo: Steve James negotiates mud with walkers re-creating Roger Ebert's Perfect London Walk