Hello Eveyone! Welcome to my 5th blog and I am going to write another Korean drama review. This Korean Drama is entitled "Romantic Doctor, Master Kim". I'm quite sure that most of you(fan of watching Korean dramas) know about this drama because this drama reached number 1 rating in Korea when it was still airing. I watched this drama because I personally like watching Medical dramas like this one. I recommend this drama for you to watch if you are fond of watching medical dramas and especially if you want to be a doctor cause you will really be motivated (hehe), there are also many lessons and life quotes you will get from this drama. I suggest you find time to watch this drama but for the meantime please read my blog to have an idea how the story goes and for you to meet the character of this drama. :)
If there is something worse than failure, it's regret. -Romantic Doctor, Master Kim.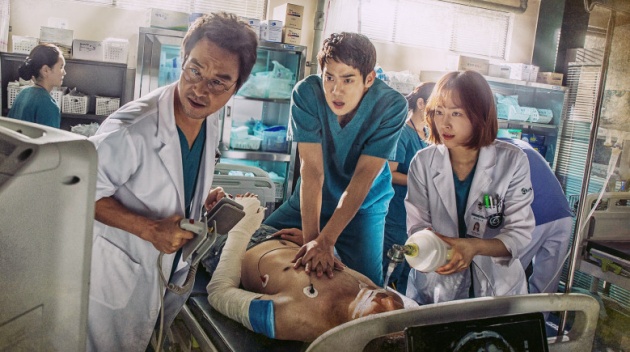 Photo Source:Channel Manager via www.viki.com
"ROMANTIC DOCTOR, TEACHER KIM"
This South Korean Television Drama was aired every Mondays and Tuesdays at 22:00 Korean Standard Time. It was aired on SBS from November 7, 2016 to January 16 this year. The drama consist of 21 episodes with a running time of 60 minutes each episode. The 21st episode is a special episode.
This drama was directed by Yu In-Sik who was from South Korea and he is also the one who directed the dramas entitled Mrs. Cop on 2015, Mrs. Cop 2 on 2016, You're All Surrounded on 2014, Incarnation of Money on 2013 and History of the Salaryman on 2012.
ROMANTIC DOCTOR, MASTER KIM TEASER
Video Source: DramaFever via www.youtube.com
SUMMARY
This drama is about a very famous doctor, a triple-certified surgeon and a genius. His name is Doctor Boo Yong-Joo and has a Nickname "Hand of God". But after an incident he suddenly disappeared and changed his name to Kim Sa-Bu. He is now working at a small Hospital located in Gangwon Province and is now known as Master Kim. But nobody knew why he disappeared. Master kim has two favorite students at the present named Doctor Kang Dong-Joo and Doctor Yoon Seo-jeong.
A few years ago when Kang Dong-Joo was still young his father died at Geodae Hospital because the surgery of his dad was cancelled since the Doctor in-charge postponed it and went to operate a VIP patient. Kang Dong-Joo got angry and made a scene (wreaking everything in sight) in the hospital the day after his father died but a Doctor stopped him and treated his wounds that were due to the things he broke and told him:
"Don't get revenge with anger, but with skill. Got that? If you don't change, then nothing will"
Kang Dong-Joo did not see the doctors face but was motivated with what the doctor said. After a few years Kang Dong-Joo turned out to be a very good doctor and encountered many difficulties in the medical industry. He is then curious about the Doctor who made him the Doctor he is now and tries to find him.
CHARACTERS IN THE DRAMA
Han Suk-Kyu as Doctor Boo Yong-Joo/Master Kim
Photo Source: Aradrama via http://aradrama.tv/
Doctor Boo Yong-Joo or also known as Kim Sa-Bu and Master Kim with the nickname "Hand of God" when he was still working on Geodae Hospital. He transferred to Doldam Hospital as Kim Sa-Bu. He is a triple-certified surgeon and a very respected surgeon at Doldam hospital.
Yoo Yeon-Seok as Doctor Kang Dong-Joo
Photo Source: Aradrama via http://aradrama.tv/
Kang Dong-Joo's father died in Geodae Hospital and the reason was stated above in the summary. He then became a skilled surgeon years after his father died. He was working at Geodae Hospital but was transferred to a small Hospital named Doldam Hospital because of an incident. He doesn't like the hospital but eventually ended caring for the hospital and got attached with the people working in it.
Seo Hyun-Jin as Doctor Yoon Seo-Jung
Photo Source: Aradrama via http://aradrama.tv/
Doctor Yoon Seo-Jung has a bright and warm personality and is a skilled surgeon at Geodae Hospital. She has also a strong desire to be recognized by President Do who is the one who raised her when she was young. But when her boyfriend died after rejecting his feelings she felt guilty and disappeared. She was lost in a mountain and got rescued by Master Kim and ended up working in Doldam Hospital.
OTHER CHARACTERS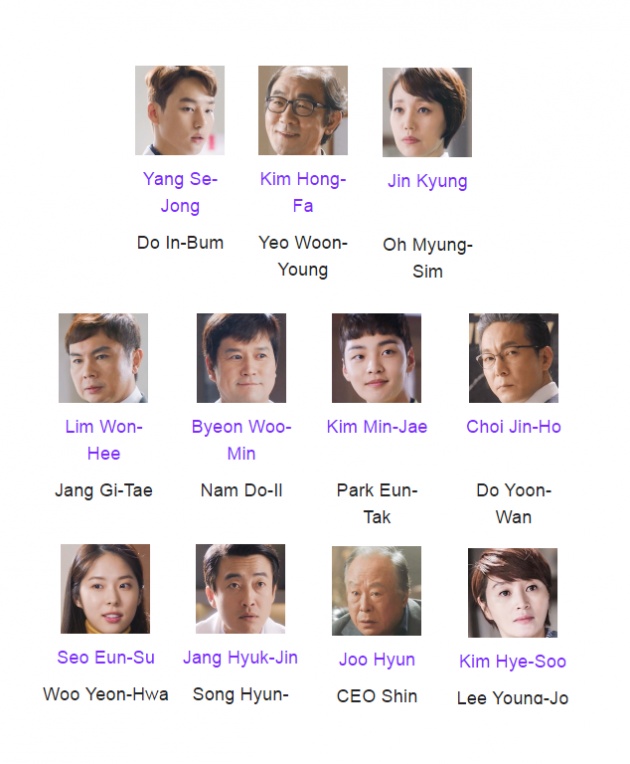 Photo Credit: Edited by me via http://asianwiki.com/Romantic_Doctor,_Teacher_Kim
Yang Se-Jong as Do In-Bum
He is the son of President Do which is the Director of Geodae Hospital. He is also a skilled and a good doctor but he feels inferior to Kang Dong-Joo because he has excellent skills.
Kim Hong-Fa as Yeo Woon-Young
He is the Director of Doldam Hospital. He is an old friend of President Do.
Jin Kyung as Oh Myung-Sim
She is the Head nurse of Doldam Hospitals Emergency room. Her loud voice comes out when she is very angry.
Lim Won-Hee as Jang Gi-Tae
He is now the manager of Doldam Hospital, he was promoted by President Do. He also has a crush on Nurse Oh Myung-Sim.
Byeon Woo-Min as Nam Do-Il
He is freelance anesthesiologist and he owned a restaurant near the hospital.
Kim Min-Jae as Park Eun-Tak
He is a Nurse at Doldam Hospital. He has a crush oh Doctor Yeon-Hwa.
Choi Jin-Ho as Do Yoon-Wan
He is the father of Doctor Do In-Bum and the one who raised Doctor Yeon Seo-Jung when she was young. President Do is the villain in this drama.
Seo Eun-Su as Woo Yeon-Hwa
She was brought to the hospital because she was unconscious and the nurses found out that she haven't eaten any food that's why she passed out. Then she worked there to pay her hospital expenses. There was an incident where Yeon Hwa tried to treat a patient without the surgeons permission and was reprimanded. after that incident Yeon-Hwa left Doldam and returned as a GS which means General Surgeon. She also has a crush on Doctor Kang.
Jang Hyuk-Jin as Song Hyun-Chul
He is a Surgeon form Geodae Hospital that was transferred to Doldam to report any news about the heart transplant of CEO Shin to President Do.
Joo Hyun as CEO Shin
He is the Hidden Chairman of Geodae Hospital. He needs a heart transplant and he only trust Master Kim to do his operation but President Do is doing everything to stop Master Kim from doing CEO Shin's Operation.
Kim Hye-Soo as Lee Young-Jo
She only appeared in the 21th episode which is the special episode. She is the first love of Kim Sa-Bu and still has feelings for Him. Watched the movie to find out what happens to their love story.
ROMANTIC DOCTOR MASTER KIM GALLERY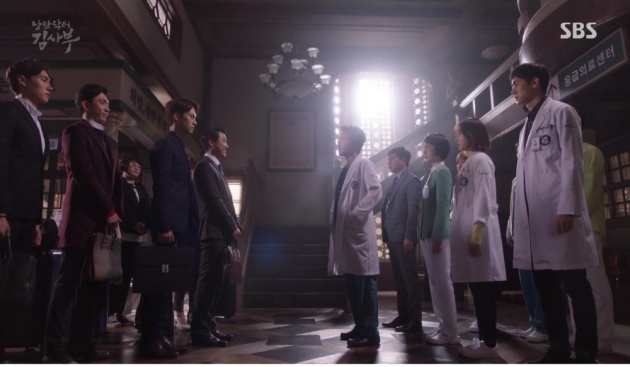 Photo Credit: tineybeanie via www.dramabeans.com
This is the part where the Doldam staff gathered in the lobby because the Doctors from Geodae Hospital are at Doldam under President Do's order. President Do did this for him to have more eyes and more people will report to him what is happening inside Doldam Hospital.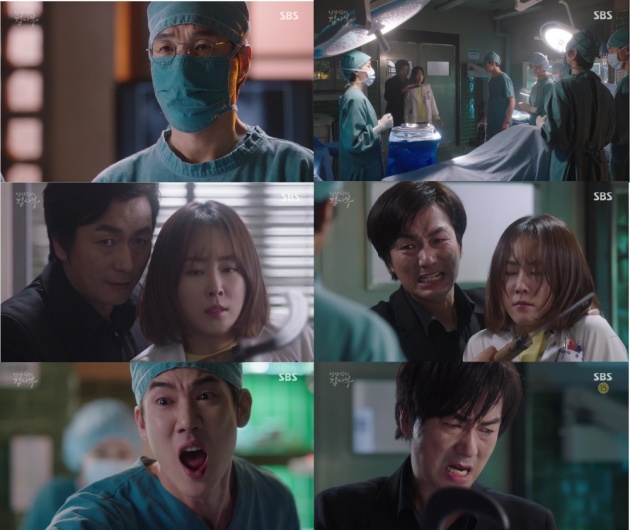 Photo Credit: Edited by @ninski via http://www.dramabeans.com/2016/12/romantic-doctor-teacher-kim-episode-7/
This is the part when that guy in a tuxedo is holding doctor Seo-Jung as a Hostage and is telling Master kim to stop the operation of the man who was stabbed. but Master Kim doesn't have any intention of stopping the operation and asked the man why he wants to let the patient die. The man answered that the patient was the one who raped her 11 year old daughter and wanted to get revenge by not letting the rapist live. Master Kim then said many things that let the father realized that what he is doing is not right. Watch the drama to see it for yourself it is really nice :)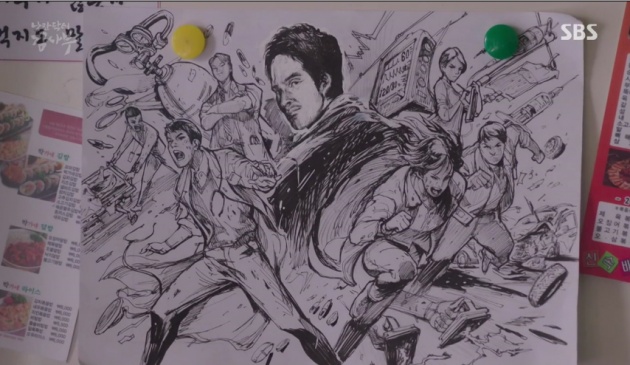 Photo Credit: tineybeanie via www.dramabeans.com
When I first saw this drawing in the drama it gave me goosebumps. This is a the drawing of one of their patients who is really amazed of their teamwork and made a drawing out of it. This patient is also a cartoonist and was searching for characters he will be using for his next book and decided to make the staff at the hospital as his characters.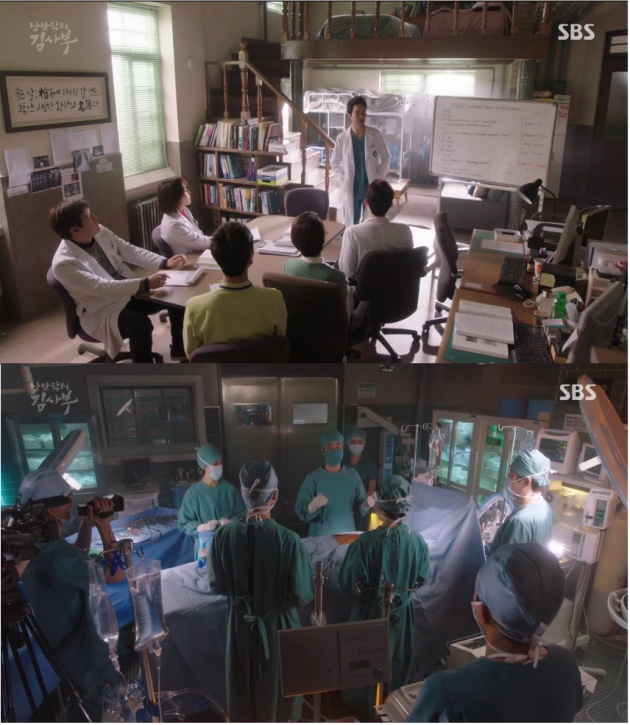 Photo Credit: Edited by @ninski via www.dramabeans.com
This is the part where they gathered and had a meeting regarding Chairman Shin's Operation. Master Kim also said to them to reduce the time of surgery because the longer Chairman Shin is under Anesthesia it will be more dangerous. The next picture is where they will be starting Chairman Shin's Surgery.
OFFICIAL SOUNDTRACK OF THIS DRAMA
Video Source: samsul rizal via www.youtube.com
Because of You by Lee Hyun
Forever Love by Haebin
In Place by Young Man
Walking Walking by Jun In-Kwon
Today was better than Yesterday by Lee Seok Hoon (SG Wannabe)
Daybreak by Mellow
It's Always alright by Shin Yong-Jae
Forever Love Instrumental by Haebin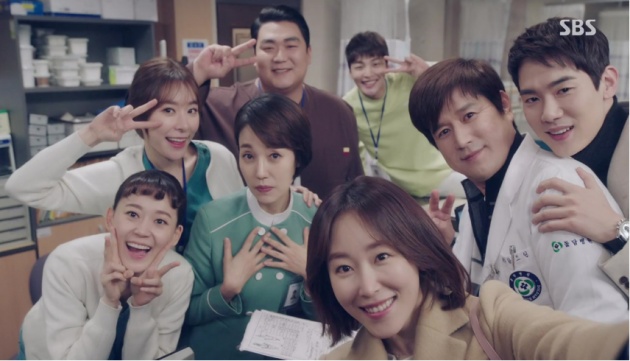 Photo Credit: tineybeanie via http://www.dramabeans.com/2017/01/romantic-doctor-teacher-kim-bonus-episode/
WATCH THIS DRAMA BY CLICKING THIS ---> ROMANTIC DOCTOR, MASTER KIM
Thank you for reading my Blog! Hope you like it and stay tuned for more Movie and Drama Reviews :)
Author: Ninski
A grade 11 wanna be blogger who loves to travel, read books and watch Movies.