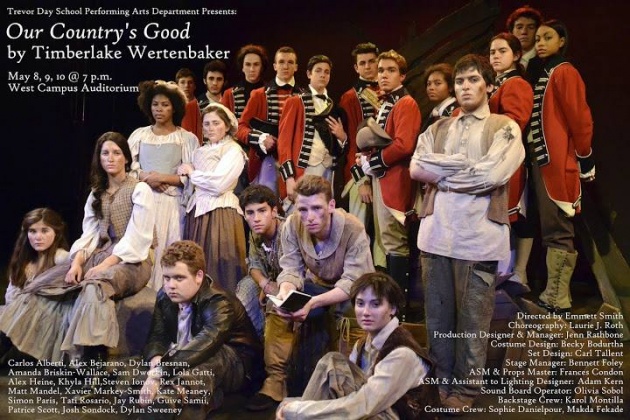 Trevor Day School Cast - New York City, May 2014
Over the last two years, Roya Mahboob has been working in partnership with Film Annex Networks, and she has received much acclaim for her work in Afghanistan building #DigitalLiteracy programs for girls in high schools. Roya's recognition has included: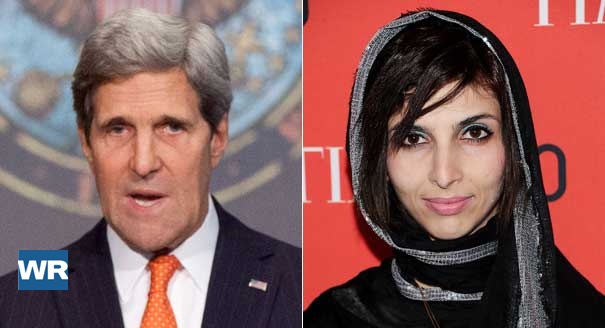 It has been an incredible two years for Roya, and I thought it would be good for her to see a New York City high school up close to contrast with the work she has done in Afghan high schools.
Dylan Sweeney is my older son and occasional Squash Blogger @ Film Annex. He is now a senior at Trevor Day School in Manhattan, and the mission of Trevor is:
"Trevor Day School builds an activity-based setting to educate each student for academic

excellence and personal integrity in a diverse coeducational community that emphasizes responsibility, stimulates collaboration, and promotes mutual respect."
Dylan is performing in the 2014 school play, and he played the role of Captain David Collins, RM in "Our Country's Good", which is a 1990 play written by British playwright, Timberlake Wertenbaker. It is a story about a group of British Royal Marines and convicts in a penal colony in New South Wales (Australia), in the 1780s. After much debate between the Royal Marine officers, it is determined that the convicts should put on a theatre production as part of their rehabilitation. The play shows the class system in the convict camp and it discusses themes such as sexuality, punishment, the Georgian judicial system, and the idea that it is possible for 'theatre to be a humanizing force'.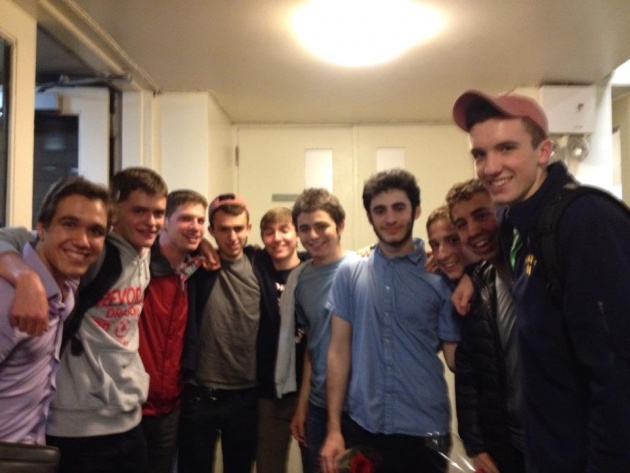 New York City Boys Backstage @ Trevor Day School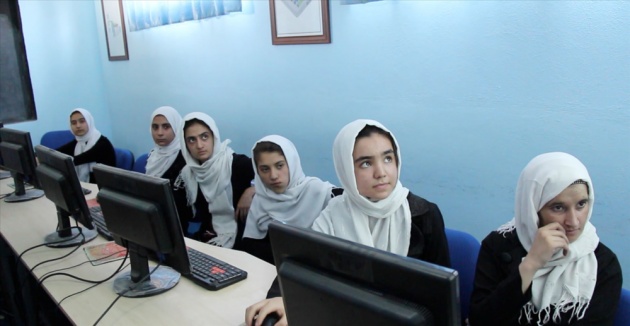 Afghan Girls @ Film Annex Media Lab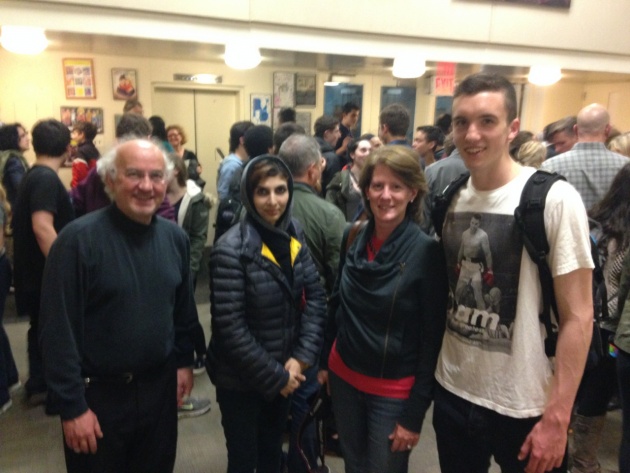 Backstage with Dr. Rafael Bejarano Narbona, Roya Mahboob, Leslie Benning, Dylan Sweeney
Now for me, it was very interesting to see Roya react to the story as she was born in Iran as an Afghan refugee living the first 16+ years of her life without any real country or national identity. Roya and her family were recognized as legal refugees in Iran, but she never visited Afghanistan until the wars calmed down and it was safe for her family to return to their hometown of Herat, Afghanistan. At intermission, I asked Roya if she wanted to leave and she immediately reacted, "Oh no, I want to stay."
My son Dylan Sweeney was accepted to the United States Naval Academy, and one day he could be a United States Naval Officer placed in a difficult position similar to the role he played - Captain David Collins. The second to last scene of the play is titled "The Question of Liz" where Captain David Collins is part of a military investigation on crimes committed by Liz Morden. The crimes she is accused of are so serious that she could potentially be the first woman hanged in New South Wales. Captain Collins started out in the play as a traditional military officer who follows orders and takes his duties seriously. During "The Question of Liz" the question of Liz's guilt weighs on him and he pushes through his anger to get Liz comfortable that they do indeed want to hear the truth. Liz explains what really happened and her life is spared.
As a parent of a future Naval Officer, I hope his career is spent playing squash with kids from Pakistan and Egypt (two countries who love squash), but I am glad he has had the real life experience of being able to apply a high school play to his real world experiences with Roya Mahboob and Fereshteh Forough.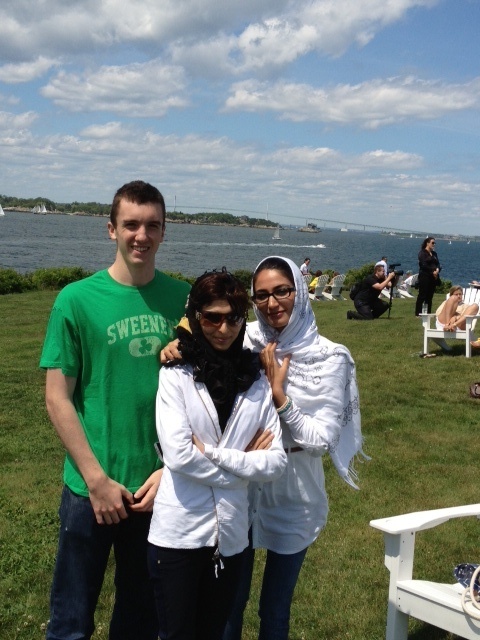 Dylan Sweeney, Roya Mahboob, Fereshteh Forough - Newport, Rhode Island
Someday he may be in a strange place thousands of miles away from the safety of Trevor Day School and hopefully these cultural exchanges will be good for the future decisions that he may have to make in the field. After we left Trevor Day School, Dylan and I walked Roya through Central Park to discuss the play, life, and our upcoming weekends - including Mother's Day.
Thank you to Katie Sweeney (Dylan's Mom) and Mrs. Najiba Mahboob (Roya's Mom) for allowing/sponsoring/supporting these two special people to take these unique paths in life. Friday evening was a special night and please remember to support Roya Mahboob's Foundation, and of course they accept Bitcoin!

Here is a good overview of Roya's work:
Happy Mothers Day!