S P E C T R E
The twenty-fourth series of movie of James bond is SPECTRE. The movie was produced by Eon Prodctions. The movie Spectre is the outcome of Skyfall, released in 2012. Featuring Daniel Craig in this movie as James bond. His fourth appearance in this series. The director was Sam Mendes, Story written by Neal Purvis, John Logan, Robert Wade and Jez Butterworth.
Columbia Pictures and Metro-Goldwyn-Mayer holds the distribution rights. It was a high budget movie, around $242 million and become the most expensive movie ever made.
OFFICIAL TRAILER
STARRING
I am going to describe the main and some other cast of this movie. so let's have a look on movie's cast.
Daniel Craig as James Bond
Daniel Wroughton Craig is an English actor who was born on March 2, 1968 in Chester, Cheshire. He played the role of 007 agent.
Christoph Waltz as Ernst Stavro Blofeld
Christoph Waltz is a Austrian-German actor, born on October 4, 1956 at Vienna. He played a double role in this movie. Firstly he played the role of Oberhauser, and secondly the cryptic brain behind Spectre as Blofeld.
Lea Seydoux as Dr. Madeleine Swann
Lea Helene Seydoux-Fornier de Clausonne is a French actor who was born on July 1, 1985 at Paris, She played a character of Psychologist in Austrian Alps who is also the daughter of Mr. White.
Ben Whishaw as Q
Benjamin John Ben Whishaw

is an English actor, born on October 14, 1980 in Clifton, Bedfordshire. He makes the equipment's and gadgets for the use of bond in MI6.
Monica Bellucci as Lucia Sciarra
Monica Anna Maria Bellucci born on September 30 1964 in Città di Castello, Umbria, Italy. She is a Italian actress. She appeared as widow of Marco Sciarra.
Ralph Fiennes as M
Ralph Nathaniel Twisleton-Wykeham-Fiennes is a British actor who was born on December 22, 1962 in Ipswich. He is M, and the Superior of bond as Head of MI6.



SCRIPT WITH SCENES
On a mission at Mexico, an unofficial systematic note from previous M. Chasing Marco Sciarra, an assassin. Bond kills three men who were involved in maneuvering a terrorist bombing attack. When chasing Marco, bond gets his ring, which was ornamented with an artificial octopus. After getting his ring, he kills Marco from helicopter by kicking him out. On his return to London, bond faced suspension by M, from his duty. C, The head of privately intelligence service which was merged in MI6 and MI5.
C launches a campaign for Britain with 8 countries, a global surveillance, took edge in nine states member and wants to close the 00 operation. On this decision, bond disobeys the order of M and goes towards the funeral of Sciarra at Rome. On meeting with his widow, lucia. She tells about a criminal organization, her husband belonged, namely spectre.
After that meeting, bond intrudes meeting of spectre, where hne recognizes Franz Oberhauser, spectre leader. Hinx an assassin of Spectre tries to follow bond, but escapes. He collected clues of mr. white, former member of quantum.



Bond contacts with moneypenny and asks her to probe Oberhauser, who reputed dead earlier. Now bond decides to find white who is thriving of poisoning. He goes to Austria, where he confesses that he is unhappy with quantum. He further says bond, that to find his daughter Dr. Madeline Swann and protect her who can leads bind to Spectre. After that, White commits suicide.
He now goes, in search of Dr. Madeline Swann. Hoffler Klinik, He locates swann but hinx abducts her. Bond saves her from Hinx and both goes to meet Q. In the meantime Q realizes that the Sciarra's ring relates to Oberhauser. Swann reveals that there is a hotel L'Americain in tangier.
Now both goes to the hotel and locates the secret room of white, where both of them gets clues of operations of Oberhauser base in the desert. They now travels to the station by train, where they provoked by Hinx. After a long fight in the train, with Swann's support bond ultimately throws Hinx off the train. When they reaches at station, both accompanied to Oberhauser's base. Bond conceals there that around the world, all terrorist attacks belongs to Spectre.
Oberhauser tells bond that he his own father and declared his death. Swann and bond escape from the base and destroys the base.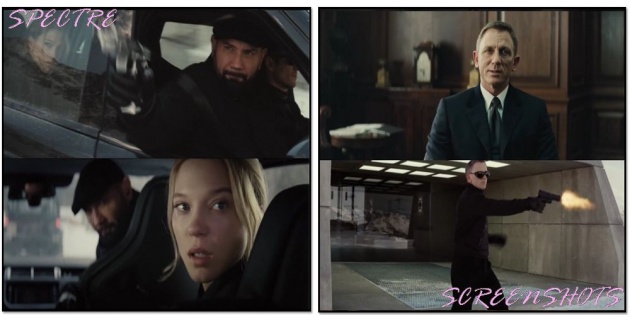 Now both returns to London and meets M, Q and Moneypenny. They demands to arrest C and wants to stop nine eyes. Now Swann wants to leave from there by saying bond that she cannot be involves in spying. Afterwards she kidnapped. Bond is trapped on the way and kidnapped.
Q stops the nine eyes from going online, and sets free bond in the old MI6 building where he gets three minutes to escape from building before explosion or save Swann by dying here. Both bond and Swann escapes from building by boat before explosion. Finally bond shoots the helicopter of Blofeld, crashes on the bridge. Blofeld arrested by M.
COPYRIGHTS
The rights of this movie has taken by Eon Productions. However, MGM holds the complete copyrights status of this movie.
MUSIC
The music of this movie composed by Thomas Newman.
RELEASE
On 26th Oct 2015, at Royal Albert Hall in London, Spectre, premiered. It has the successive extensive release than Skyfall in London having 640 plus cinemas.
RUNNING BUSINESS
At the box office, SPECTRE made approx $868 million globally. In the United Kingdom, the movie earned approx. $140 million. If we talk about the North America, the movie also got $190 million as well.
REVIEWS
On seeing on net I have seen a lot of mix reviews regarding Spectre. There is almost a fifty fifty reviews, some are giving extremely positive and some are giving highly negative response. This video shows the review of movie.
PERSONAL OPINION
I have seen this movie. The stunts made were awesome and beyond the expectations as always. Daniel Craig was reasonably outstanding in his appearance. I personally feel that it was a better movie than Skyfall.
T

H

E

E

N

D