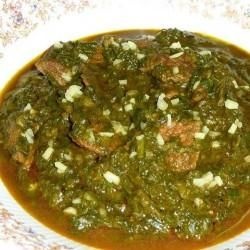 INGREDIENTS

500 grams Spinach
600 grams Lamb, 1 1/2 inch pieces on the bone
5 Green chillies
4 tbsps Oil
2 Bay leaves
6 Green cardamoms
2 Black cardamoms
Cinnamon 1 inch stick
4 Cloves
1 tsp Cumin seeds
3 Onions, sliced medium
6-8 Garlic, chopped cloves
1 tbsp Ginger paste
1 tbsp Garlic paste
to taste Red chilli powder
to taste Salt
Ginger, cut into thin strips 1 inch piece



COOKING DIRECTIONS
Boil spinach in salted boiling water for one minute. Drain well

Grind spinach and green chillies together to a coarse paste

Heat oil in a thick-bottomed pan. Add bay leaves, green cardamoms, black cardamoms, cinnamon, cloves and cumin seeds.

When cumin seeds begin to change colour, add onions.
Sauté till onions are translucent and Add chopped garlic and continue to sauté for another minute.

Add ginger paste, garlic paste, red chilli powder and lamb.
Cook on high heat, stirring constantly.

Add three cups of water and cook covered until lamb is almost done. [I pressure cooked it]

Add salt and spinach paste and cook till lamb is fully blended with spinach and is tender. Serve hot, garnished with ginger strips. DONE!!