If you are a Filipino, I am pretty sure that you are so familiar on how disastrous the traffic in our country. Another thing is the vehicle we used to ride. As a young adult who works on a daily basis, It has been a mindset to me that every day I shall face different struggles in commuting while on my way to our workplace. Imagine the sweat, crowded people in the bus and heavy traffic every day, what a horrific view it is. That is why when private cars were able to use for transportation, it has been a good relief for some of us. Yeah, such comfort will make us pay the price but if you can pay then why not right? One application that is familiar to all of us (For sure) is Grab.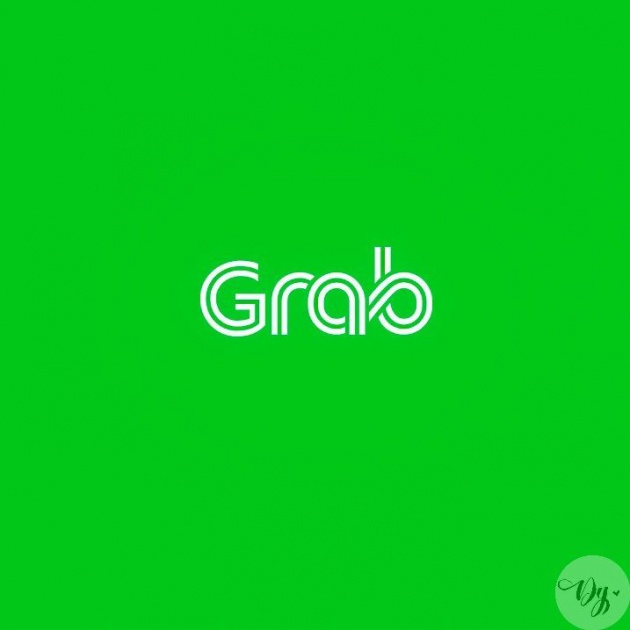 Photo Credits: Yannn via bitlanders.com
GrabTaxi Holdings Pte. Ltd. (branded as simply Grab) is a Singapore-based technology company that offers the only ride-hailing, ride sharing, and logistics services through its app in Singapore and neighboring Southeast Asian nations Malaysia, Indonesia, Philippines, Vietnam, Thailand, Myanmar, and Cambodia.
Video Credits: Grab Taxi via youtube.com
In the Philippines, there was Grab Taxi before Grab Car was launched. In this way, Taxis will have both option to accept passenger who tap them or booked them. Unlike Grab Car, you cannot tap any private Vehicle in the road, you need to book a ride first.
I've been a Grab user since 2016, I wasn't able to maximize it when I was still in college because I nearly have a tight budget. But when I started to work and was able to produce my own money, in times of need and emergency I am able to use and maximize the ride Grab has to offer. But I am not here to talk about their "Ride feature nor the "Grab Express" which enables us to deliver documents to a specific place, but I am here to talk about their new feature. The "Grab Food" feature and my experience with it. Yay!! In this period of time where people want comfort and all, Technology contributes a lot to it true that years ago restaurants already came up with Delivery service to their valued customers, and now Grab also thought of it in another level. Yay! I couldn't hide my excitement anymore so let's start with this!
GRAB PH PRESENTS: GRAB FOOD
Just a tap away.
Feed your cravings with your favorite foods delivered to you, wherever you are.

No minimum order.
From small bites to big meals, we won't limit your cravings. Go ahead and order what you want.

Foods for all cravings.
From local fare to restaurant favorites, our wide selection of food will definitely satisfy all your cravings.
• INSTALL THE APP •
So the first thing to do is to Install the Application on your phone.
I know, I know my recent blogs are all about Applications in a Mobile phone and well at least somehow I know that my blogs are quite useful. Hehe
You can search Grab in Apple or Google Play store. After Installing it, you have to register in the Application using your name and email or you can simply direct it to your Gmail or Facebook. That way you'll be able to enjoy rewards and freebies upon booking a ride or using the services of the app.
• CHOOSE FOOD SERVICE FEATURE •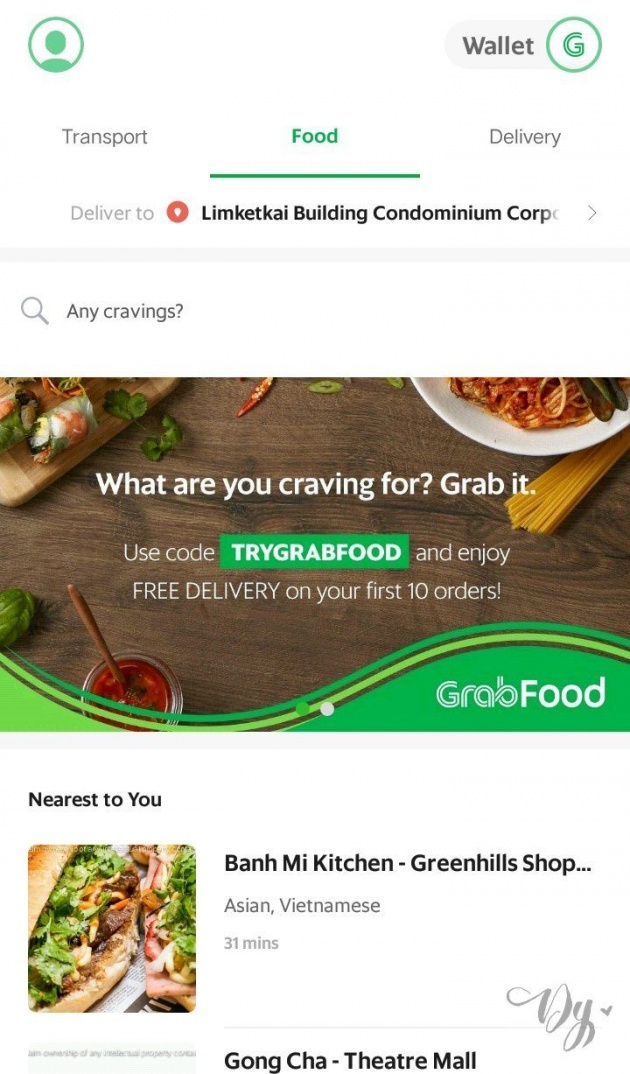 Photo Credits: Yannn via bitlanders.com
Above is the screenshot of the app wherein you have the freedom to choose between, Transport, food, and Delivery. And because we're here to try their Food delivery then we have to click the "Food button". Then below you'll see "Deliver and a location emoji" click it and type the location you wanted the food to be delivered in. As for us, I typed "Limketkai Building" and suddenly there was a suggested location. I just clicked it and it was set on the location. After you make sure the location, click the "Cravings" button.
Side note: See the photo in the middle? That is a very helpful advertisement. It indicates a Grab promo upon availing the food service.
Grab promo: Free delivery upon your first 10 orders. How great is that??
• CHOOSE YOUR RESTAURANT OR STORE •
"I'll stop the world and Milk tea with you"
Did you also sing with me? If you did then you might be a Milk tea lover as well. I've been a Milk tea lover since 2016 and my All time favorite is Dakasi's Milk tea! And surprisingly my office mates are Milk tea lovers too!! So I I introduced Dakasi to them and they totally loved it!!!
Video Credits: Gabby Lim via youtube.com
Dakasi Philippines aims to develop a nationwide chain of gourmet drinks. Milk teas and bubble teas have long been part of the Asian diet, but not for the Filipinos. With their fresh, unique, and convenient drinks, Dakasi wants to make milk teas an indispensable part of the daily lives of Filipinos.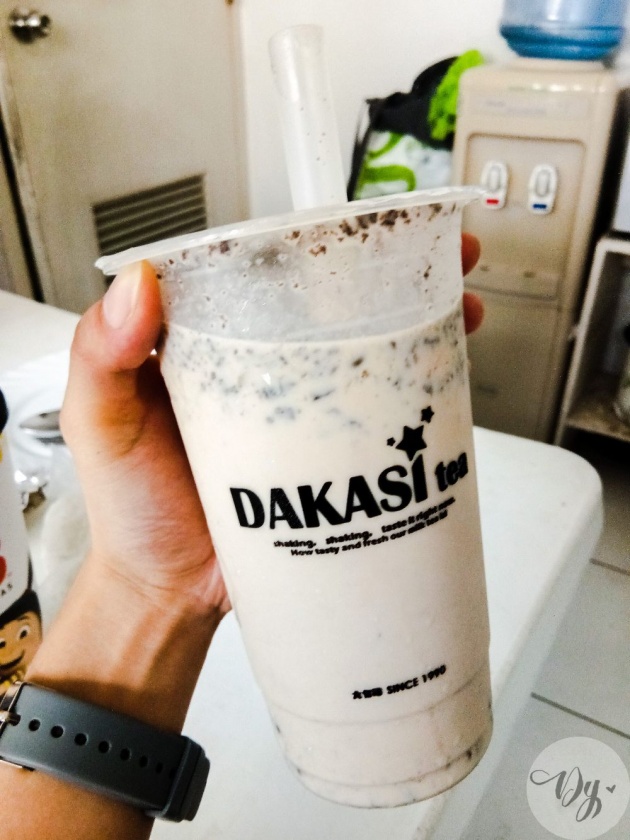 Photo Credits: Yannn via bitlanders.com
Going back, since we love Dakasi so much I initiate to try the new feature of Grab. So after clicking the "Any cravings" button, you'll have the choice to choose what food or drinks you want to be delivered. As per us, we ordered to Dakasi. Gladly, there was a near branch in our office located in P. Tuazon Cubao, Quezon City.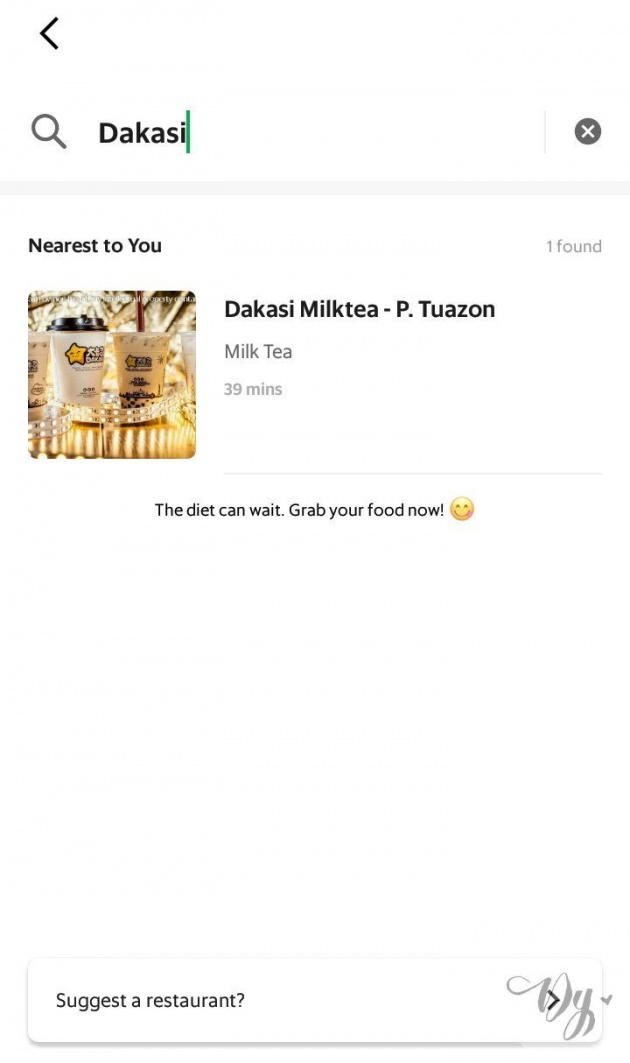 Photo Credits: Yannn via bitlanders.com
Yay! There's a near branch in our location with 39 minutes estimated time of travel. Unluckily, you can only make a delivery of a choice restaurant if there's available store near you.
After deciding what to order and found a location, you may now choose the drinks you want. Hooray!!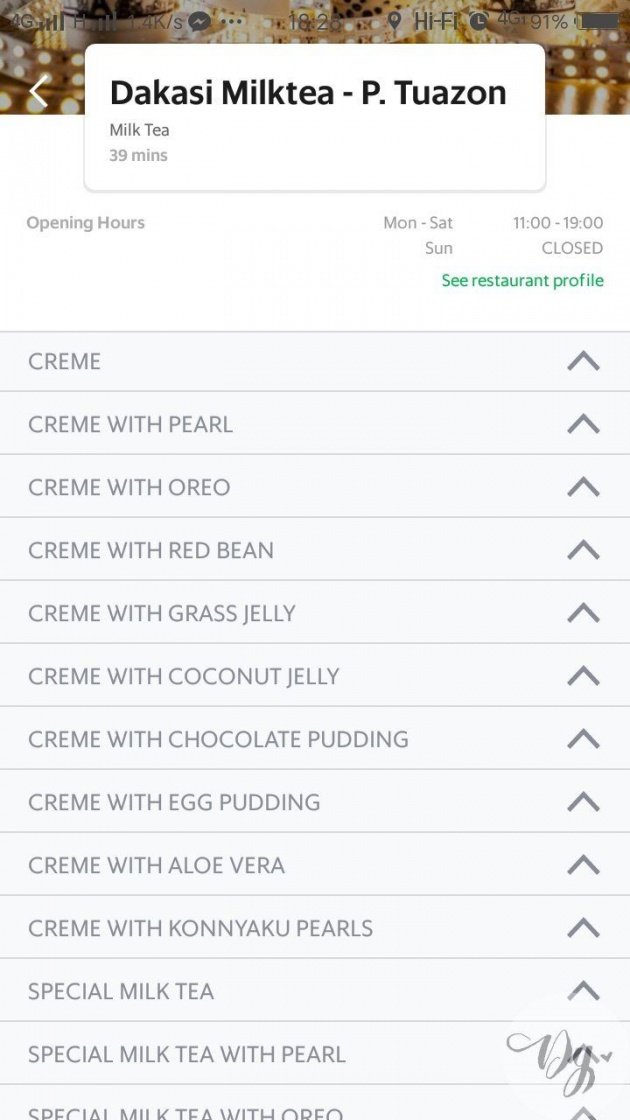 What I love about this is, they have the whole menu in your hands. Most of their drinks are all listed up together with add-ons and prices. So if you are a 1st timer drinker, you have nothing to worry about! After choosing our drinks, you'll be able to see your order summary. It was itemized according to your drink with prices.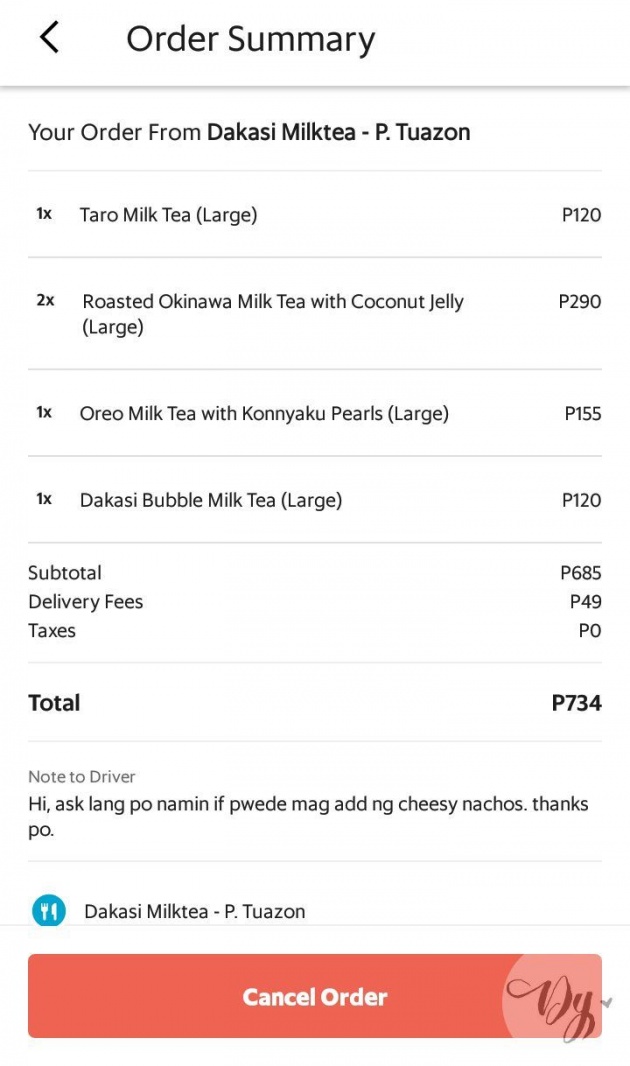 Photo Credits: Yannn via bitlanders.com
Note: There will be a standard of Php 49.00 for the delivery fee. But if you have a promo code like what I've mentioned earlier, you can get a free delivery without any hassle.
Another thing that I love about this is the comment section, here you can leave a message to the Grab driver. It saddens me that upon checking the menu, there was no Nachos or Quesadillas on the menu. So out of nowhere, I left a message in a comment box asking if I could also order 1 cheesy nachos. I wasn't being expectant because I don't want to be disappointed. You can also tell him the sugar level you wanted (which I clearly forgot to advice because I was being too hyped for the nachos).
• WAIT FOR THE DRIVER AND PLACING THE ORDERS •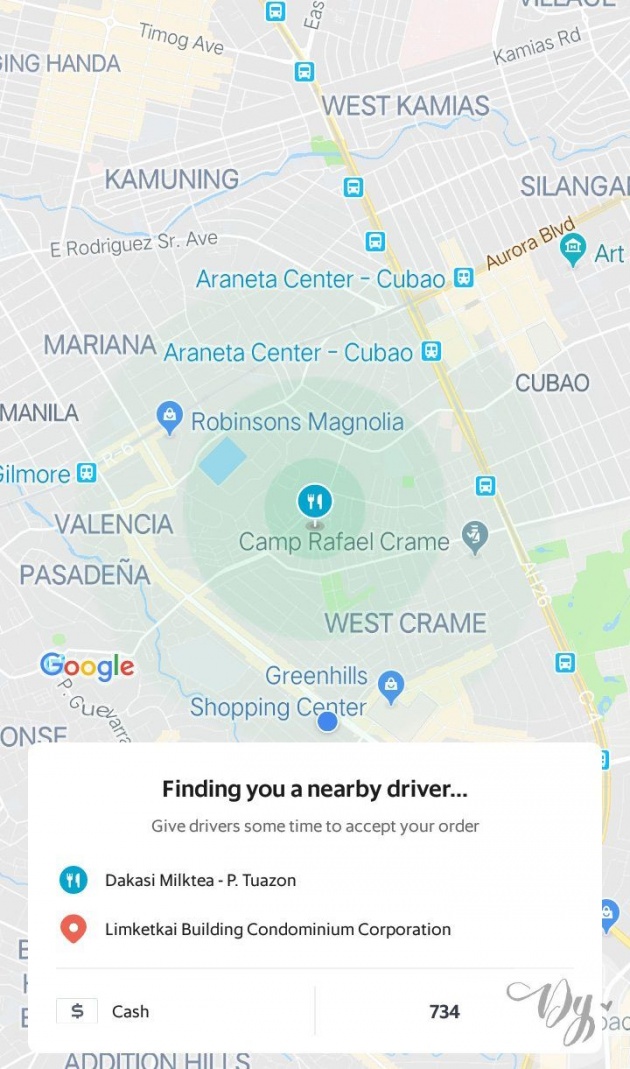 Photo Credits: Yannn via bitlanders.com
Well after placing your order, it's not done yet. That is why I'm composing myself not to expect more. (Because the last time we tried, we ended up disappointed because there was no driver available)
But a few minutes later, there was a notification prompt in the screen and finally, there was the driver who accepted my order! I'm so happy!!
There was an estimated time upon the arrival of your order and you can monitor the driver whether he is near the store or your location already.
As soon as the driver reached the desired store and was able to place your order, a system generated message will prompt in your screen to let you know that your food/drinks had been ordered.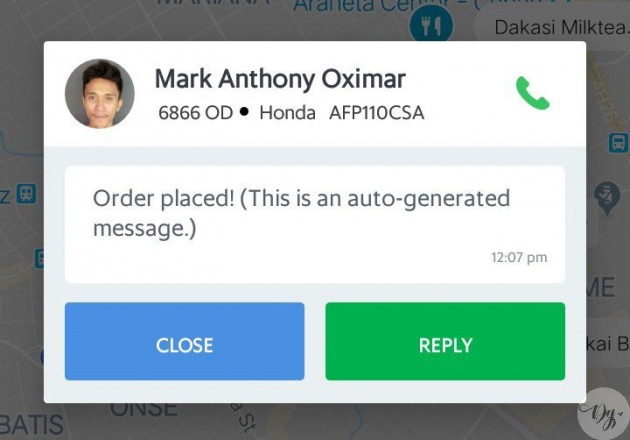 Photo Credits: Yannn via bitlanders.com
After placing the order another system generated message will arrive for you as soon as your order has been collected and prepare to be delivered. To tell you honestly, the messages hyped me so bad to get my orders. Maybe it is because it is our first time or maybe it's because it is Dakasi. I think it's both. Yay! Another good news is, the nachos I ordered through the comment box was a success!!! I can't wait to sip my milk tea and eat those crispy and cheesy nachos!
• DELIVERY OF THE FOOD •
After a few minutes indicated in the estimated time, finally, our order was delivered in our office. Since our office was located on the 2nd floor, I texted the Grab driver that our office was located in the 2nd-floor room 205 so that he can just proceed to our office.
Upon arriving, I asked him the total expenses and he handed me the receipt from Dakasi and said: "Plus Php 49.00 for delivery charges Ma'am". After that, I handed him the cash and he gave me my change. I asked him if I could keep the receipt but he insist that they need to keep it so I just took a photo of the receipt. In the app, the price of our bill is Php 734.00 but because I added a cheesy nachos (which is a special request) I added Php 80.00 for the prize of the cheesy nachos. Finally, I said thank you for the service and he left. But there is still one last thing that you should need to do.
• RATE THE DRIVER THROUGH HIS SERVICE AND ENJOY THE FOOD •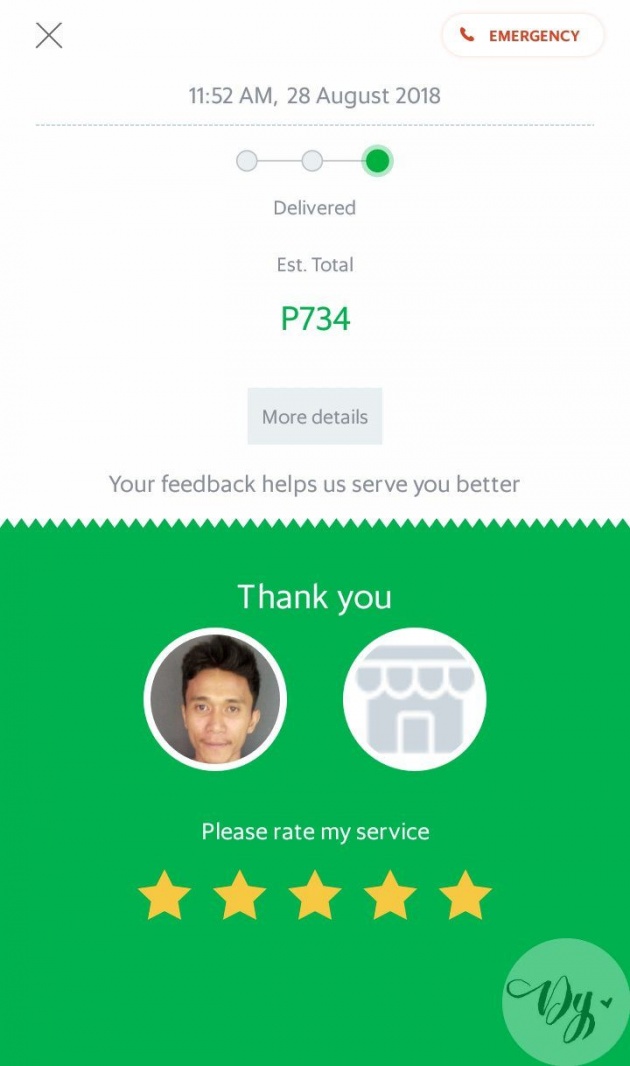 Photo Credits: Yannn via bitlanders.com
Lastly, although this is not mandatory still I highly encourage everyone to Rate the driver for his service and might as well leave a comment too. I believe this is the basis of GrabPH to know if their customers are satisfied or not. At the same time, it helps the Grab drivers by means of having a good rate. Of course, having a good rate will give them an opportunity to be accepted in a trip.
After rating the Grab Driver, we can now enjoy the food that we ordered.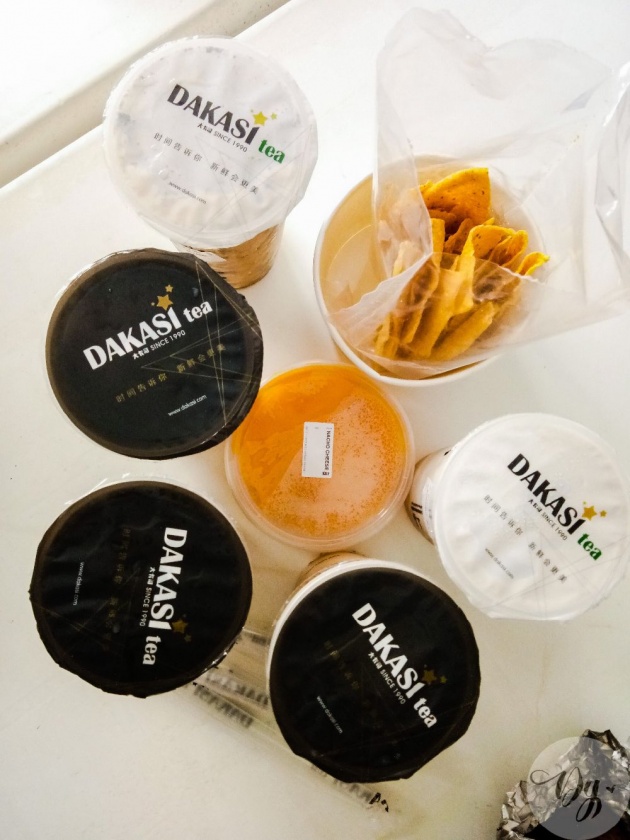 As for me and my officemates, it has been a Milk Tea party once again. This is an unforgettable experience because we rarely have Dakasi in office since there was no store nearby, the closest store is on Cubao.
I must admit that there are pros and cons, there will always be flaws but to sum it up, I can say that I am one satisfied customer, both of Grab PH and Dakasi. And I think this will not be the last time that I will use Grab Food to deliver the food that I'm craving for. Yay!!!
Have you tried Grab Food delivery yet? Share your thoughts as well. But if you haven't might as well try it yourself to see the experience!
Thank you for reading my blog, and if you want, in case you want to read more of my blogs you can check it out here:
Also, here's a quick Querlo for you guys: