Video Credits: Amazon Seller University via YouTube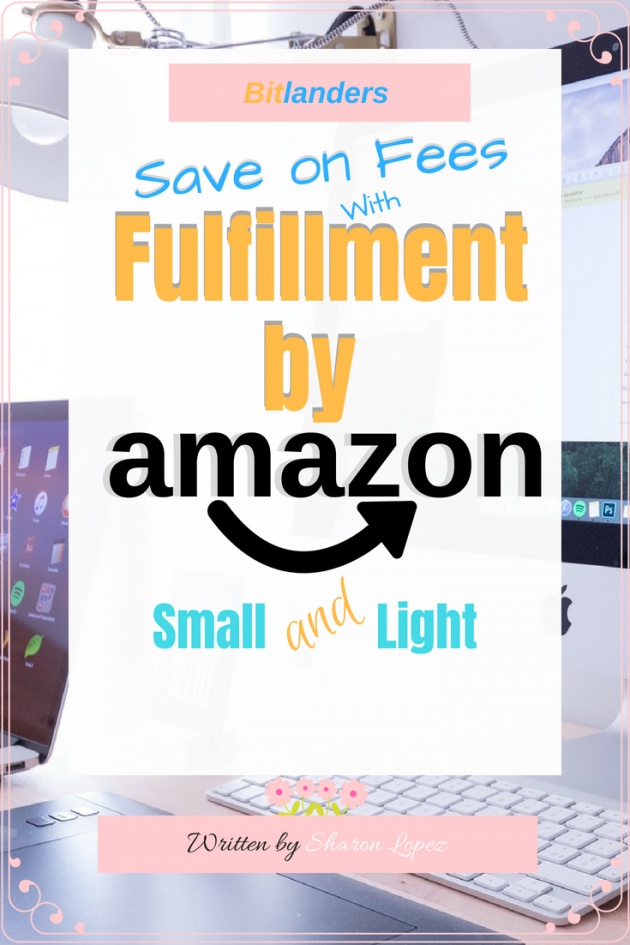 Image Credits: Sharon Lopez via Bitlanders
I recently shared a blog post on Fulfillment by Amazon (FBA) program which helps Amazon sellers save on time and achieve higher profit margins on their products. Under this program, Amazon assumes the responsibilities of safekeeping the products, assisting customers, delivery of orders and even handling returns. With this scheme, sellers can concentrate on the marketing aspect in order to generate more sales. Amazon handles all the necessary work which can give great benefits to the sellers and even the buyers.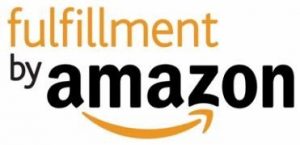 Image Credits: FitsSmallBusiness.com
The traditional FBA program provides uniform fees which cover all the items regardless of the amount, size and weight. It would be favorable if the price of your items is priced above $10 and with an average size and weigh just enough. However, if your items are priced below $5 or above $5 but below $15 and are smaller and lighter, it would be impractical if you have to pay the same rate as the traditional FBA.
FBA Small and Light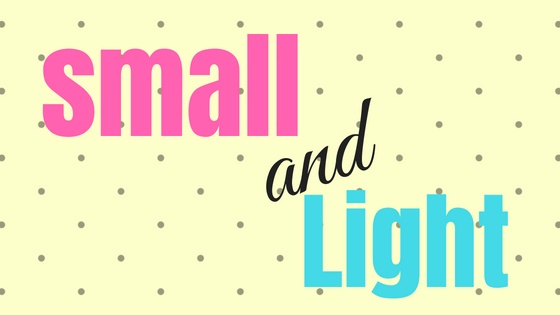 Image Credits: Sharon Lopez via Bitlanders
This is the reason why Amazon came up with the special program for fast-moving, small and light items, the Fulfillment By Amazon Small and Light. With this program, sellers with items priced below $5 or above $5 but below $15 will no longer have to pay using the traditional FBA rate. This will give them more profit margins for their products, thus, they could expect a higher income.
Here is a table showing the distribution of fees under the FBA Small and Light Program: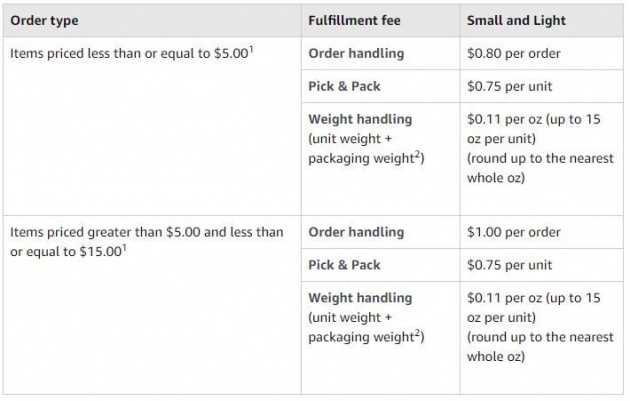 Image Credits: SellerCentral.Amazon.com
It would be noticeable that items that are priced $5 or below are charged $0.80 per order while those items priced $15 and below are charged $1.00 per order. Pick and pack and weight handling are charged similarly.
Which Products Qualify to FBA Small and Light
In order to be qualified to the FBA Small and Light Program, the following should be considered:
1. Price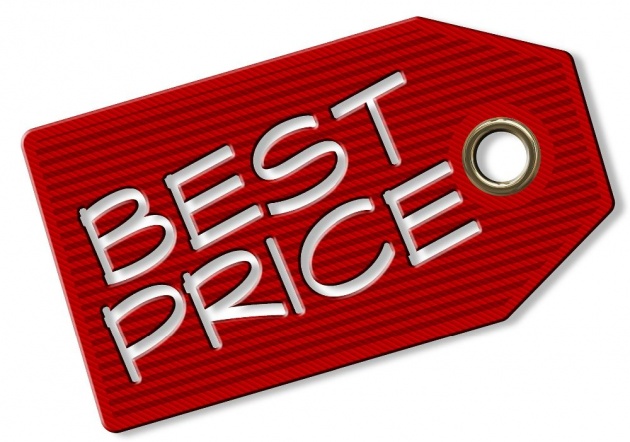 Image Credits: Geralt via Pixabay
Products must be not more than $15.00.
2. Only brand new products are allowed in the FBA Small and Light Program.

Image Credits: Geralt via Pixabay
Used items are not allowed to be enrolled in the FBA Small and light program.
3. Size

Image Credits: Kaz via Pixabay
Items should measure not more than 16x9x4 inches.
4. Weight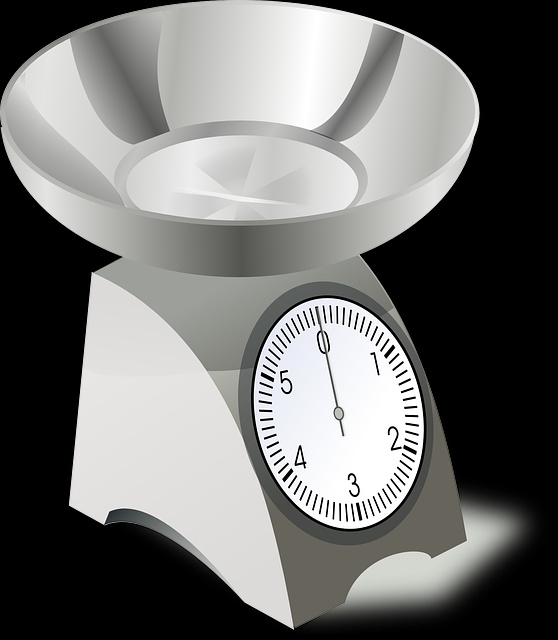 Image Credits: OpenClipart Vector via Pixabay
The item should not weigh more than 15 ounces.
Products should meet all these specifications to be eligible for the FBA Small and Light Program. The main consideration is the price of the product, followed by the size and the weight.
What Items Are Not Eligible for FBA Small and Light?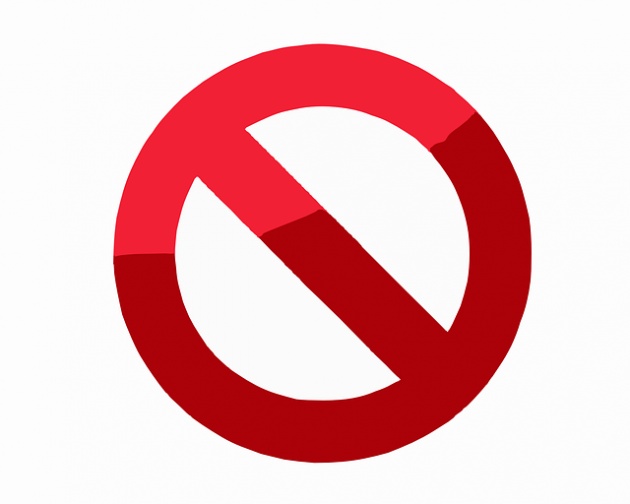 Image Credits: Clker Free Vector Images via Pixabay
Aside from the those which did not qualify because it did not meet the criteria, there are other items which could not be considered in the Small and Light Program. Here they are:
Harmful products - this may include animals and animal feeds
Any product which cannot be lawfully sold
Alcoholic beverages
Jewelry and other precious gems
You may refer here for the complete list of prohibited items.
Difference Between FBA Small and Light and Traditional FBA
Here is an example of the difference between the traditional FBA and the FBA Small and Light in terms of fees to be collected.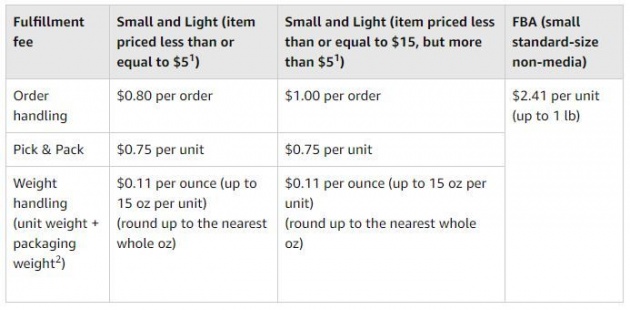 Image Credits: SellerCentral.Amazon.com
From the above example, It could be noted that the traditional FBA has a standard fulfillment fee covering the order handling, pick and pack and weight handling. While the FBA Small and Light is charging different amount on each area.
It should likewise be noted that we can mix the products in one packaging, however, the items will be charged fees based on items with a price greater than $5 and less than or equal to $15.00. Those items with a selling price of more than $15.00 will be charged standard FBA fees.
How to Achieve the Full Benefit of using FBA Small and light
Since the Amazon FBA Small and Light, help us in saving because of the lowering of fees especially on the FBA Small and Light. It is, therefore, it would be easier for us to set a lower price.
Enroll item that you self-fulfill
If you enroll items in the FBA Small and Light, make sure that you enroll those items you self-fulfill.
Activate replenishment alert to avoid a loss on sale because you run out of stock.
It will save you from unwanted losses due to inability to replenish the stock. Once your stocks reached a certain point, you will be informed right away thus, you will have ample time to send in stock before your run out of stocks.
Moreover, you can be able to monitor your stocks anytime, using any gadget and from any location.
Here is another video showing how Amazon receives your inventory. I hope this would provide necessary information which would be useful especially for those who are planning to pursue an Amazon selling business.
Video credits: FulfillmentbyAmazon via YouTube
On the final thought...
It's good to know that Amazon is implementing different programs that will give benefits to both the sellers and the buyers. As the site continues to grow, the people around it are also growing in terms of earnings. For those who want to become an Amazon seller, you will be surprised by the enormous benefits of becoming one.
Before you leave this page, please take time to answer the Querlo Chat Survey especially made for you...
More from this Author:
-oOo-
DISCLAIMER: The views and opinions expressed in this blog post are that of the author and does not in any way represent the agency or department she currently belongs.
ADDITIONAL NOTE: The sites mentioned in this post are for information purposes only and links are provided for easy access. The author does not receive any remuneration from the said companies or sites.
______________________________________________________________________________
Written for Bitlanders
by Sharon Lopez
Date: August 17, 2018
Visit my blog profile for more BLOG POSTS
Let's connect on Facebook
Want to earn from sharing your opinions through blogging? Join us in Bitlanders and claim your 1 DOLLAR REWARD upon signing up. CLICK HERE TO JOIN