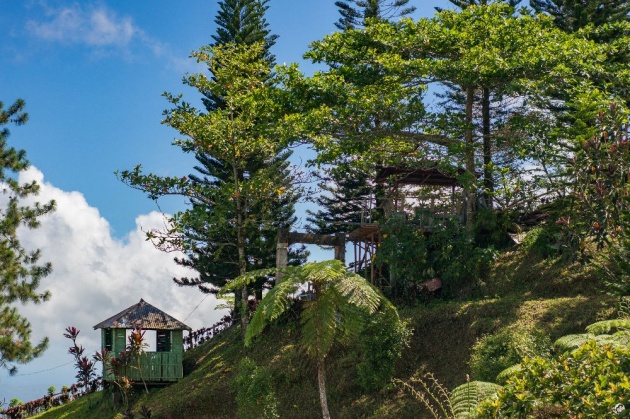 Image credits: Jean Beltran via bitLanders
I have never been scammed before until last weekend at JVR Island in the Sky. I can't believe that I will become a victim and I just hope for that person to feel bad about victimizing me and the other previous guest. How did this happen? Well, read on and I will tell you.
Scammed at JVR Island in the Sky
Video credits: Jean Beltran via bitLanders
A week ago prior to this recent weekend, I called a phone number which was listed online for JVR Island in the Sky's contact information. I had spoken with Carlo Castillo who confirmed that he can reserve us a room for two but we have to send him a deposit amount of Php 500. Because I had never been scammed and never thought that this person was not anymore affiliated with the resort, I sent him the amount, he as well confirmed afterward that the room has been reserved.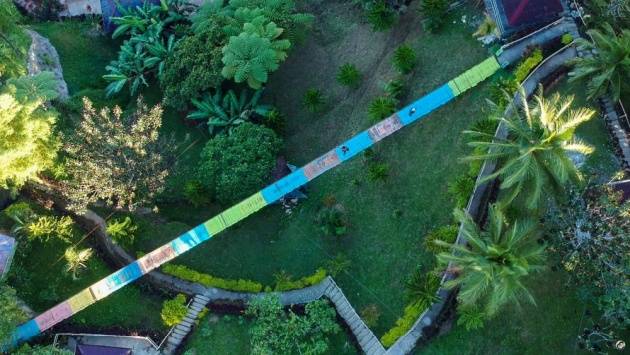 Image credits: Jean Beltran via bitLanders
Fast forward Saturday, after having lunch at West 35's Haven Cafe, we went straight to JVR Island in the Sky so we can leave our backpacks in the room. That morning, Carlo sent me an SMS advising that he will return the amount because he is not at the resort, he even mentioned that the room has already been reserved but we have to pay the full amount because he wasn't at the location. James had a bad feeling about it but I just ditched that, still thinking that Carlo would indeed return the amount later that afternoon.
The Revelation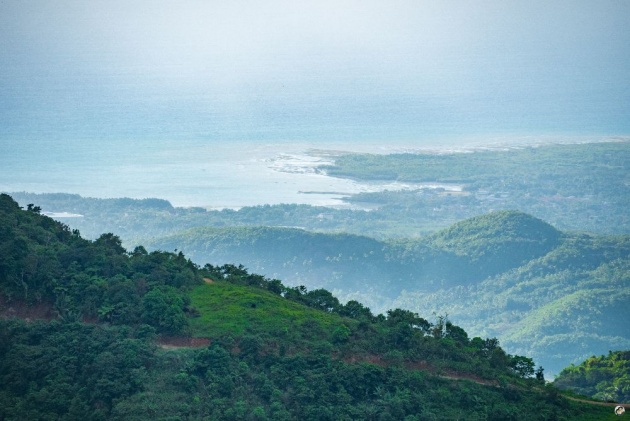 Image credits: Jean Beltran via bitLanders
JVR Island in the Sky's front desk is a tiny hut with around four or five people inside including two senior citizens. A young man in a crew uniform approached us, I told him about our reservation, that we paid Carlo Castillo Php 500 for the reservation but since he is not around, we'll just pay the exact fee for the room. The young man excused himself and talked with the rest of the guys at the front desk, they were murmuring and I felt weird, bad and blood started rushing to my face.
He came back with the revelation that this certain Mr. Carlo Castillo has been kicked out of the resort since November 2017. I was stunned, I looked back to James and he smiled, he said just let it go and just pay the amount. Before paying, I was telling them what are their actions on this because it's the second time that this person had victimized a guest.
But instead of them feeling sorry for the act done by their ex-employee, one of the older ladies just told me that I have to run after him and they can't do anything about it. It was very inappropriate for a staff to say that at least they should say sorry about this and would promise that they'll help us get that person especially that Mr. Castillo is a nephew of the owner! It was easy to catch him and get him pay for the damage.
I was already tired and I have a heavy backpack on my back, I wished there were cheaper rooms around that we can stay at as well so I can forget about that bad experience but it was past three and I want to rest my back so we just forget about it, James was telling me to just let this pass and just pay for our room. Good thing they have spare rooms for us!
The Room
With a heavy heart, I paid Php 1500, in total, I spent Php 2000 for this resort and inside of me, I was telling myself this room better be worth for the Php 2000 I just paid.
Image credits: Jean Beltran via bitLanders
We walked past the colorful hanging bridge, I was a little nervous as it tends to swing strong and I couldn't balance well, James was assisting me with my stuff but I still have to use both my hands to balance.
Then we walked down the concrete stairs, pine trees standing at the sides which I like. I adore pine trees just like how I adore Baguio City. It gave me a little sense of calmness, but I still have to walk down towards the very end where our room awaits.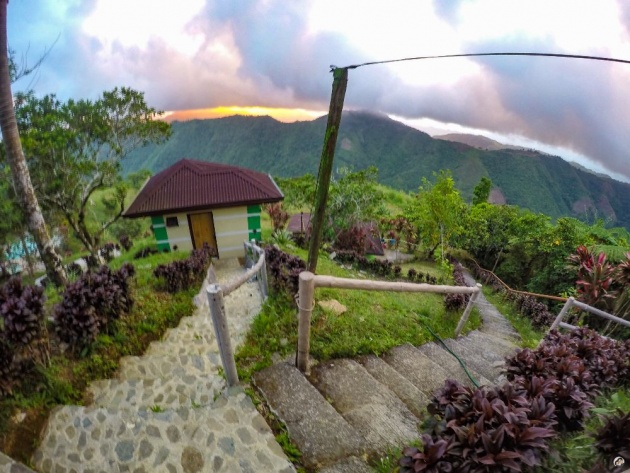 Image credits: Jean Beltran via bitLanders
They refer it as "Love Room", sounds a little corny for me. I noticed it is very small. As the staff opened the door, I was shocked at how tiny this room was! It only has a bed, a table, one chair and a bathroom inside. No shower, no mirror, no trash bin, no electric fan, no air conditioner. Well, I understand they don't provide the latter because the weather here is cold but this was very simple for the amount!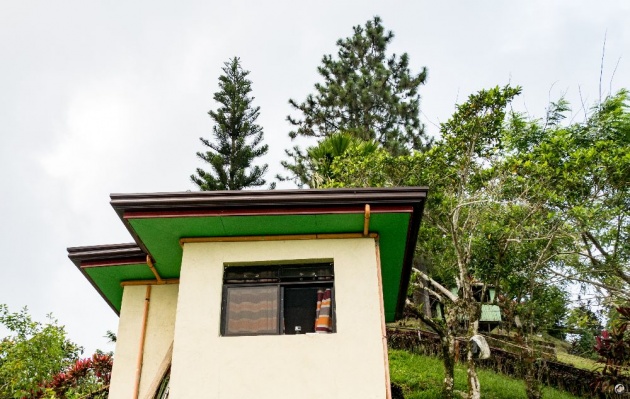 Image credits: Jean Beltran via bitLanders
In fairness, the bed was comfortable and at that point, I felt like that's all I wanted to release the stress within me. I checked the bathroom, it was super tiny but it has a bidet in it which was a surprise and a tiny sink which is just used for brushing teeth. They provided towel, soap and shampoo sachets and that's it.
I compared it with what we had in Negros Occidental, that cottage on a hill where I fell in love with, that cost me only Php 1200 per night including the wifi, the 50-inch television, the fridge, the kitchen and all of that. I realized I should be comparing anything but I can't help. Balamban has expensive rooms, I wish we stayed at West 35 but that was also expensive, we didn't plan this trip to be like this.
The Pool
After resting, James wanted to take a swim at the pool below which I agreed, we knew the water will be cold which was what we needed so we can calm our minds and just relax.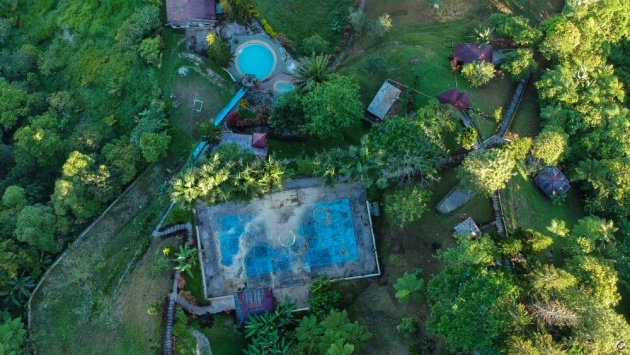 Image credits: Jean Beltran via bitLanders
Based on my own research, the pool has a short slide. But it was a hoax! As soon as I reached the pool, I checked the slide, it has a concrete blockage before the pool so it was not a slide after all. This was another disappointment! I can't believe this resort has been providing wrong information to the public on the photos they post on their social media accounts!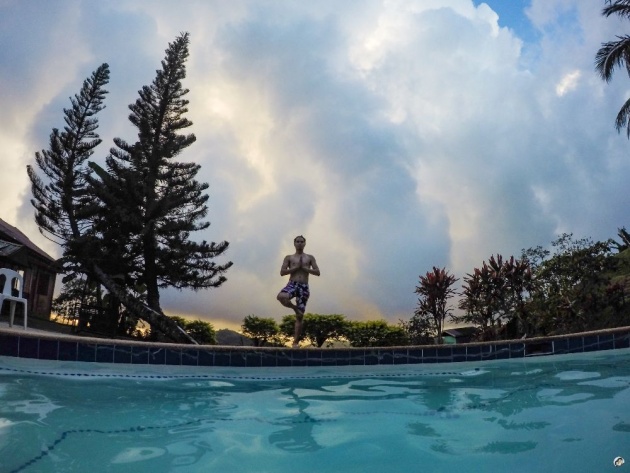 Image credits: Jean Beltran via bitLanders
Anyways, we just enjoyed the pool since we can't do anything about it. The very least I could do is clear up those wrong information soon after we get home and through this blog.
Video credits: Jean Beltran via bitLanders
We were the sole swimmers at the pool, the view in front of us was amazing, James even kid that we paid for the tiny room for Php 500 and the view for Php 1500. We laughed about it and sure enough just forget about the bad vibes.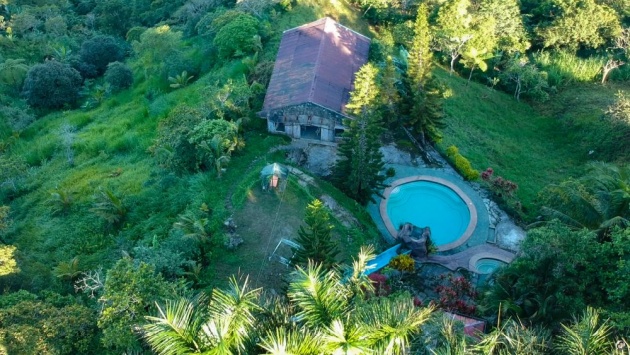 Image credits: Jean Beltran via bitLanders
Focus on the Brighter Side of the Coin
The best thing to do in certain cases like this is to look at the brighter side of the coin. Yes, we were scammed, good thing it was just Php 500, it would have broken my heart if it was the full Php 1500 amount and I sure will go after that person. Then the room situation and the pool, we couldn't do anything about that but just enjoy what's there for us. Perhaps because we had traveled to different places and had seen other resorts, we can't deny the fact that we have the tendencies of comparison but at the end of the day, our perspective of just focusing on what's important and turning our energies to those what we can change.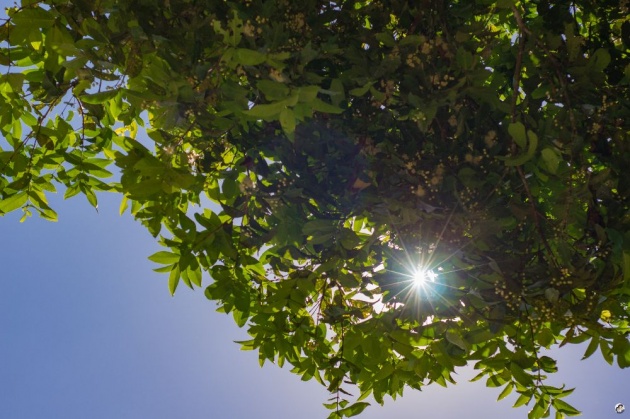 Image credits: Jean Beltran via bitLanders
By the way, after that weekend, I kept communicating with Mr. Castillo as he promised to return the amount but he had blocked me, I couldn't send an SMS to his number and he also stopped responding to our messages using James' mobile. Oh well, I had prayed for him, hoping he won't have any more victims in the future and I hope that the resort would do their best to delete that number on their social media and other websites.
This blog entry was written and published by Jean Beltran-Figues for bitlanders.com.