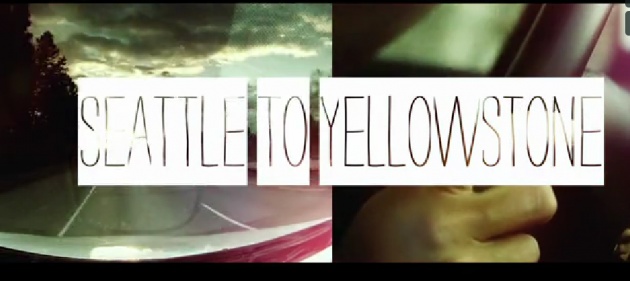 A video by Keith Rivers. They took a 2011 Chevy Equinoxfrom Seattle to Yellowstone. Clark Koelsch and Director of Photography extraordinaire Chayse Irvin flew up from LA to Seattle. They hop in the SUV and took off, driving 2000+ miles...sleeping in parking lots...and finally resting at an assisted living facility before driving a consecutive 15 hours back to Seattle.
Name of Route:
"Seattle to Yellowstone: A Path We Must Take"
Route Description:
The Seattle skyline led they out of the city on I-5 as they merged onto I-90 eastbound and into the darkness of Washington's endless evergreens and snow-capped mountains. Guided by the stars, they rotated driving duties as music and lyrics drifted in and out of our ears like a poetic dream.
As the sun launched over the horizon, They were introduced to the serene, flat vastness of big sky Montana, and their 2011 Chevy Equinox had witnessed our confessions, philosophies, predictions, and stories of old loves, all that comes along with your typical "guys' weekend". With no strict agenda, they stopped anytime they felt the need for adventure, a pee break, or maybe even a little bit of trouble.
First stop: just outside of Harrison, MT, they hiked through a wheat field and past an old Chevy Blazer from another life. They encountered a bone-yard of cattle skulls, one of which they knew had to join them for the remainder of the trip. They named thei bull skull "Homer."
They dug through old mining caves in the ghost town of Pony, MT with the guidance of a tiny LED light. As they ventured back from the smell of sulfur, They passed an old, yellow school bus, which reminded them of the film "Into the Wild". They had to explain the movie to Homer.
In Bozeman, MT, They drove to their friend Nick's grandma's house for a true Montana home-cooked steak dinner and shot some pool. Hands down best steak they'd ever had in their lives and it wasn't just the marinade. Their head's hit the pillow hard that night when they made it to the Bozeman Retirement Home they called home on this journey. This was an assisted living facility for old folks, and a place where they made some new, old friends.
Next stop: Their final destination. Yellowstone National Park in Wyoming – a place complete with wintering waterfalls, ancient trees, geo-thermal geysers, mud flats, colorful paint pots, and herds of buffalo. Ever sang the song, "Oh, give me a home, where the deer and the antelope roam?" We're knee deep in it. Old Faithful and Boiling River were their favorite stops in Yellowstone. Although, there is no documentation of Boiling River, thanks to an unfriendly elk who ironically gave chase to their Director of Photography: Chayse Irvin. As he walked back to the Equinox to get the camera, he took a drive into the freezing cold glacial river, downstream. Homer found this very funny. So did the rest of them.
Soon, nightfall was upon Them, and so were the park rangers and police officers. So far, two warnings, no speeding tickets. They're stoked that they were documenting their trip and traveling as far as they have come. Noted that the law enforcement community in Wyoming is surprisingly friendly!
They began their trip home with a stop at a Bozeman gas station followed by Ted's Montana Grill. The bison burgers were the perfect fuel for their 10-hour drive back to Seattle. Again, more sleeping and alternating the wheel. More music scoring as we passed old steam pipes, bridges, tracing imaginary trails of stars.
One final stop before arriving home: Goldmyer Hotsprings, deep in North Bend, WA. Nature's hot tub nestled at the foot of the Cascade Mountains. They soaked in the 120-degree water carved from an old cave, soaking and sealing the memories they made, and how they'd never forget the experiences or people they'd met along the way. Even homer.
All credit goes to owner of the video Keith Rivers.