You can either see yourself as a wave in the ocean or you can see yourself as the ocean.


- Oprah Winfrey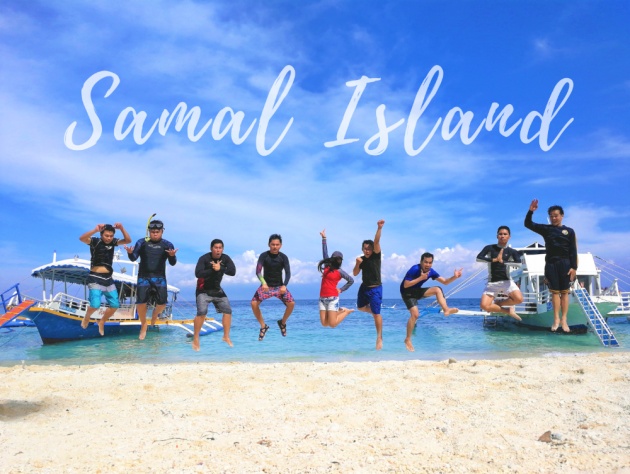 Image Credits: kneelyrac
If you have a mermaid or merman soul in you, Samal Island is a must in your itinerary. A whole day boat trip is enough to tour unwind and loosen up from the stressful things in life. Now for our Samal Island getaway, we rented the whole boat even though we're only ten including our classmate who just arrived from his graveyard shift. He waited for the boat we rented at Sta. Ana Wharf. Since we rented the boat alone, we can decide what time we will go to our next destination.
SAMAL ISLAND
Samal is officially named as Island Garden City of Samal (IGaCOS). IGaCOS is a 4th class city of Davao del Norte. Samal Island is made up of Samal Island and the smaller Talikud Island in the Davao Gulf which makes it as the only city in the country that encompasses two entire islands.
Also, it is the largest resort city in the country. The island boasts its pristine beaches with fine white sand, abundant reefs and marine life, and magnificent rock formations. The tranquil water is very alluring and tempting.
GETTING THERE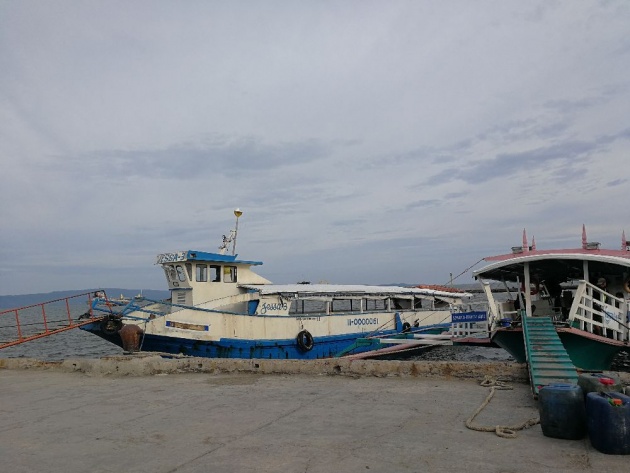 Image Credits: kneelyrac
Samal is just two kilometers away from Davao City, which is just 10-20 minutes sea ride from Davao City. However, in our case, we stayed in one of the beach resorts in Talikud Island, Isla Reta Beach Resort. With that, from Sta. Ana Wharf, the boat we rented fetch us in Isla Reta around 9:00 am. A boat ride from Sta. Ana port to Isla Reta is around 45-60 minutes ride. Since Talikud Island is part of Samal Island, then our first destination was Isla Reta of Talikud Island and to the other beautiful spots of Samal.
> Boat from Sta. Ana Wharf to Isla Reta - Php 80
THE BOAT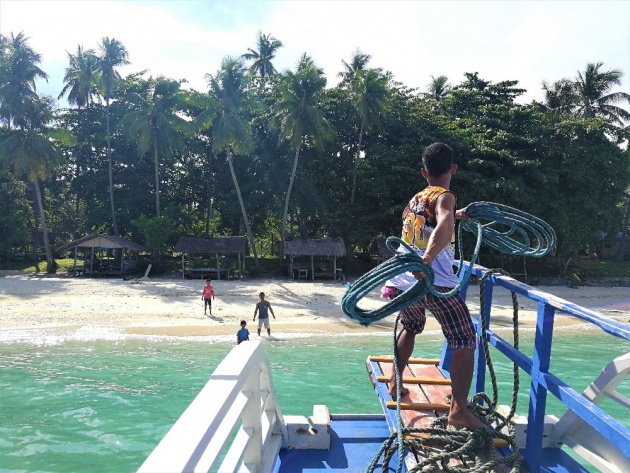 Image Credits: kneelyrac
The boat was really big for the ten of us, excluding the three crew. It has a very decent comfort room, a mini kitchen where you can prepare and grill some fishes and seafood. Life vest and goggles are hanged and displayed where you can just grab and then wear it. Of course, when traveling, it is best accompanied with music. Luckily, the boat has a well-surrounded Bluetooth speaker. The loudness and the choice of our music was definitely a head turner. Yes hello to Boom Boom by Momoland!
> Boat Rental Fee (excluding food) - Php 9500
Video Credits: kneelyrac via Bitlanders
THE STOP-OVER
As mentioned, Samal Island is composed of one big island, Samal, and the smaller island, Talikud Island. Our first destination was Isla Reta at Talikud Island. After that, we circled around the rest of the destination/stopover in Talikud Island and Samal Island which took as a day to coastal tour the Samal Island via boat.
We had five stop-overs and each stop-over is really mesmerizing!
1. Babu Santa Beach Resort

Image Credits: kneelyrac
If you want a solemn place while feeling the sea breeze in your skin, then Babu Santa Beach Resort must be included in your stopover. This resort is located at Talikud Island. It is a good spot for free diving and snorkeling. The resort has cottages and rooms where you can stay for a while or even overnight. However, during the daytime, expect that there will be lots of tourists in the resort since Babu Santa is one of the stopovers in Samal Island Boat Tour. The white sand is like a milk powder - very fine - and the water is in turquoise blue.
2. Coral Garden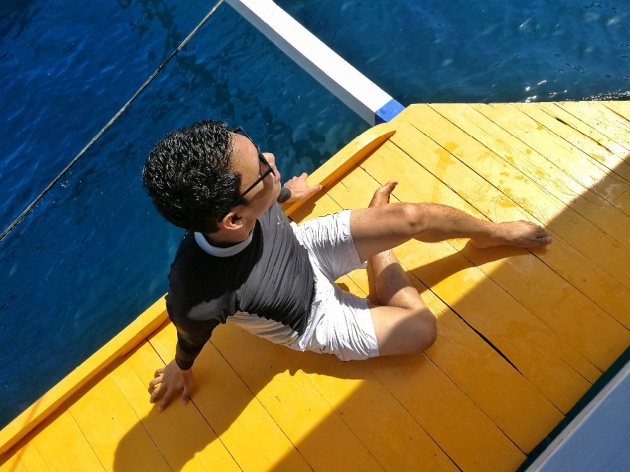 Image Credits: kneelyrac
Coral Garden is a home to soft and hard corals, anemones and different species of fish. This is a right spot for diving and snorkeling. As you submerge yourself into the clear water, you will definitely be amazed by what your eyes have seen and witness as the spectacular beauty of the corals and the school of fishes lay before your eyes.
3. Angel's Cove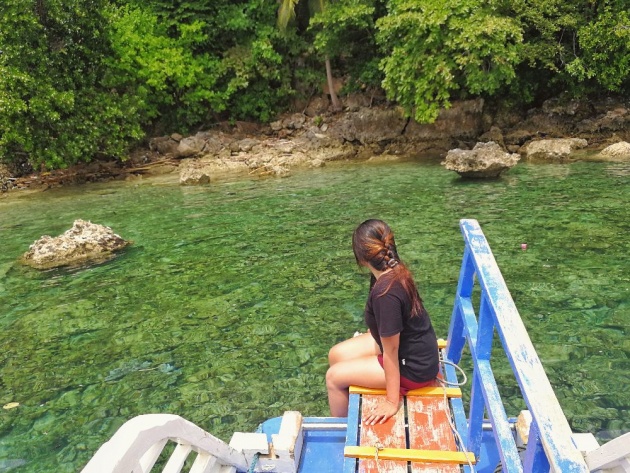 Image Credits: kneelyrac
If you didn't get enough with what you saw in the Coral Garden, then worry not for the Angel's Cove is also a place where you can see how the rich and diverse the marine environment is. The sea green water of Angel's Cove is a bit shallow but still, schools of fishes are present in the area.
The gang decided to stay longer here in Angel's Cove since it's already noontime. Before shoving the food down our throat, we had some good splashing into the water and viewing in the underwater. After lunch, we stayed for another half an hour to enjoy fully the underwater beauty.
3. Sabang Cliff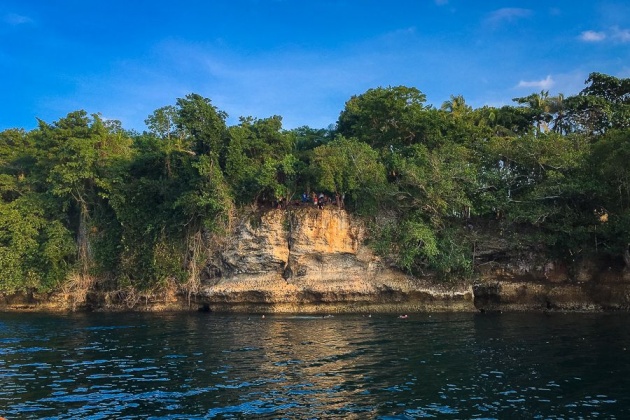 Image Credits: Samal Guide
For a mermaid/merman soul with a bit of adventurous heart, then don't think twice and just take a leap of faith in Sabang Cliff situated near the center of Katipunan. The Sabang Cliff has three levels for you to choose from. The first level is 14 feet above sea level, the second is at around 21 feet and the third is 40 feet.
The highest cliff jump I ever did is the 36 feet cliff jump in Salagdoong Beach Resort in Siquijor. It took me a lot of courage to jump knowing that I'm not a good swimmer at all since I can only last for 15-25 seconds underwater. I was really hoping that I could surpass that 36-feet cliff jump by jumping in the Sabang Cliff. However, it was really unfortunate that my classmates didn't jump. I don't want to jump either if neither of them would do first. And with that, I just decided to jump numerous times at the boat to the point my allergic rhinitis triggered because of the water.
4. Wishing Island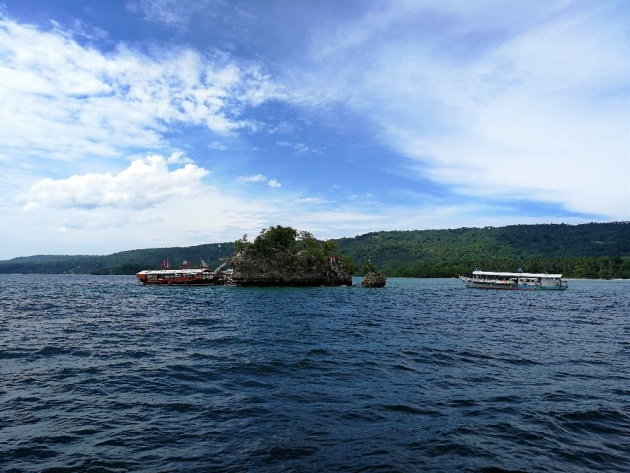 Image Credits: kneelyrac
Wishing Island is one of the many islets that surround Samal Island. This rock islet is beautified with mangroves and surrounded by clear blue waters. It is a good spot for a picnic but one should observe silence since this islet became more like a sacred ground as time passes by. A statue of Our Lady of the Rosary was anointed in the islet in the year 2014.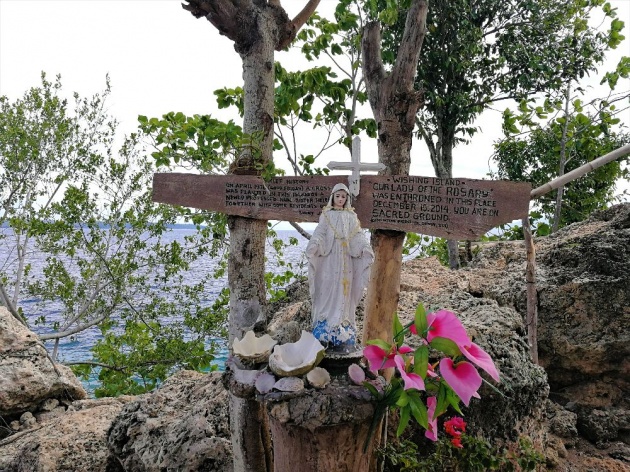 Image Credits: kneelyrac
The surrounding water is very clear and rich in marine life. Sea cucumbers, corals, starfish, and school of fishes are present in the area. Also, sea urchin is abundant in the area, so be careful not to step on them in the shallow waters. The islet is best to visit and stay on the island for a bit longer during low tide.
A story has it that there was once an incident of a group of backpackers who went partying on the island. To their surprise, a storm happened on a hot mid-day and unfortunately, no one was able to leave the island. All were drowned in its blue shallow waters.
Summing-up
Our Davao Trip was just 2 days and 1 night. The second day was intended for the Samal Trip only. We agreed to have such schedule in weekends since all of us are working already and can't easily file a leave. It was all worth it but, I must admit that a one-day island hopping in the Island Garden City of Samal is not enough to tour the island completely. Out of possible 25 spots that can be visited in the coastal area only, we were able to visit four stop-overs.
If my schedule permits, I would definitely love to go back to Samal Island and spend my 2 days or 3 days to tour both the coastal and the tourist spots in the island. Samal opened the door where my mermaid soul was locked up. I love the water but my fear of drowning because of lack of air or an attack of muscle cramps keeps me from not swimming without the use of a life vest. But this time, I let myself to conquer my fear by jumping off the boat and swimming to and fro knowing that the water is deep.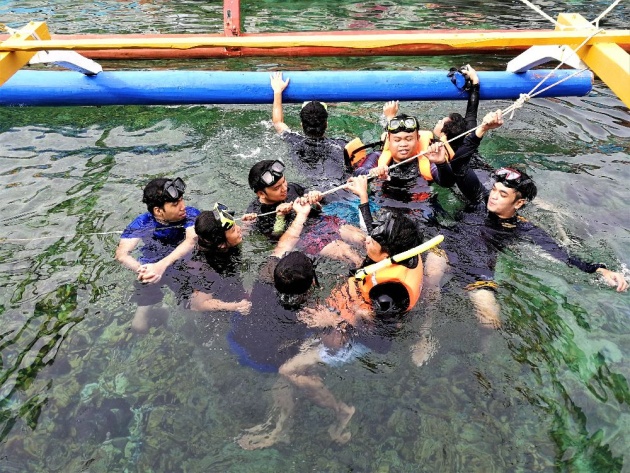 Image credits: kneelyrac
Samal Island will definitely capture your heart. It's a must-visit place in Davao where you can forget your work and other stressful things in life and find solitude in the place and within you as well.
When troubled, unwind! - kneelyrac
Video Credits:
kneelyrac
via
Bitlanders
☀☀☀
Planning to travel?
Choose and book your place to stay through Airbnb and claim ₱1,600 on your first trip by clicking this: carylkeene
☀☀☀
Written By: Caryl Keen
☀☀☀