Phase two of the day long tour around the Island of Fire - Siquijor! It was amazing that this province, or shall I say island had offered so much to us and yet, these places are the most affordable and had given us a lot of stories as well to tell to our friends and families too! I love the fact that whenever my husband and I travel, we are able to provide photos for the rest of our family members who aren't able to go out and check other places than their town. I myself feel really accomplished to be able to share to others how these places look like even from the still photos which we have captured.
Now going back to the topic, I had previously shared about the first phase of the trip and so far we had done couple of stuffs in the island. Let me reinstate it once again: Watched Sunset in Siquijor, Played with local kids in San Juan and Fish Spa in Lazi.
Now for this second blog, let me share the places we went to and the stuffs we did at these places for the second phase. Note that Siquijor is only a six town island province and so it is easy to tour around it. However, there are places which we didn't bother going to anymore. But gladly, the following were by far the best places to go to when in the island. Enjoy this two thousand word blog!
Tarzan Jumping at Cambuhagay Falls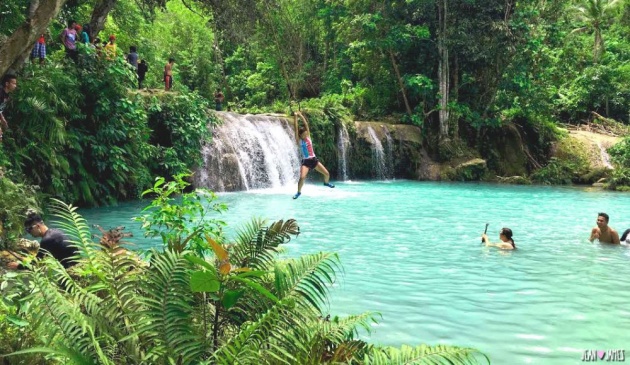 The Philippines is blessed with different variety of bodies of water and that includes waterfalls! I didn't expect that aside from having cold springs, there will also be waterfalls but then again, thanks to the blessing of nature, these are reachable places in our country and has been helping us with our economy of course because of the numerous tourists both local and foreign who have been attracted to these natural beauty.
Just a few minutes ride from the Enchanted Century Old Balite Tree in Lazi, this cool waterfalls is located and it is not too far from the main highway with wide roads and cemented ones. This is already a convenient path towards a huge three tier waterfalls. In fact if we think or perhaps compare about the other waterfalls in the country, this one here is definitely an easy take.
Well, except for the stairs. The previous explanation was for the roads going to the main place but to go to the waterfalls, one has to survive the stairs going towards the waterfalls and not to mention the going up back to the main road. It was challenging indeed but I survived!
Let me recall our experience there instead...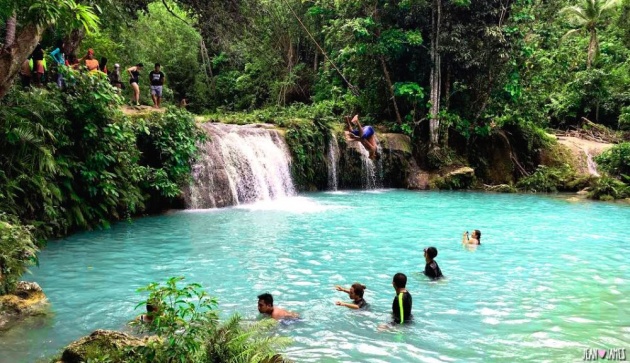 My husband and I reached the main area for the waterfalls at almost noon time and since we had an early breakfast, of course we were both hangry (that just means hungry and angry) but not really angry at all, we were just starving specially hubby who had been driving the motorcycle so we were really happy that we found a few locals selling some foodies there! Oh and surprisingly, we got some viands too and the corn grit rice! The best thing about our lunch was that the chicken were the native ones which had been free ranged, you know something about free ranged chickens, they are tasty!
Since there were no chairs and tables around, we sat at the makeshift wooden piece which was somehow like a long chair and my husband was super gentleman that he let me sit instead and he just stayed standing while enjoying the native chicken. At first I was actually hesitant to take the corn grit rice since my previous experience with it was not so nice at all but then I went in and just tried it. I never thought my throat would even like it but astonishingly, it did and I had in fact consumed everything which was on my plate. Amazing! But I have to also mention that the serving was definitely generous considering the price! Imagine a huge thigh part only cost Php 25. For that we bought additional drinks, Gatorade was available and they had recommended that we should be bringing it with us since the climbing back would be challenging, I did take it at the end.
Off we went and indeed the stairs a bit challenging, I was just making myself good about it but the truth was I was kind of concerned it might take me a few minutes to really be able to climb each single step. But before I had to think about that, I focused myself on the fact that we are going to see the Cambuhagay Waterfalls first!
Lots of tourists were already in the water. It is a typical waterfall, reminds me of the waterfalls in Samal Island. I have to check my other previous blogs to remember it's name. Oh yeah, it was Hagimit Waterfalls and I love the fact that it has offered this Tarzan Swing Jumping at the base waterfalls of the three tier falls. It was really fun watching these visitors trying to swing and jump off the waterfalls.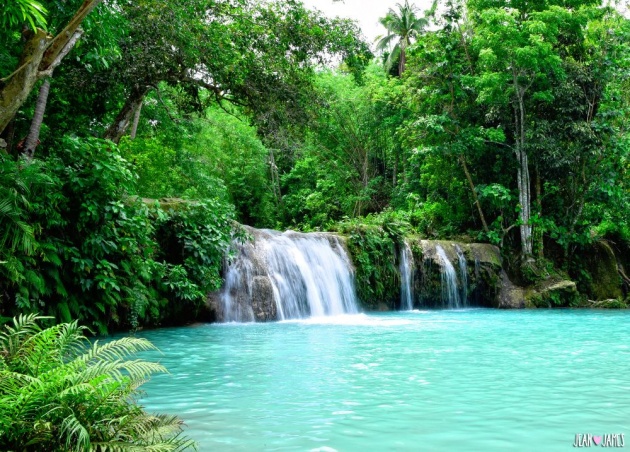 I had even recorded a few of those tourists, most of them were Koreans. There were white ones but I don't know if they are Americans. But anyway, I can see that they are indeed having a great time there. Unfortunately, both my husband and I are not interested with swimming into the water. We were there just to enjoy the view and take photographs. That was it and we had to go back thinking we still have a long way to go. But we had already enjoyed watching the others enjoying the waters. We had to bid goodbye to it and I have to face the reality that the stairs is waiting for me. While it took only a few minutes for my husband to reach the top, I had taken more time because my weight was pulling me down! But I managed to do so. It took me more time and hubby had rested. I was fine though except that I was running out of breath.
Sight-seeing Vintage Trees and Churches in Lazi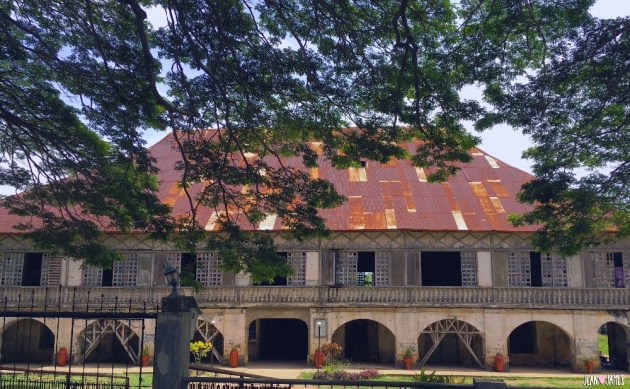 At the main highway intersecting the roads from Cambuhagay Waterfalls, we found ourselves under the shade of these beautiful wide spread vintage trees. At the distance is a vintage structure too which I then learned to be the San Isidro Convent. These types of structures are really evident in any part of the country since we were colonized by the Spaniards for more than 300 years.
In front of the San Isidro Convent is also the San Isidro Church. Both structures are surrounded by blooming trees. And I really love how these types of trees are able to provide huge range of shade plus it becomes airy too and cool as well when seated under the trees. No wonder there were lots of locals in this area.
So we moved on and ride on the rented motorcycle again. Our next stop is the Salagdoong Beach in Maria.

Into the Man-made Molave Forest in Maria
Maria's the fourth town from Siquijor, we thought we were just going directly to the beach but we were surprised when the Google Maps had directed us that we were on our way to the Molave Forest!
Although we didn't do any research on what would be the places to go to when in Siquijor, we were both glad that unintentionally, we got into these places.
What's special about it? Tugas as how we locally call them. These types of trees are really sturdy and that they've been cut off to be made into household furniture. Thus sometime ago, the government had made a law stating that it is illegal to cut Molave trees.
Gladly, some good locals of Siquijor managed to plant hundreds of Molave trees, perhaps the bees and the birds had helped too at the same time and eventually made this kilometer drive full of massive number.
We whisked through the cold breeze and even if it was past noon time, it was still giving us fresh air. It was amazing and instagram-worthy.

Free Cliff Diving at Salagdoong Beach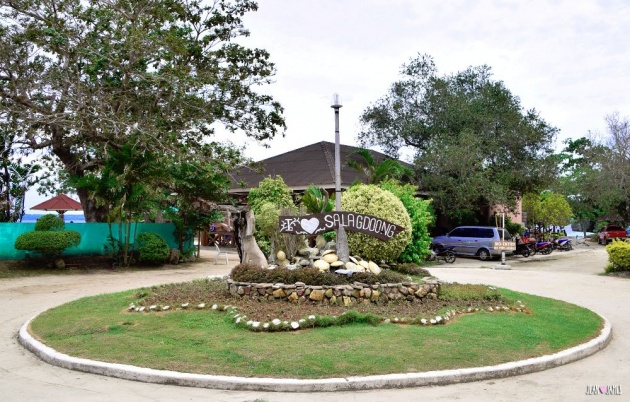 After grasping those fresh cold breeze of the Man-made Molave Forest, hubby and I finally reached the Salagdoong Beach Resort. We had to pay for the entrance fee which was at Php 10 each.
We both noticed there were lots of people around, both foreign tourists and local ones. There's a restaurant at the side of the entrance area. But cleanliness is the top thing that can was really emphasized in this beach, I don't remember spotting even one single plastic lying in the sand or in the cemented areas. Kudos to the management!
Since we were only there to take photos and observe the place, we spent a few good minutes there and I had actually planned to take a nap too because of the breezy air from the sea but I wasn't able to do so. I also planned to do a time lapse video but ended up not doing it as well, it looks like the sound of sea waves rushing into the shore made me really sleepy.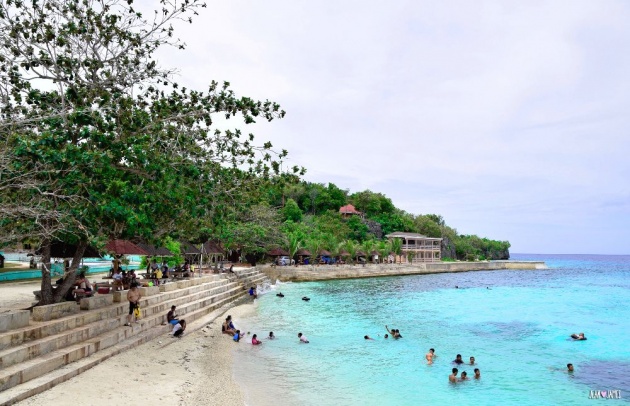 Tourists enjoying the waters.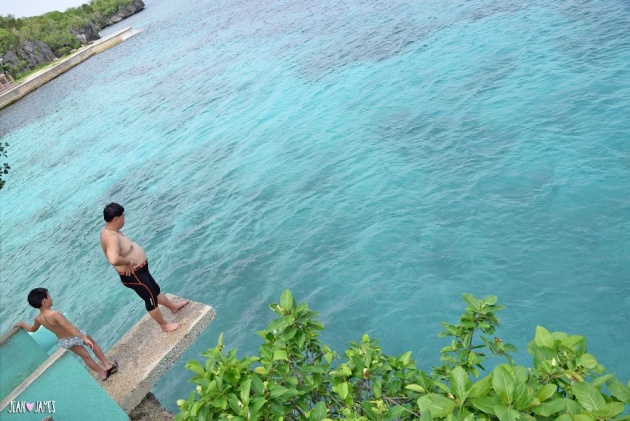 This guy took all of his time yet didn't jump to into the waters.
Hubby on the other hand had managed to get into the observatory deck. I was observing him from a afar as I was taking a photo of the other side of the beach. The deck has a jumping board and a slide too at the same time! I bet it would be enjoyable to free dive there just like the other ones who had done it before we arrived. Actually it was a bit disappointing that we were not able to film even one person jumping off. We waited and waited but this Chinese guy who was standing there was just standing at the edge, looking like he was going to jump but didn't do so. He just stared at the sea waters below and after which turn his back and stepped down.
Oh well, I wish there was a brave one who had jumped off but no one dared, so we eventually went out of the beach.

Road Tripping at Enrique Villanueva and Larena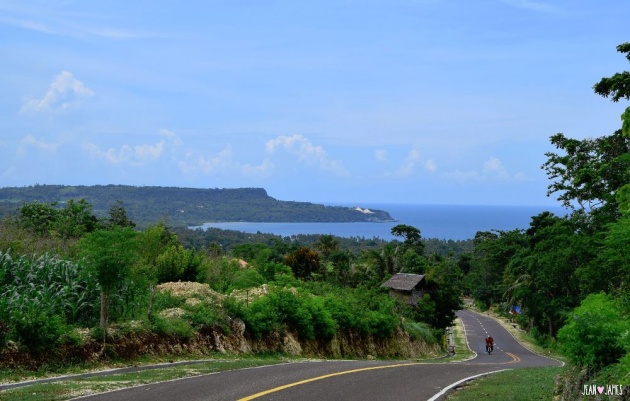 Do these town names sound to you like real person's name? Or shall I say family names? Actually one of my colleagues from my previous company's last name is Larena. Enrique Villanueva was once a politician of the island and had been very famous too so this town was named after him.
There's nothing much to do within these last two towns so we were simply road tripping. We were looking actually for this Marine Sanctuary in Enrique Villanueva but the Google Maps was giving us different routes, we ended at a cockpit arena and it was funny that my husband delighted that instead! I have to mention that hey have a pretty good location for their gamefowl fights because that area was a bit far from the community so any shouting or screaming won't be heard by the entire town unlike what we have in our own province where in kids won't be able to get their afternoon siesta time because of the loud noise coming from the shouting of all the enthusiasts and the ones who had gambled inside the cockpit.
We passed along Larena and although we originally planned to go to the highest point of the town for their famous coffee shop, we eventually wasn't able to do so and I regret not doing so. The reason was because our checkout time was at 12nn and at that time, it was already two in the afternoon. We were worried the resort might be charging us additional overstaying fees so we just skipped those other spots since that would take us time.
Reached our room at fifteen minutes after two and we got some time to change so we can get to the port too! Glad the personnel at the resort didn't charge us any additional fees.
I will have to create a new blog for the experience at the resort which we had stayed and the story behind how we ended up there.
Chilling at the Port Area Beach in Siquijor, Siquijor
Just as hubby and I thought we were done with our trip in Siquijor, we were actually astonished when reaching the port area. After securing our boat tickets, we looked for a spot which we can sit and kill time while waiting for our boat which will be leaving the island at around four in the afternoon. We still have around more than an hour so we better relax and find a spot.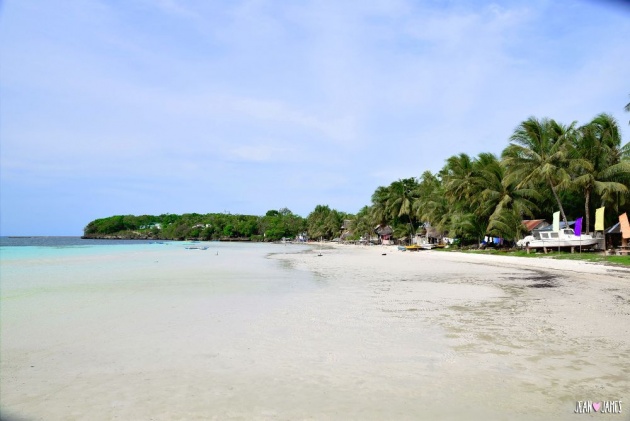 At the back of the Oceanjet's mini office just right beside the port area we found ourselves mesmerized as to how wide and white the shore was! The reason behind our astonishment was because when we think of a port, normally it would have smelly, contaminated waters. It might also have lots of garbage everywhere, floating plastics might be a normal view but I personally was really surprised to see that there was very minimal plastics in the area. And the waters were clean!
I'd like to emphasize that the shore was really wide and it has white sands too! Oh not to also mention it has its own volleyball net right there which was submerged into the water when we reached the shore line. We waited for a few more minutes at the cemented waiting shed or perhaps hut located at the shore area and after awhile, the sand showed up since it was already low tide! Indeed it was one special clean beach near the port which I won't forget! We left that spot when the boat was ready for boarding.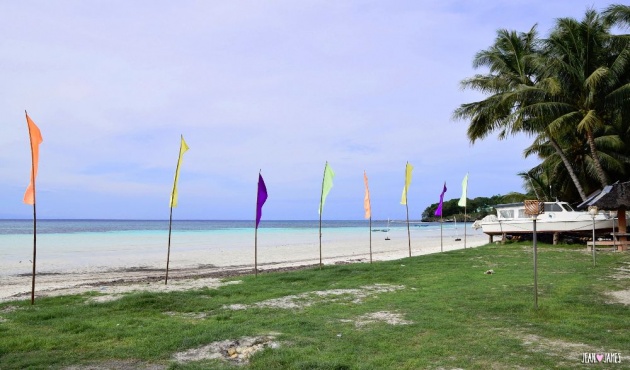 For now, let me say that we had a great time with our day tour around the entire island of Siquijor. We could have enjoyed other spots if we did't stay long at the Enchanted Century Old Balite Tree and that if it didn't rain at the start of the day. But anyways, everything went smooth with our land tour specially the motorcycle so we were both thankful about it.
After the tour, I had realized that I never really met anything that was scary or really creepy about the island. It has the same feel as when I am at my own home province. Everyone loo
Thank you guys for reading this blog as well as the first part. If you have not read it yet, check the link below:
Take care!