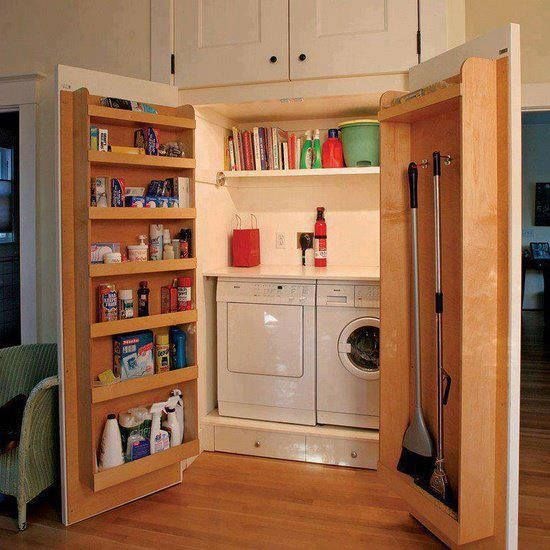 I found a really great post that has 13 different ideas for you on how to hide your laundry room in plain site. I think the above picture is my favorite from the list.
Why not hide your laundry appliances in a nice cabinet? Especially if you are tight on space in your home and could use the dedicated laundry room for another purpose. I Hope you enjoy all these ideas!
Here's the link to AtticMag's full article: AtticMag: 13 Hidden Laundry Spaces
Your washer and dryer might be very useful machines which save you a lot of time. However, they aren't the prettiest things to look at. This guide will look at some different ways that you can hide them out of view so you can make your kitchen or utility room look much better.
There are quite a few different ways that you can conceal a washing machine or tumble dryer in your kitchen. These are just a few ideas:
– Building a floor Cabinet
– Hanging a panel curtain
– Building into a cabinet
– Fitting false drawers
Hanging a Panel Curtain
Hanging a panel curtain will often be the easiest and most straightforward way of hiding something as big as a washing machine and dryer. If there is a small alcove in your room where the washer and dryer currently reside, then you can keep them out of sight by hanging a curtain over all of the area. Alternatively you could put them under a counter top and hang a short curtain just to hide the washing machine and dryer.
Building a Floor Cabinet
A floor standing cabinet can be built around your washing machine and dryer. This is a relatively easy project for anyone who is good at wood work. The beauty of this is that nobody will even suspect that you have a washing machine if the cabinet is built well. It will also provide plenty of additional storage which will be a useful feature in any kitchen.
Fitting False Drawers
If the washing machine and dryer are fitted below a counter top then it should be possible to fit either cabinet doors or false drawers. By hinging these you can provide easy access to the dryer and washer without making them look too obvious.
By following some of these suggestions it should be relatively easy to conceal your washer and dryer so that they don't become an eyesore in your kitchen.
credit : diycozyhome.com