Nusrat Fateh Ali Khan is believed to be a legendary musician and singer of his age and is still celebrated today, even after 17 years of his death. People have not forgotten him and those who spent time with him or experienced to listen to him live still cherish him and remember the moments of ecstasy of his mystic qawwalis.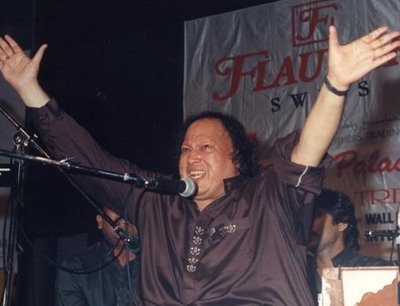 He was a gifted artist that is why he is still alive although he is physically not. His music will not and cannot be forgotten for centuries. His fans are all over the world and he is most probably only singer who is loved so madly by his appreciators.
The thing about his music was composition and choice of lyrics. Khan Sahab had talent to produce great melodies and compositions. Moreover, he used to choose lyrics very carefully. The poetry he chose for singing, especially for qawwali, was always astonishing. His punjabi qawwali especially drove people into trance. They were mostly lyrics of Bulleh Shah. Most famous of them are Ni Main Jana Jogi De Nal and Mera Piya Ghar Aya.
Nusrat Fateh Ali Khan had grasp over classical raags which he successfully incorporated in his qawwalis and songs. He used to present raags during qawwalis in both classic and folk styles and often collaborated with Mujahid Mubarik Ali Khan, his cousin, and later Rahat Fateh Ali Khan, his nephew. His raag Khamaj which he used to alap with Mujahid Mubarik Ali Khan was very enthusiastic and exciting. Other raags he featured in qawwali were Pahari, Yaman Kalyan, Bahar, Gawothi etc.
His voice was very very mysterious which people wondered that how a human being can have so powerful and effective voice. Peter Gabriel was also one of these most curious people. Sonu Nigam, Indian background singer, once said that Nusrat's voice started where his ended.
Khan Sahab had ability to control the audiences as he presented qawwali according to their mood. If there were serous music lovers he presented classical more and if there was youth he thrust them into trance. People started dancing to his songs without knowing that they are doing so. This was the level of ecstasy in the hall where Khan Sahab sung.
He is also celebrated by Europeans and Americans and people from many other countries who cannot understand urdu or punjabi languages. Many Worldly singers have collaborated with him and admire him as Peter Gabriel, Eddie Veddar, Michael Brook and Jeff Buckley.
Jeff Buckley was in love with Nusrat Fateh Ali Khan and he stated that Khan's music changed his life. He was once very desperate and disappointed but he heard his song Yeh Jo Halka Halka Suroor Hai, one of his most famous Qawwalis, which stunned him and impacted his thoughts greatly.
There is a group of young people from Brooklyn, New York who formed a qawwali party inspired by him. They have presented his compositions on instruments in some concerts.
Nusrat Fateh Ali Khan is the kind of those artists who are never born every century but they come to world in thousands of years. This world has seen very few such artists and would never witness many.