January 4, 2013.
Happy new year everybody.
The first week of new year was the shortest in terms of work. Just three days, but I've done one of the best videos for a long time.
Editing jobs:
1. Mike Swain on Judo, Afghanistan's Education and Economy
Mike Swain, Judoka and 4-time Olympian, is interviewed by Fereshteh Forough of the Afghan Development Project about Judo, the philosophy behind his company and Afghanistan and Central and South Asia.
Mike Swain starts by explaining Judo's philosophy and how it is part of his life. He talks about his company, Swain Sports, which sells martial arts mats. His specialty, as a Judoka and world champion, is his knowledge about mats. He uses this thought leadership to connect and communicate with his customers, mainly via social media. He also shares his thoughts on Afghanistan and Central and South Asia's education and economy.
2. Cupcake Digital Kids at Play
This is the video I mentioned before. It was fun to shoot and even more fun to edit it. Kids are great. But here I want to share some of the challenges I've got thru:
- Color correction
Video was shot on two cameras from different angles and exposure settings, It took a lot of time to match the colors.
- Music
Music is always a huge question, because its very important to find right music that can fit the video and in the same time it should be not copyrighted. Searching music takes time.
Shootings jobs:
1. Interview with Amory Millard, Business Development and Licensing Head of Cupcake Digital.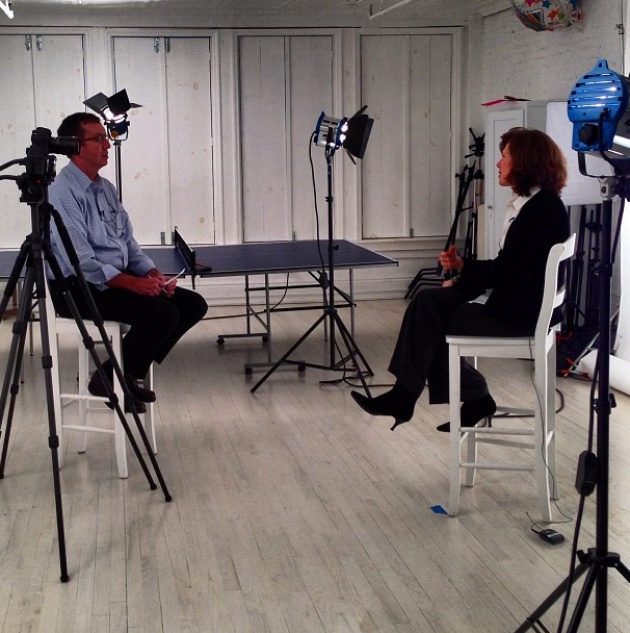 (Mike Sweeney interviewing Amory Millard)
New edition of Film Annex Weekly is out today. Check it out
Follow me: