Seven Seas Water Park & Resort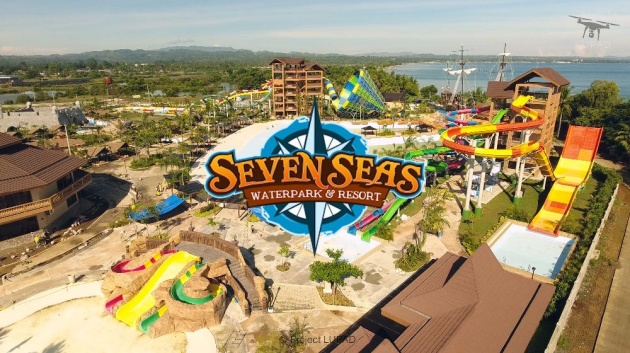 Summer is here! The heat is on! Brace yourselves as I well share to you all! The most nicest place to spend your summer with your friends and family. Get those swimming gears and outfits ready and specially your budget.

In Opol, Misamis Oriental (Philippines) there is a newly-opened tourist destination that has been attracting local visitors and tourist these days. Perfect for weekend getaway with friends, family outings, team buildings, parties etc. The Seven Seas Waterpark & Resort is a perfect place for those people who wants to relax, have fun and spend their summer time with.

A "Pirate themed" water park & resort, yes! you read it right a Pirate themed water park & resort, so expect some Pirate-inspired designs and islands, there you will see Treasure island, Shipwrecked island, Pirate lookout tower etc.
Travel Guide *(How to get there?)
If you're from outside of the Philippines or outside Mindanao. You'll need to travel via airplane and from your location you'll land in the Laguindingan Airport, the primary airport that is serving Northern Mindanao, including Cagayan de Oro and the rest of region. Outside the said airport, there are bunch of shuttle van's and taxi that will take you to the Seven Seas Water park and Resort, but for those who are interested in going i recommend you take the Shuttle Vans because its more convenient than any other types of transportation and it will cost you 199 pesos or 4$. But if you're on a tight budget you can take a motorcycle ride that will drop you off to the Bulua mini-market junction which will cost you only 50-40 pesos or 1$, and from the mini-market you can take a motorcycle ride that will drop you to the resort for only 8 pesos per person or 0.16$. It's only a 40-minute ride from the airport to the resort, i searched google map and this is what i got.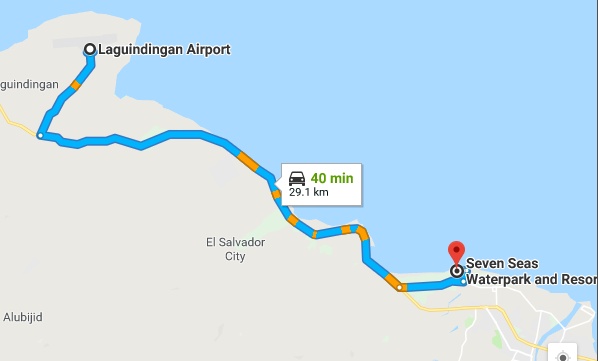 Photo is from google.
*RATES

Well i know you're all curious how much is the tickets of Seven Seas Water Park and Resort. The rates are shown in the picture below.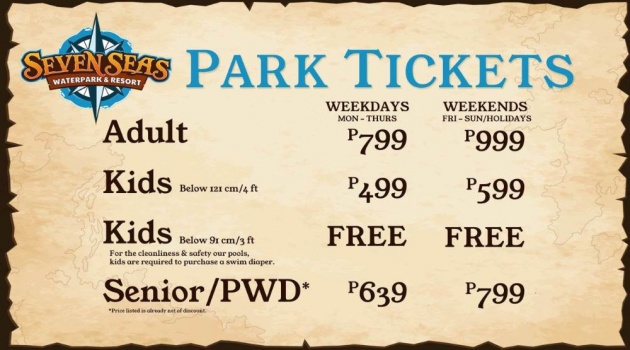 Photo is from his and her voyage.
These are the rates of tickets for respective people who wants to try and enjoy Seven Seas Water park and Resort. As you can see kids below 3 feet or 91 centimeters are free. Adults are of course under regular rate, kids with the height below of 4 feet or below 121 centimeters have rate as well. Senior Citizens are discounted and must present a Senior Citizen's ID as a proof. Rates in Weekends and Weekdays are of different amount, maybe because of some business's reason.
Amounts converted from PHP to USD.
*Adult -> Weekdays 15.98$ - Weekends ->19.98$
*Kids -> Weekdays 9.98$ - Weekends ->11.98$
*Senior Citizens -> Weekdays 12.78$ - Weekends ->15.98$
*CABANA RATES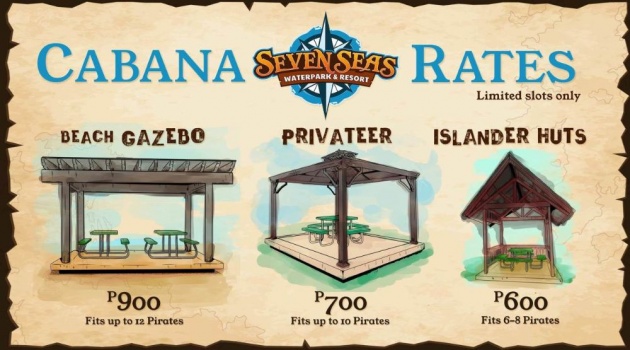 Photo is from his and her voyage.
Cabanas are a small building that has a roof and usually walls and is often used by people at a beach or swimming pool. Cabanas served as your shelter inside the Seven Seas Water Park and Resort. As you venture the water park with your family and friends you can leave your things here.
Amounts converted from PHP to USD.
*BEACH GAZEBO -> 18.00$
*PRIVATEER -> 14.00$
*ISLANDER HUTS -> 12.00$
*DRESS CODES
Before enjoying your summer getaway. First, you must follow these following dress codes before diving to those desired slides that you're excited to try. You can bring go pro camera's but only when a head a head strap is on.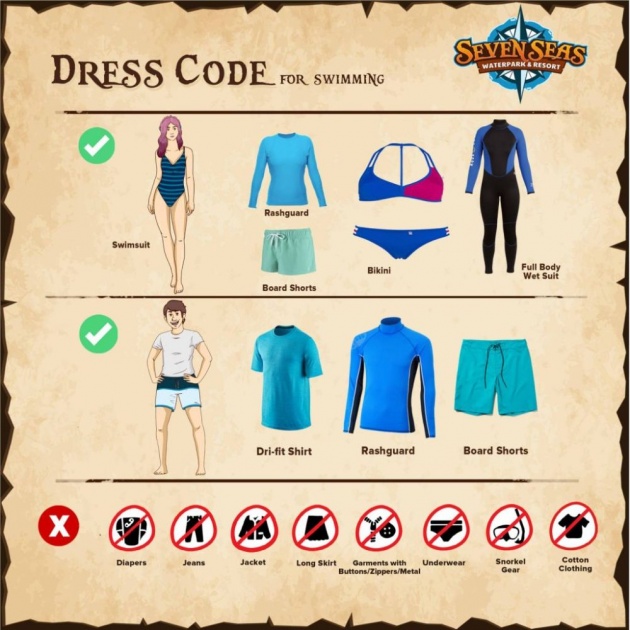 Photo is from his and her voyage.
Strictly no diapers, jeans, jackets, long skirts, garments with zipper/buttons/metal, underwear, snorkel gear and cotton clothing. People inside the Water Park must strictly follow this mandate. Only those outfits with the check sign is allowable to avoid injuries and waste in the Seven Seas Water Park and Resort.
-> SLIDES AND AMENITIES <-
For you to get a glimpse about the said Water park and Resort, I searched google for some pictures and here's what i got with some descriptions on which i have experienced when i was there. I wasn't able to took any photo's that time because i don't have the medium to took pictures. And my cellphone that time has a low quality camera which may result poor images and cannot be use as a reference for this blog. (lol)
Seven Seas Water park and Resort's Entrance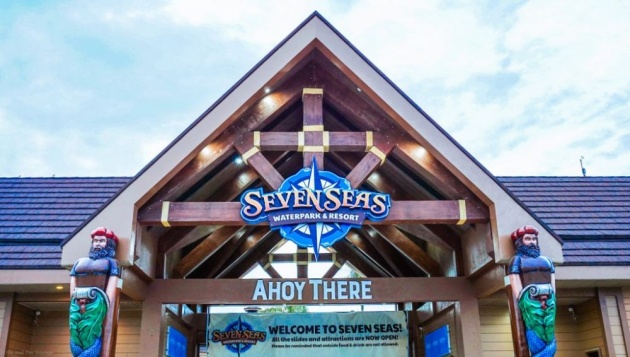 Photo is from koryane.
"AHOY THERE!", One of the most famous lines used by pirates when they greet their crew mates besides "ARGH!" lol. Anyways, this is the entrance of the Seven Seas Water Park and Resort. This is where you get your tickets and pay fee's to enter the Water Park.
The Cyclone Slide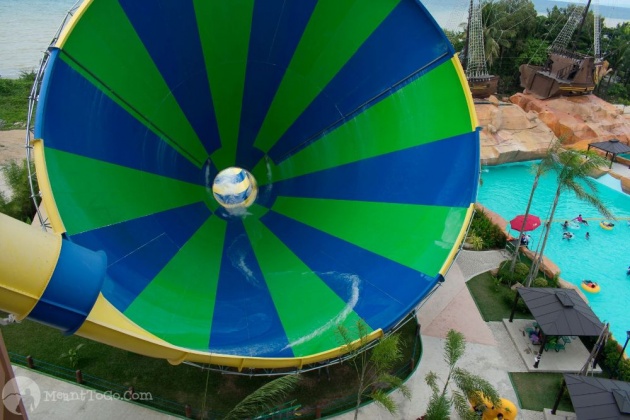 Photo is from meanttogo.
The Cyclone Slide one of the huge slides in Seven Seas Water Park and Resort. A cyclone-like slide as if your inside a cyclone, sliding in a circular motion until you drop at its center. These slide must be accompanied by 4 people, and if you're alone you will be mixed by other group and slide with them. And if you're lucky maybe you will meet your destined someone here. :D
The Buccaneer Bay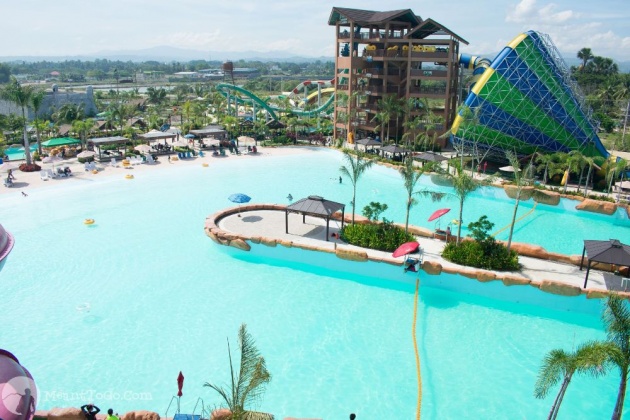 Photo is from meanttogo.
The Buccaneer Bay of Seven Seas Water Park and Resort is said to be one of the largest dual wave pools here in the Philippines. It has waves like an Ocean. Waves powered by some machine to create artificial waves to make it feel like you are in a real ocean. You can rent floating devices here, to make it more enjoyable while swimming in the Buccaneer Bay. Lifeguards are scattered inside the area to avoid accidents like drowning and injuries inside the pool. These Lifeguards are very well-trained people, ready for saving lives when the time comes.
FOODS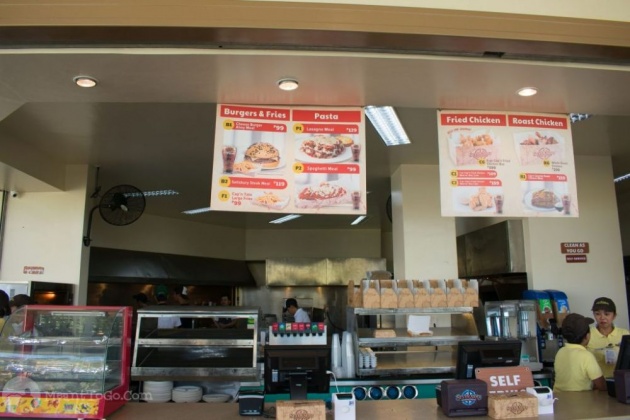 Photo is from meanttogo.
One of the fast food stores inside the Seven Seas Water Park and Resort. Sells delicious foods at a reasonable price. Foods Meals Starts at Php99 (2$). Combo Meals like Burger & Fries, Pasta, Chicken Roast Chicken.
Pirates Den offer Dimsum starts at Php50 (1$) and Rice Bowls starts at Php100 (2$). Water cost about Php30 (6$) . They have this milo shake for buy 1 take 1.
SEVEN SEAS FAST FACTS
Below are some other things about the resort that you will find useful if you visit the place:
1. Bringing food inside the resort is strictly prohibited; they will be confiscated at the entrance
2. Proper swimming attire is required; cotton and garments with zipper also are not allowed when taking the slides
3. Camera (e.g. DSLR, point and shoot, action cam) is not allowed when taking the slides
4. Some slides are not allowed for children
5. Lockers are available for your valuables at 50 pesos or 1$ each.
6. Fast food chain, restaurants are available inside the resort at reasonable prices
7. Taking the Cyclone slide requires 4 persons; however, if you are alone, you can ask other group to join you in (there are those who come in pair or three's).
*Seven Seas Fast Facts is Credited to meanttogo.
Important Notes
1. Even if you don't take the rides and only use the swimming pools you still pay the weekday rate or weekend rate.
2. They don't reserve tickets online you only have to buy the tickets there.
3. They have this function hall for maybe gathering or celebration so that needs to have reservation.
4. Gazebos are on a first come first served basis For group reservations (30 pax and up), You can email them at sevenseaswaterparkreservations@gmail
5. They accept credit card/debit cards even on Food Station.
6. It's optional to rent a cottage/cabana (Rates are 600 for 6 to 8 persons, Php700 for group of 10, Php900 for 12 pirates)
7. They also have Olivers Cafe (For Sweet treats) and even a Pizza Store (which i'm not sure if it's functioning now?)
8. And of course they have souvenir store.
*Seven Seas Important notes is Credited to his and her voyage.
Seven Seas Water Park And Resort's aerial view at night.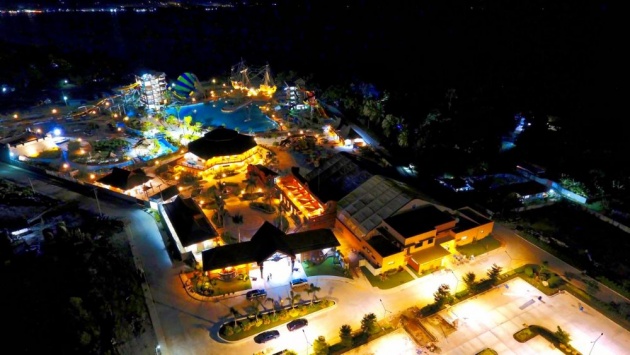 There are still lots of slides in the Seven Seas Water Park and Resort, some of them are still on going or under construction. So expect some huge and longer slides in the future. My blog ends here, i hope you enjoyed reading it.
Disclaimer
I don't own all the photo's above in this blog, as i have explained earlier i searched google to find some references in order to complete my blog.
Experience is something that money can't buy.

-Raghav Ak
-------------------------------------------
Seven Seas Water Park
Operating Hours (9am to 5pm everyday)
https://www.facebook.com/sevenseaswaterpark/
Address: Zone 1 Road,, Opol, Misamis Oriental
Phone: 0998 822 1956
-------------------------------------------