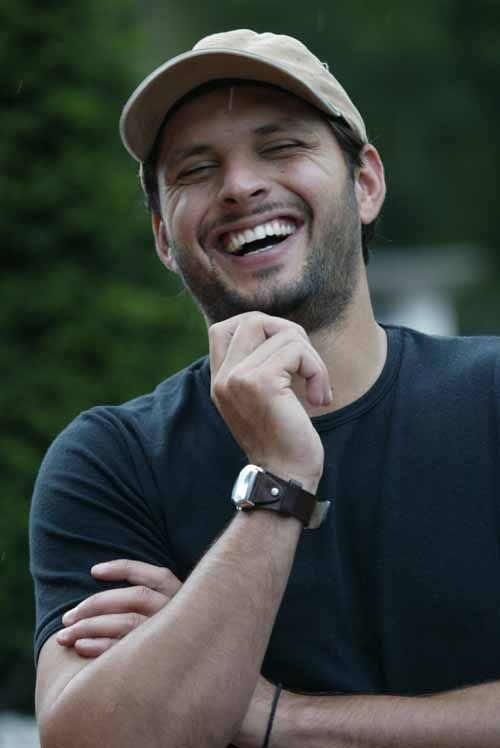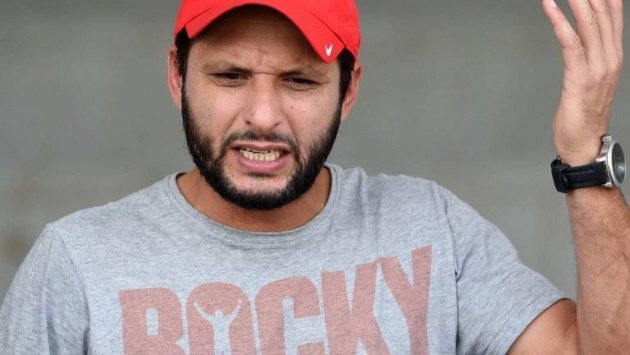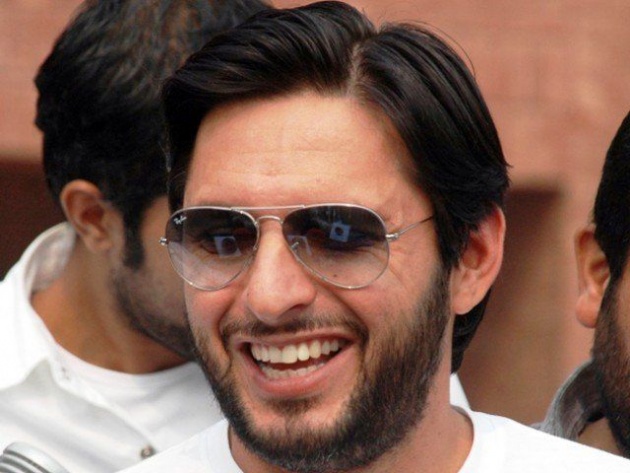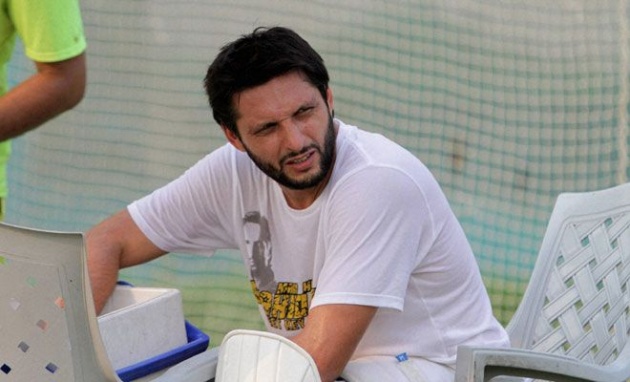 SHAHID AFRIDI
Shahid Afridi is a professional cricketer who represents Pakistan at the International level.He is 35 years old.He is an all-rounder in cricket, but he is more famous for his aggressive style of batting for which he has been given the nickname of 'Boom Boom' in cricket.Currently, he is the captain of the T20 team of Pakistan.He is only playing the T20 format of cricket right now as he has taken retirement from the Test and the ODI format.
He has made Pakistan win a lot of matches with the bat and the ball too.He has many records to his name.He is also regarded as one of the greatest big-hitting cricketers of all time.He is also one of the most prominent personality in Pakistan.He has a lot of fans all around the world and he is one of those cricketers who has the highest number of fans in the world.No matter what for whatever side, he is playing, but whenever he is on the crease, he has been given a huge cheer from the crowd.He is a true entertainer and one of the crowd favorites in cricket.Without any doubt, it can be said that he is one of the most loved cricketer around the globe.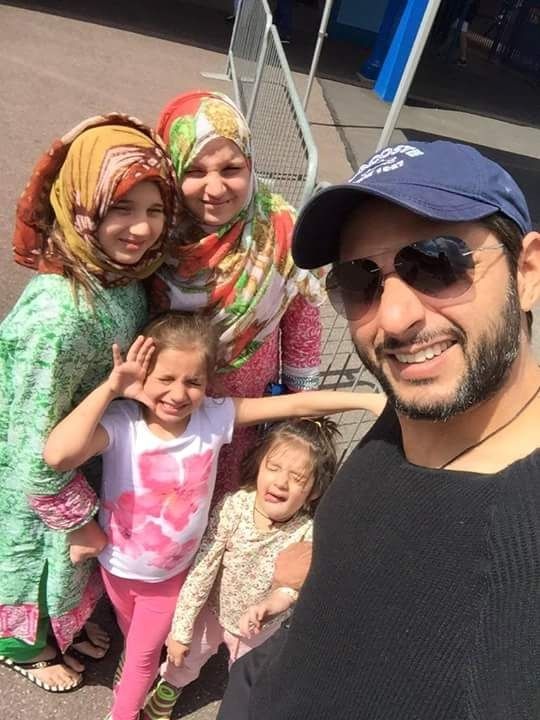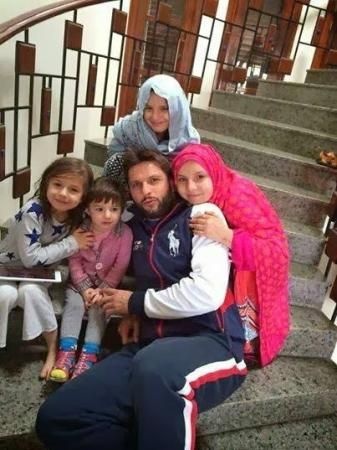 PERSONAL LIFE
Shahid Afridi is not single, he is a married man.Not only he is married, but he is a father of four daughters.He is from the Afridi tribe of Pashtuns.He was born in FATA, but later he moved to Karachi, Sindh and now he had recently shifted to Lahore, Punjab permanently with his family.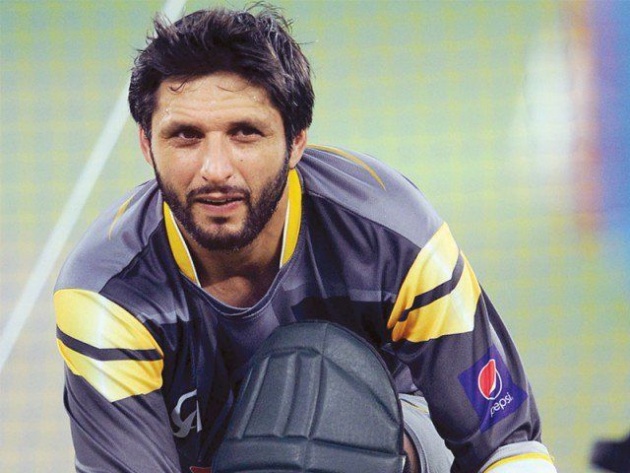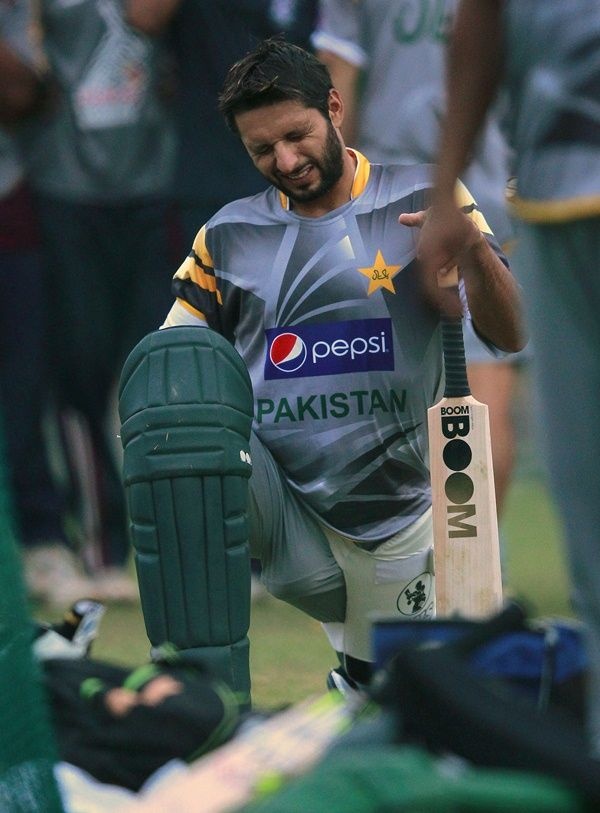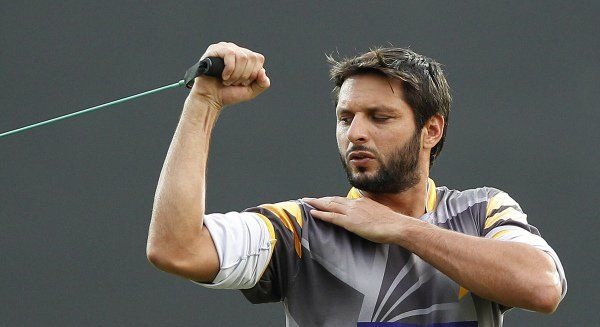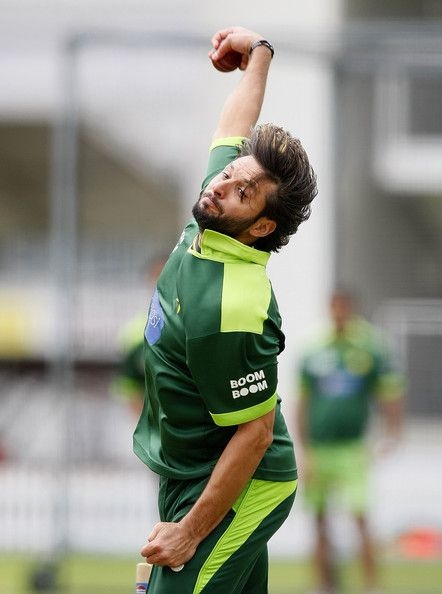 CRICKET CAREER
Shahid Afridi is an all-rounder.He is a right-handed batsman and a leg spinner.He is also a superb fielder.He made his debut in the International cricket in 1996 against Kenya in Nairobi when he was only 16 years old.He is also one of those cricketers who has captained the national team in all three formats of cricket.
He is considered as a legendary cricketer in Pakistan as he has helped Pakistan win a lot of matches that Pakistan would have loosened.Sometimes, he showed his heroics with the bat and sometimes with the ball.He also holds the record of the most sixes in career.He has hit 465 sixes in 512 international matches(All formats combined) which is the highest number of sixes hit by any batsman in international cricket.Not only this, he is also the player who has hit the longest six in the cricket history and here is the video of that six hit by him:
Let's have look at his cricketing career in all three formats of cricket: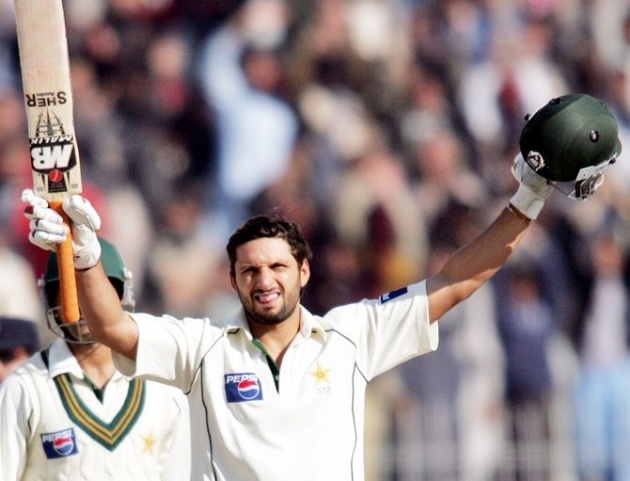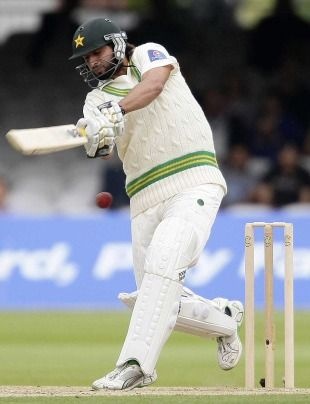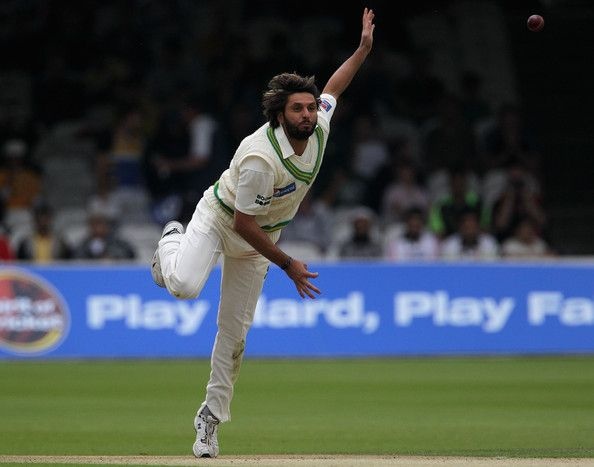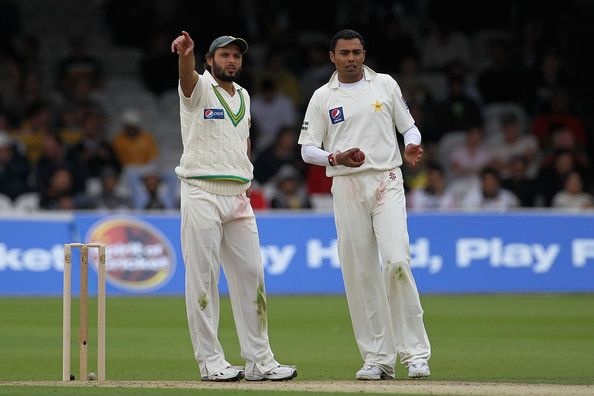 TEST CRICKET
Shahid Afridi made his debut in Test cricket in 1998 against Australia at his home ground, Karachi.He has also captained the Test team of Pakistan.Shahid Afridi's style of playing didn't allow him to play test cricket for a long time.He has only played 27 test matches and scored 1716 runs, which consists of eight half centuries and five centuries with a batting average of 36.51.On the other hand, he was only able to take 48 wickets in those many matches.
According to Afridi, he can't play test cricket due to his temperament.He took retirement from the test cricket in 2010 when he was the captain of the team.He announced his retirement immediately after he led his side to a 150 run loss against Australia.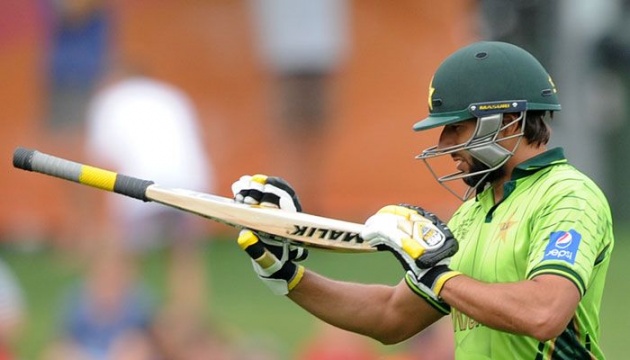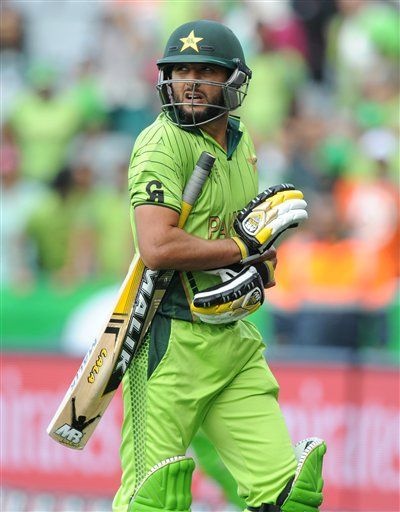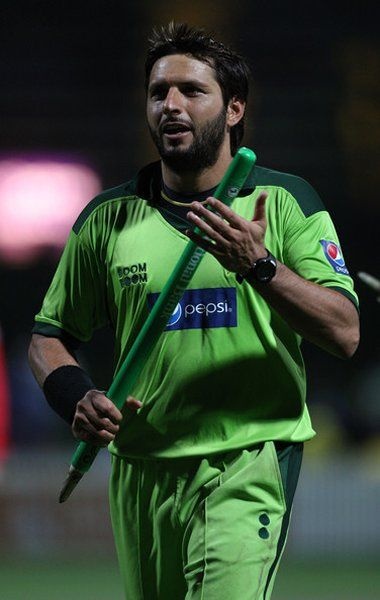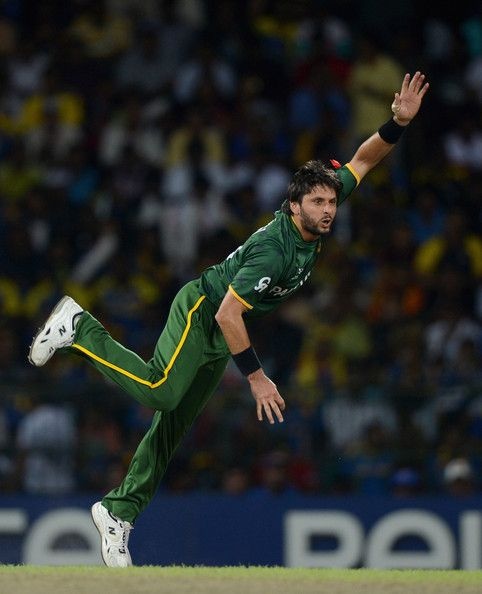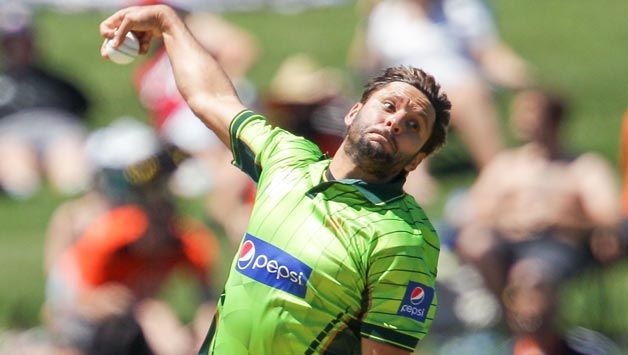 ONE DAY INTERNATIONAL (ODI) CRICKET
Shahid Afridi started his international cricket career by making a debut in the one day international format which he made in 1996 against Kenya.He ended his ODI career after the 2015 World Cup as he announced retirement.
He has played 398 one day international matches.He has scored 8064 runs with the help of 39 half centuries and 6 centuries.He has a strike rate of 117 which is the 7th highest in all time list of highest career strike rate.He is the youngest player ever to score a century at the age of 16 years which he did in his 3rd international match only in 1996.In this match not only he became the youngest cricketer to score a century, but he also scored the fastest century in the international cricket in 37 deliveries only.Let's have a look at his incredible record breaking century:
His this record was broken after 18 years in 2014 by a player from New Zealand, Corey Anderson.Shahid Afridi's highest individual score is 124 runs which he scored against Bangladesh.
On the other hand, he has taken 395 wickets in 398 matches which include 9 five-wicket hauls.His economy has been quite decent too, giving 4.62 runs per over.His 395 wickets makes him the fifth highest in all time list of most wickets in career in one day international matches.Not only this his 9 five-wicket hauls are the third highest in all time list of most five-wicket hauls in one day internationals and his best bowling figure of 9 overs,12 runs and 7 wickets is the second best in the all time list of best bowling figures in an innings in the one day international matches.Here is the video of his spell when he bowled his career best bowling figure:
Let's have a look at one of his heroic batting performances against the arch-rival, India, where Pakistan needed 10 off the last over and he came on strike when 4 balls were left and 9 runs were needed to win and what happened next let's see it in the video: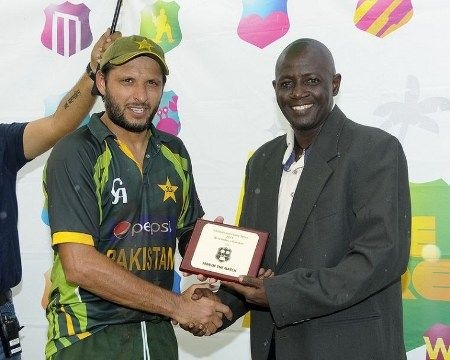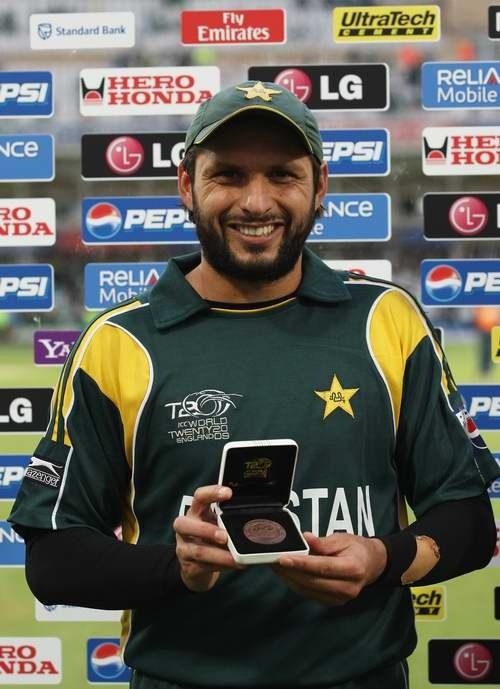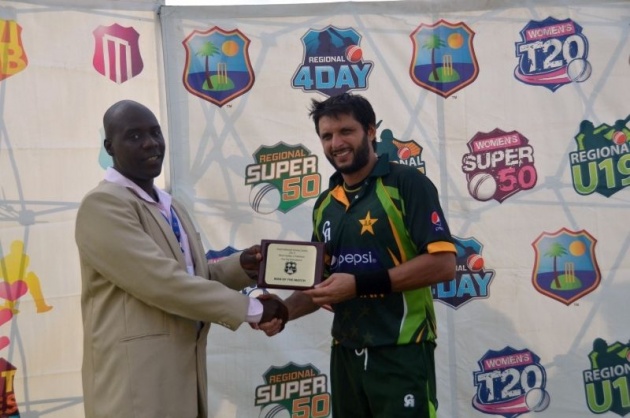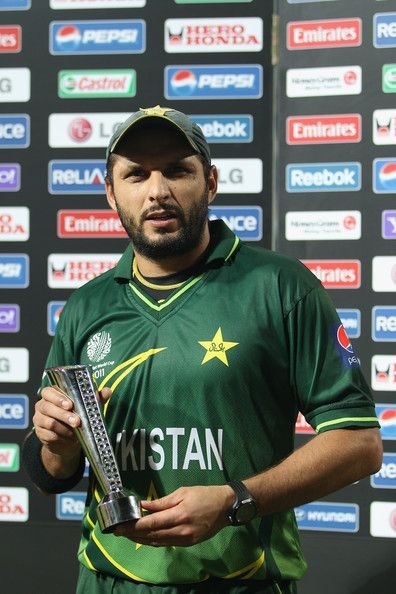 He also holds the third place in the all time list of highest number of 'Man Of The Match'(MOM) awards in the one day internationals.He has won 32 man of the match awards in ODIs in his career.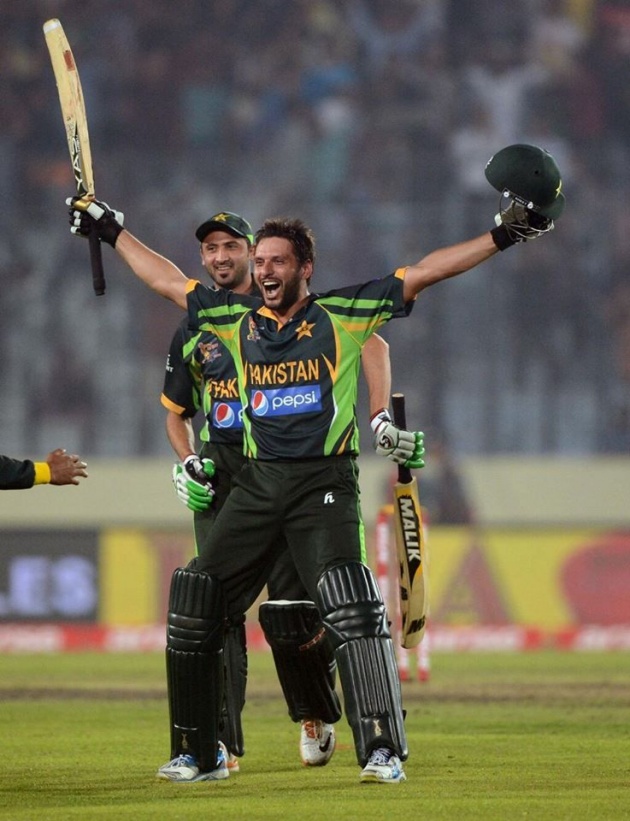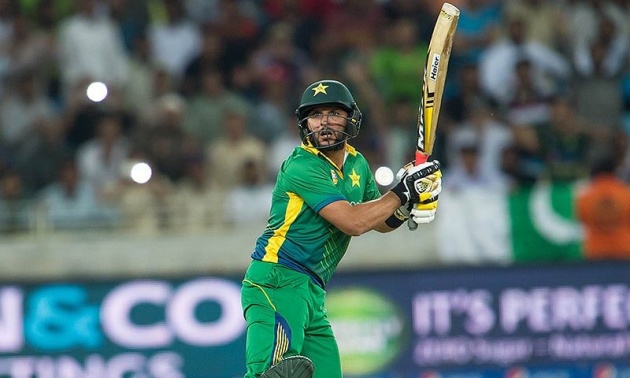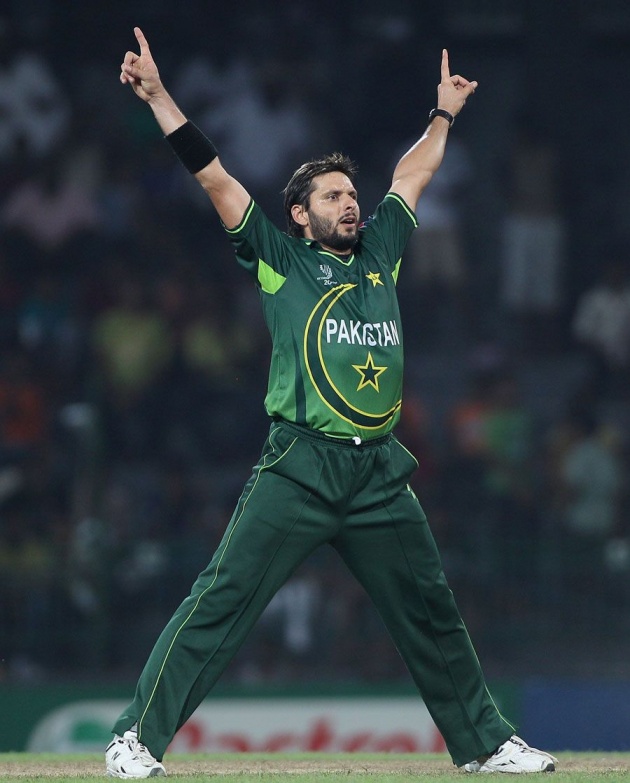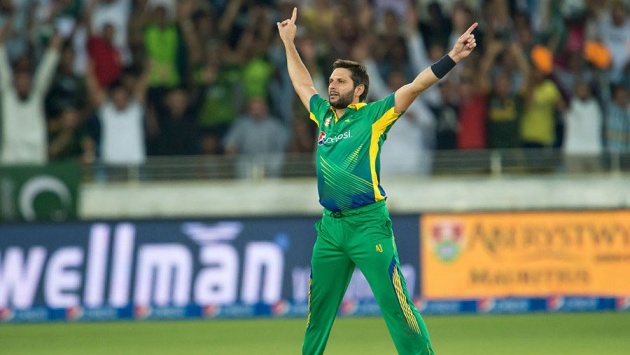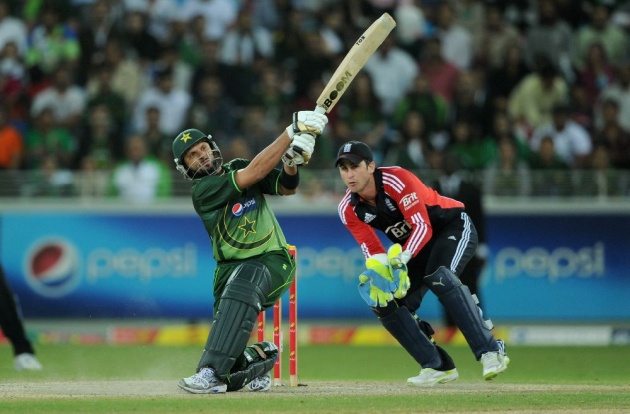 T20 CRICKET
This is the only format of cricket which Shahid Afridi is currently playing.He is also the captain of the team right now and will be captaining the team till the 2016 T20 World Cup, after which he plans to retire from the T20 cricket as well.
He has played 87 T20 matches so far.He has scored 1275 runs with the help 4 half centuries and has a strike rate of 148.25.He was also the hero behind Pakistan's 2009 T20 World Cup win as he scored three consecutive fifties in the quarterfinal, semi final and the final.
He has taken 88 wickets in 87 matches and his 88 wickets makes him the leading wicket taker in the T20 international cricket.He has not been able to pick any five-wicket haul whereas he has taken four-wicket hauls at three occasions.
Here are some videos of his match winning performances(with the bat and the ball) in T20 internationals: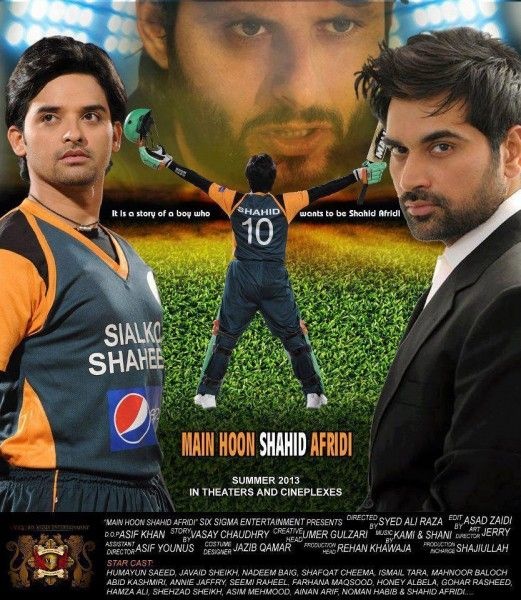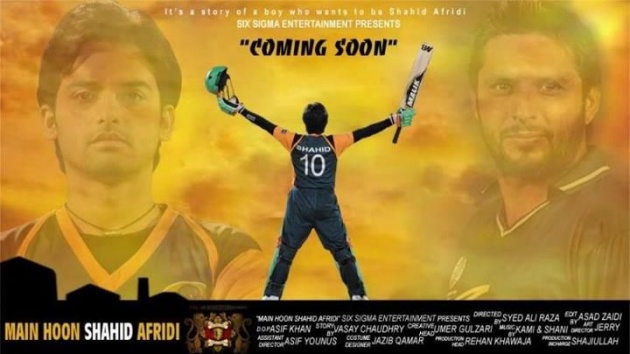 MOVIE
As I told you earlier that Shahid Afridi is such a loved and prominent personality in Pakistan that a local (Lollywood) movie was made after his name by getting inspired from his performances for the Team Pakistan, which named, 'Main Hoon Shahid Afridi' which means I am Shahid Afridi.Let's have a look at the trailer of this movie:
I hope you guys are going to like this blog.

THANK YOU !
*All the images are taken from google.

*All the videos are taken from youtube.