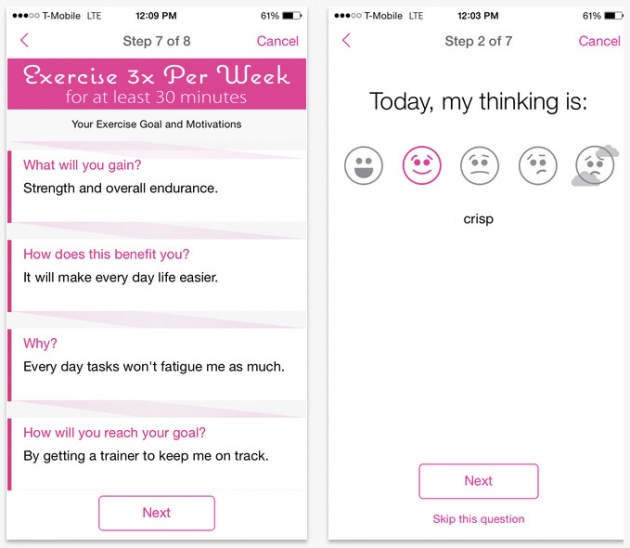 The first breast cancer ResearchKit app, called Share The Journey, is focused on studying post-treatment women to identify follow on symptoms and their effects on women's lives.
Judy Salerno, CEO of breast cancer charity Susan G. Komen, which is one of the not-for-profit organizations supporting the Share The Journey app, is unequivocal in her enthusiasm for ResearchKit — and what she describes as "an enormous opportunity for women and for science".
"In clinical trials recruitment is always an issue. But this is an opportunity to get out of the lab, get away from the checklist paper surveys, and bring research to the patient and make it true person-centered research, truly an opportunity to really change the way we think about the research environment," she tells TechCrunch.
"We knew that this was an opportunity, not only for research but for women too to understand their own journey after breast cancer treatment. It's so often that women who have gone through breast cancer treatment are so happy to just be alive that they really don't report the symptoms that can have a real impact on quality of life. For many, many years.
"So this is an opportunity to give voice to those symptoms, those things that people endure often for a lifetime, and to create a community around it and an opportunity for us to understand it from a scientific point of view, so it can make a real difference — not only in individuals' lives, but in our understanding and potential treatment of these post-treatment effects."
In the first hour after the app was announced on stage by Apple, Salerno says "a few thousand people" enrolled for the breast cancer study. By dinnertime that same evening the number had increased to around 7,000.
"We are going to do everything we can as the world's largest breast cancer organization to push this out, to keep people engaged in this opportunity. So this is going out on many different platforms with the four breast cancer organizations who are part of this. So it's an incredible opportunity," she adds.
"It's a huge leap forward to moving from anecdote to science and from science to solutions for women who have had post-treatment issues with breast cancer which is incredibly common, all too common."
On the question of population bias, another early criticism of the ResearchKit initiative, given that studies are necessarily limited to owners of iOS devices, Salerno suggested similar initiatives will arrive on other platforms "over time". And specifically as regards the For The Journey app, she confirmed an Android version is in the works, although there's no release date yet.
Unlike some of the other initial ResearchKit apps which feature touchscreen tap tests and gait analysis using the phone's accelerometer, Share The Journey is not using iOS hardware for active testing of study participants (although daily physical measurements can be imported into the app from the Health app), so it's arguably less tied to being delivered by specific (iOS) hardware than some of the other initial research studies.
Salerno's counter argument to the population bias concern is that using a mainstream mobile platform as a research conduit can make the study more inclusive than traditional research when it comes to reaching certain demographics.
"The interesting thing is when you think about the populations that are very difficult to enroll in clinical trials, people of color for example, they are very laced in to their phones, their mobile devices, so this is a way not only to create a large amount of data that can be shared easily but also to bring in a more diverse population to research studies. And that's what's so amazing about it," she says.
She also talked up having a structured, open source framework for conducting medical research vs individual organizations creating their own siloed apps. That's a key part of what she sees as transformative for medical research about the ResearchKit initiative.
"This is so much more robust than anything that I saw that was under development," she says. "There's a few really good apps about chronicling your journey, but this steps up the game so many more levels. And it brings it into research. Which is really amazing because — and the fact that it will be an open source database is just, I think, outstanding — in the research environment for so long we have held our information closed because people were competing for grants and for resources but now this is an opportunity to query what will potentially be a very large database with many important questions."
When it comes to what Komen and the other supporting charities hope to learn from the Share The Journey research study, Salerno says it's about identifying the sorts of issues women who have survived breast cancer suffer from post-treatment, and how particular lifestyle factors, such as the level of exercise they get, can impact on follow-on symptoms.
The app itself has also been designed to help the women glean personal health insights that could be helpful even before any of the wider study's research data has been crunched.
"Two things that I think are really wonderful innovations are the… journal, you can keep an individual diary. And another is you can opt to have exercise prompts through the kind of technology that Apple has done so well," she says.
"The interesting and important thing about this is that women can participate in many different parts. All or selective parts of this app," Salerno adds. "We've set this up so that there will be studies to see whether keeping a diary or whether having exercise prompts will improve your outcome. So there's already research questions embedded in the way it was constructed.
"The things that we know that we've taken as anecdotes, but widely recognized anecdotes about treatment — things like chemo brain fatigue, disruptive sleep patterns — these are things that we will now be able to get a handle on into this. And whether or not these things are sustained, and what makes it better and what makes it worse."