Everybody has their special moments where they get extremely happy and are counting the seconds to share the good news with their love ones. I was no more than 8 years old when I first felt very happy and was counting the seconds to share what I have heard with my mother. I was in my drawing class and like every other child the drawing class was my favorite class. I was feeling free and could be myself there. I loved my pencil colors and was feeling as if they loved me too. My pencil colors and drawing notebooks were my favorite stuff in my bag. They were the only thing I was keeping clean as I recall.
Indeed I loved drawing a lot as I was drawing everywhere, I remember drawing on the walls, on the trash papers, on my hands with markers and sometimes even on my school uniforms, which was always making trouble as my mother was getting angry on me. Anyway as always I happily toke out my drawing notebook and pencil colors and start drawing the angel I have seen on my cousin's drawing book the other day. While I was trying to remember her face and dress I took out my rubber too to make everything ready. I start sketching the angel and after a while started coloring it. Like every other time while drawing I was on my own little world, thinking about what if my drawing become a live and talk to me? What will be my wishes? And lots of questions like these.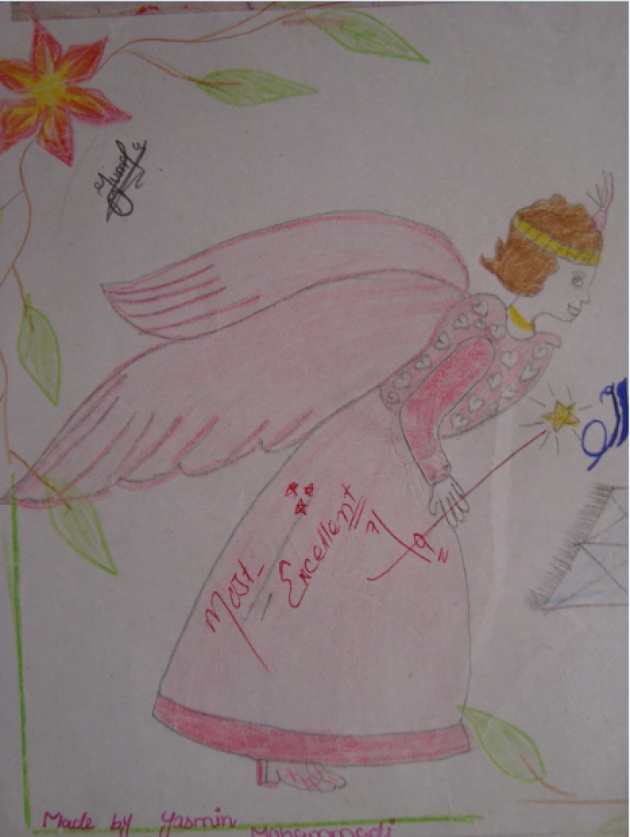 (The drawing I drew, "grade two")
However I finished drawing the angel and now was the time to show it to my teacher, Miss Kaniz. She saw the drawing and kissed me. She toke a picture of my drawing and told me that "it is gorgeous" and she is going to frame my drawing and hang it in on her bed room. She also told me that she has not seen such a pretty drawing ever. And she asked my classmates to clap for me. I was extremely happy. I could not wait for the bell to ring as I wanted to run and show my drawing to my mother as soon as possible and tell her what the teacher told me in the class. Because it was my very first time hearing this kind of appreciative words form a teacher of mine.
Anyhow although at that time my drawing might not have been so much pretty or in the level that my teacher described it but those real or fake words definitely helped me a lot in finding myself and talent in real. As today I seriously feel as my drawings are talking to me and that they are alive. Now literally every time that I draw I remember her and her nice words and am feeling extremely happy.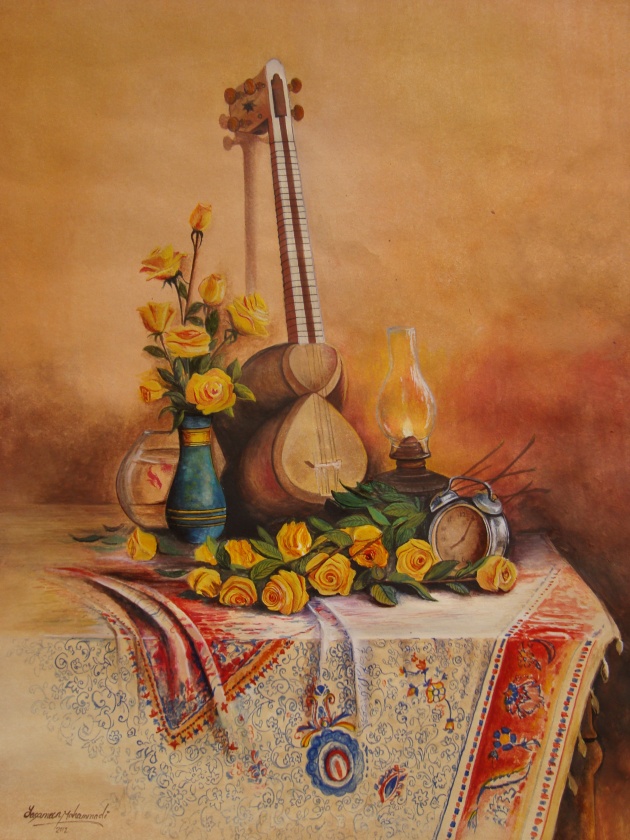 (My drawing 2012)