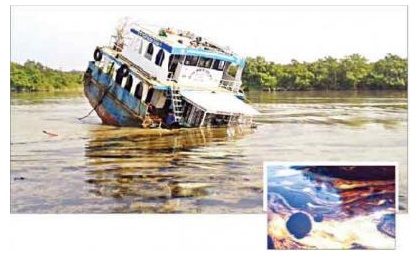 Barely after one month's of the Sundarbans' oil-spill disaster, the government has decided to temporally reopen the Shela River route to water vessels on Wednesday morning, apparently in the face of pressure by river transport workers.

The decision came from an inter-ministerial of the Shipping Ministry held with Shipping Minister Shajahan Khan in the chair, said public relations officer of the ministry Jahangir Alam Khan.

According to the ministry's decision, he said, water vessels can ply the Shela River route from Wednesday morning until the completion of dredging work on the Mongla-Ghashiakhali channel, but no oil-laden ship will be allowed through the waterway.
Environment and Forests Minister Anwar Hossain Manju, Shipping Secretary Shafique Alam Mehdi, Environment and Forests Secretary Nojibur Rahman and senior government officials of the departments concerned were present at the meeting.
The meeting said the water vessels can ply through the river route of the Sundarbans during the daytime only. No vessel can run though the route during foggy and any bad weather.
The meeting also said coastguards will play their due role in managing traffic during the movement of water vessels on the Shela River route.
It decided to reopen the Mongla-Ghashiakhali channel, an alternative to the Shela River route for water vessels by June 2015.
Earlier in the day, Bangladesh Noujan Sramik Federation gave an ultimatum to the government to reopen the Shela River route to vessel movement by on Wednesday.
Earlier on Friday, a platform of seven organisations of river transport workers also threatened to wage a tough movement, including work abstention, from today (Tuesday) if the river route is not reopened by Monday.
On December 10, the government banned the plying of all kinds of vessels through the route until further notice due to an oil tanker crash in the river with some 3.57 lakh litres of furnace oil.
On December 9, 2014 the oil tanker sank in the river at Joymonigol under the East Zone of the Sundarbans, threatening the wildlife in the UNESCO World Heritage site.