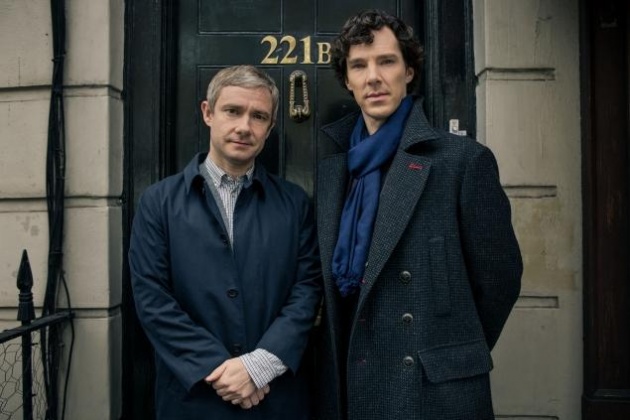 So Steven Moffat is a pretty popular name in writing circles lately having had tremendous success with his latest venture, Sherlock, the retelling and modernizing of Sherlock Holmes and Dr. John Watson through, respectively, Benedict Cumberpatch and Martin Freeman.
The third season has wrapped and the show is pulling in 4-5 million viewers per episode on BBC. It should be noted though it has a fantastic lead-in show (Downton Abbey) so the powerhouse of Sunday night television together is astronomical for the network.
Recently Moffat has been conducting interviews promising a much more adventurous season 4 and 5 (if you're a fan of the show you don't need to be promised this - it's assumed and a given). He commented on how writing ideas for the two upcoming seasons is much more enjoyable now given what they've already accomplished within the show.
Ok - now that said? This happened straight from Sherlock himself on a panel.
Asked directly about any future seasons, Cumberbatch joined series cowriter Steven Moffat and cast members in a good-natured and inconclusive exchange about who can commission a new series.
Asked by TV writers if he is getting tired of Holmes, Cumberbatch said: "I'm going to keep going with it. It's a schedule-providing thing."

Read more: http://www.nydailynews.com/entertainment/tv-movies/sherlock-cumberbatch-cap-long-article-1.1586382#ixzz2r3jjpG6o
To be clear we can assume the schedule-providing he is talking about is the fact that it is a television program. Benedict has acted within television before, but his work within feature films and stage has been the majority of his career.
I can't help but notice as an avid super fan (you probably can tell by now I would hope) that he doesn't necessarily seem thrilled to be continuing.
For those interested in mysteries, thrillers, and those again tired of the Law and Order cop-babble nonsense that has flooded American television I implore you to try out Sherlock.
I'm not going to give you reasons why. I'm just going to ask you to do so. I'm not giving away anything. All I can recommend is if you take my recommendation - observe everything. And, of course, deduce.