Source: http://www.whats-on-netflix.com/
'Sherlock' is a British-American crime drama television series which is based upon Sir Arthur Conan Doyle's Sherlock Holmes detective stories. The first episode of this tv series, "A Study in Pink" was first published on BBC One and BBC HD on 25 July 2010. The tv serial has gained much popularity and been sold upto 200 territories . Total 10 episodes of Sherlock has been aired. First three seasons include 3 episodes each of duration 88 minutes. After 2nd season, BBC aired a mini-episode entitled "Many Happy Returns". The 10th episode is aired in 2016. Season 4 is scheduled to premiere next year, January 2017 to be exact, and filming has officially begun.
The trailer of the Sherlock Season 1 is given below:

Fictional Characters of the Show


There are some characters in this amazing crime drama television show as given below. But the two main characters are 'Sherlock Holmes' and 'Dr. John Watson'.
Character Actor
Sherlock Holmes Benedict Cumberbatch
Dr. John Watson Martin Freeman
Mycroft Holmes Mark Gatiss
Jim Moriarty Andrew Scott
Greg Lestrade Rupert Graves
Mrs. Hudson Una Stubbs
Mary Morstan Louise Brealey
Anderson Jonathan Aris
Sally Donovan Vinette Robinson
Ella Tanya Moodie
Benedict Cumberbatch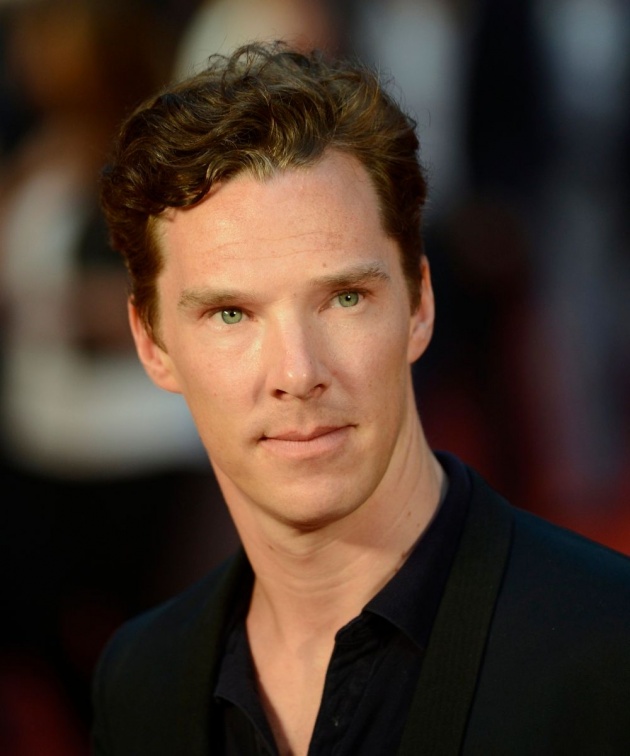 Source: http://www.benedictcumberbatch.co.uk/wordpress/wp-content/uploads/2012/11/ak1.jpg
Benedict Timothy Carlton Cumberbatch, commonly known as Benedict Cumberbatch is an English Actor and Producer. He has performed in films, tv serials, stage and radio. He was born on July 19, 1976 (age 39) in Hammersmith, London, United Kingdom. Benedict Cumberbatch was casted as Sherlock Holmes. Holmes solves various mysteries with his unique observation skills. Cumberbatch well suits in this character. Moffat and Vertue (creators of this series) became interested in casting Benedict Cumberbatch as the title character after watching his performance in 2007 film, "Atonement". Fans have loved him in this role. Sherlock holmes is a genius solving different cases with his partner Dr. John Watson in 21st Century. The creators have declined the pipe of Sherlock due to some social issues.
Here are some pictures of Sherlock Holmes in the TV Serial: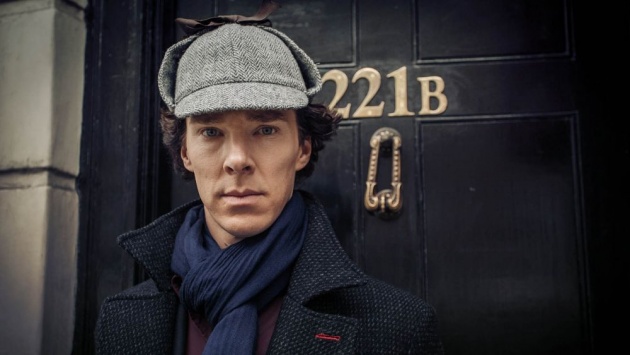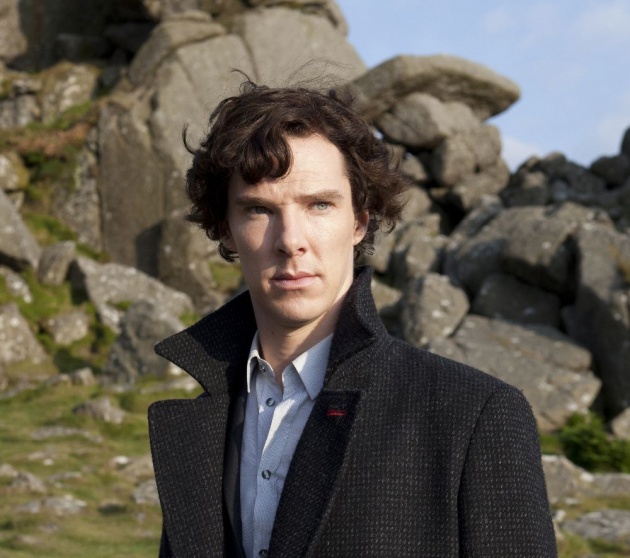 Martin Freeman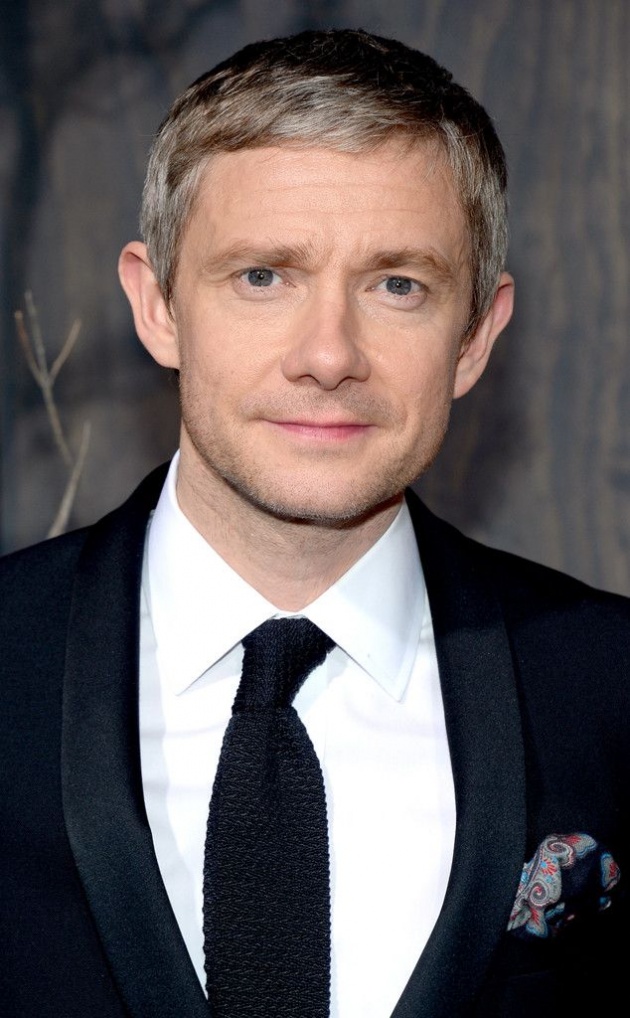 Source: http://www.eonline.com/eol_images/Entire_Site/2013112/rs_634x1024-131202201142-634.Martin-Freeman-The-Hobbit.ms.120213.jpg
Martin John Christopher Freeman, commonly known as Martin Freeman is an English actor and best known for his role as Doctor John Watson in crime drama television series named, "Sherlock". He was born on September 8, 1971 (age 44), Aldershot, United Kingdom. He is casted as Dr. John Watson in TV Serial 'Sherlock'. The creators said that they experienced more difficulty in finding a person for Dr. Watson role than the title role, Sherlock Holmes. They took some auditions in which Martin Freeman passed. Steven Moffat said that Matt Smith was the first to audition unsuccessfully. He was rejected for being too "barmy", as the producers required someone "straighter" for Watson. Shortly after, Moffat cast Smith as the Eleventh Doctor in 'Doctor Who'.
Here are some pictures of Dr. John Watson in this show: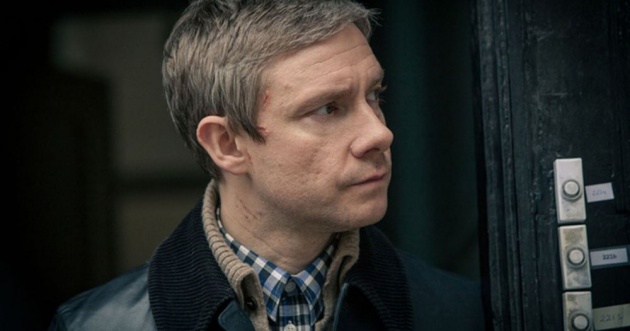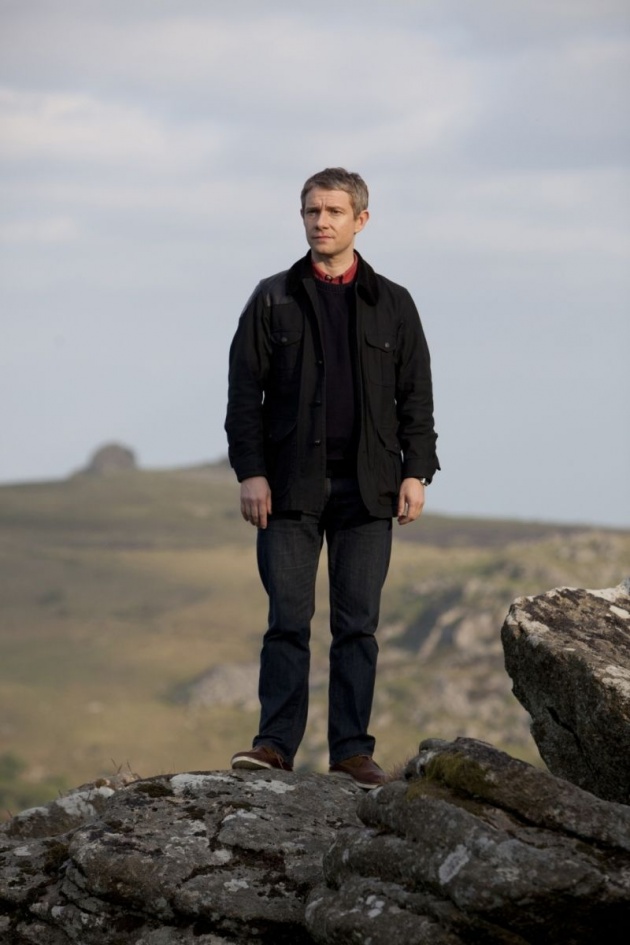 What is it about?
So basically Sherlock depicts Sherlock Holmes (Benedict Cumberbatch) as "consulting detective" solving various mysterious in Modern London. He is assisted by his flatmate and friend, Doctor John Watson, who has returned from Military Service in Afghanistan. Sherlock Holmes has very extraordinary observation skills which make him unique. Holmes is also assisted by a Police Detective Officer, Greg Lestrade (Rupert Graves) and Sherlock Holmes's brother Mycroft Holmes who is practically the Government. John Watson has a blog on which he publishes all the mystery cases that they have solved and the blog gives Sherlock Holmes and John Watson popularity. Both simple citizens and Government asks for his help. Holmes conflict with Jim Moriarty is a recurring feature. Jim Moriarty is a psyco criminal and enjoys playing games with Holmes. In the last episode of the second season, Moriarty kills himself. But his hired killers are ordered to shoot Sherlock's friends including John Watson, if holmes didn't jump off the building. So, sherlock makes his fake death to save his friends.For two years, Sherlock's best friend, Watson, didn't know that he's alive. He becomes angry to find out about his fake death. But, everything sort out and they continue solving mysteries.
Who created this show?
Mark Gatiss and Steven Moffat are the executive producers of this amazing thrilling show. Mark Gatiss has also the role of Sherlock Holmes 's Brother, Mycroft Holmes. Sue Cameron is the producer. Directors have done a great job in making the Sherlock Holmes character interesting. Sherlock speaks a dozen of words at once without looking like he's giving a lecture.
Series Directed by:
Paul McGuigan ... (4 episodes, 2010-2012)
Coky Giedroyc ... (1 episode, 2010)
Euros Lyn ... (1 episode, 2010)
Toby Haynes ... (1 episode, 2012)
Nick Hurran ... (1 episode, 2014)
Jeremy Lovering ... (1 episode, 2014)
Colm McCarthy ... (1 episode, 2014)
Douglas Mackinnon ... (1 episode, 2016)
Series Writing Credits:
Mark Gatiss ... (creator) (13 episodes, 2010-2017)
Steven Moffat ... (creator) (13 episodes, 2010-2017)
Arthur Conan Doyle (10 episodes, 2010-2016)
Steve Thompson (3 episodes, 2010-2014)
Fans 10 Sherlock Best Moments
Sherlock Ratings

List of Awards and Nominees received by Sherlock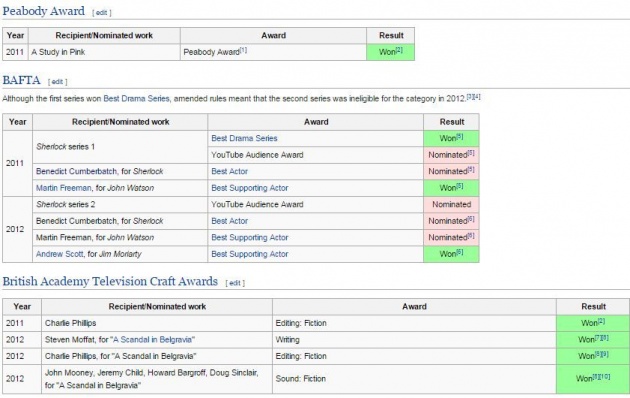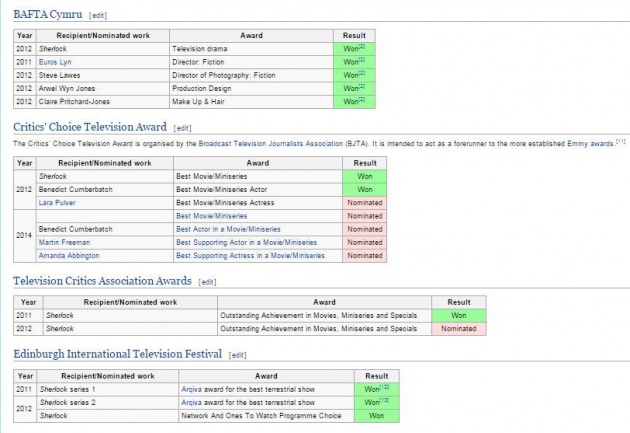 Source: en.wikpedia.org
There are some others awards won by Sherlock. Check at here: https://en.wikipedia.org/wiki/List_of_awards_and_nominations_received_by_Sherlock
My Favourite Episode
'The Reichenbach Fall' (Series 2, Episode 3)
This episode was written by Stephen Thompson. In this episode, Jim Moriarty attempts to destroy the positive image of Sherlock. Moriarty changes his identity into an actor who was working for Sherlock Holmes. Moriarty brings Sherlock onto a building top and makes him suicide in order to save John . Moriarty kills himself. If Sherlock do not jumps off the building, moriarty's hired killers will kill John . So, sherlock jumps off the building. Like other fans, I was so disappointed by the death of Sherlock. But, in the first episode of the next series, they show how sherlock faked his death. It was big relief to find out that he's alive. When Doyle killed off Sherlock Holmes in 1893 short story 'The Final Problem', the public response was ferocious; fans staged protests outside the publishers' offices and took to wearing black armbands . The response after Sherlock aired its series two finale in 2012, Sherlock throwing himself from the rooftop of St Bart's in front of eyewitnesses and a horrified John, was no less extreme.
My Suggestions
This show is just fantastic, and honestly, one of the best tv shows I have ever watched. If you are a true fan of English TV serials like me, I suggest you to give it a try. Watch the first episode full and it'll attract you. Most of the people watch a few minutes and jump to conclusions. Here my blog ends. I hope you like it . Take care, bye.