Having joined the Bitlanders, every newbie has a goal in his eyes of reaching that Leaderboard in Bitlanders as soon as possible. So this blog is for my those friends who have just joined Bitlanders or my fellow Bitlanders who are in search of reaching that Leaderboard,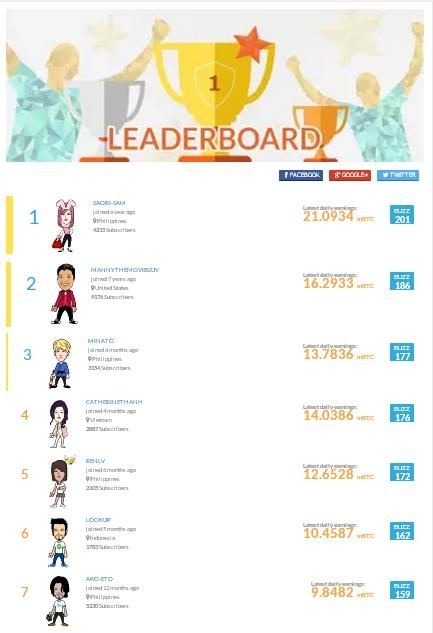 Many Newbies are asking me, How to reach in Leaderboard quickly? I can not answer them in short, So i thought to make a blog for such friends, who are willing to be hardworker and want to watch their name in the Leaderboard. Before i start to tell you the way how to reach this Leaderboard. Just set one thing in mind that no tree will give you fruit just after planting it. You have to water it for many years and one day you will get the fruit.
Here on Bitlanders, You do not need to wait many years, but you should have patience, consistency is the main point. You will get results in first few weeks if you follow some tips of our most senior users here on bitlanders. They also have written very well about this strategy with different titles, but they have also focused about this success on Bitlanders.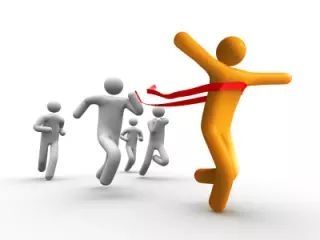 image courtesy google.com
First of all you should not be in hurry to get results. You will get results day by day. I may suggest you to go to FAQs page to understand the bitlanders. Most of the confusions are washed away in the FAQs section, then interact with the most active users on Bitlanders. Try to interact with them, This interaction starts from reading their blogs about many topics and problems. There are too many blogs of senior members which are pin point solutions to many problem. By reading their blogs you will also learn to write blog. The way seniors are using should be copied by you (not the content). You should leave a good comment about the topic at the end, as it clears your visibility, and separates you from the spammers.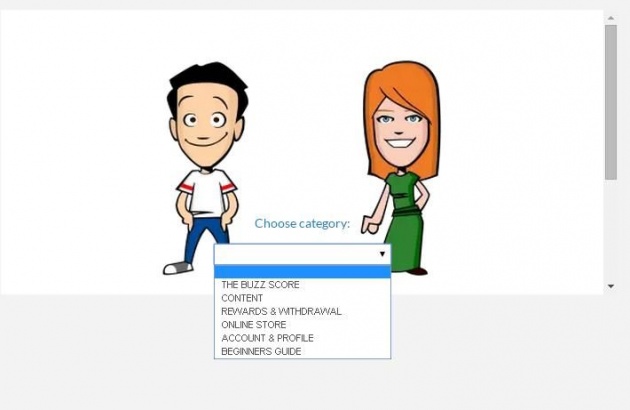 Within your first week, you should also learn about buzz score, gems, Bitcoins and avatar. Try to keep an eagle eye on the activity of the most successful users. You should note the activity of these users, just follow that activity. You can not be successful here on bitlanders without understand the whole site. I also have got many tips from the most senior Bitlanders. Most of the confusions were solved by reading their blogs.
After understanding the Bitlanders, Just come to the main stuff of Bitlanders, that is creating your original contents. These contents include Blog, Videos and Gallery. Show your expertise in the category you are expert in. If you are a photographer, you should start your Bitlanders journey by Submitting your professionally taken photos for review.
Criteria for Gallery Review.
1. The number of Photos is 5 to 50, and these must be your original containing an specific theme.
2. The Photos must be of good or it should say high quality.
3. Every Photo should have specific description with it and tagged accurately.
4. Their must be a description of all Photos being uplaoded to galley.
This is not as difficult as you think. When you get started with the Photos, You will definitely find the proper theme, the photos should be taken about. It does not take too long to collect such photos. You should first set any theme, then you start taking photos about it. Take at least 100 Photos, then select best 50 out of these. Upload it to your gallery with proper description, each photo must contain distinct description and tag with it too. I also have made a gallery and you can also have an eye over it, as you may have an idea of making a gallery. Here is the link.
http://www.bitlanders.com/galleries/show/601746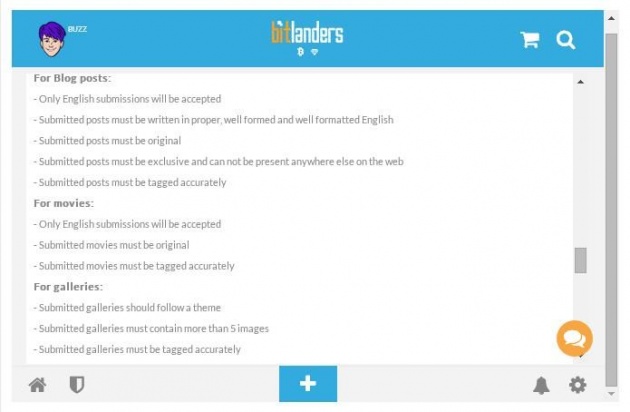 A screen shot of criteria about submitting a blog, gallery or video.
just click Gallery to submit your expertise in Photography. If you are using your Android or Iphone for bitlanders, your should use this link to upload your gallery photos.
http://www.bitlanders.com/gallery-admin/add
If you are not a Photographer, you should not be dishearten. Their are more ways to get high rank on bitlanders. If you are good Writer and you can write good enough, this is your way of success then. You should write a detailed blog about the topic you know better than others or you know enough about it. No matter How much you know. All you have to do is to take an step further to write. When you set your mind about writing, your mind becomes very sharp and gains some writing skills while reading the blogs of others, this is my observation. As i was avoiding a lot from writing blogs or articles. After joining this awesome Platform of Bitlanders, my skills grew up about writing articles and blogs. Now i can write good enough.
Image courtesy i.ytimg.com
Set any trending topic in your mind, you have the knowledge about. first write it down on papers. Find the mistakes out of it. Make a proper format, such as bold, italic and underline. Make attractive headlines. Add proper Images with it. You can use google for this purpose but you must mention the courtey of the image. You should also use good quality videos about the topic, if you have already created your youtube channel, then you have a chance of showing your work here on bitlanders by adding your video with your blog. If you have no videos, then you should go with the videos created by the experts in such topics and watch these videos, if you find appropriate video, you can use it with adding the video courtesy.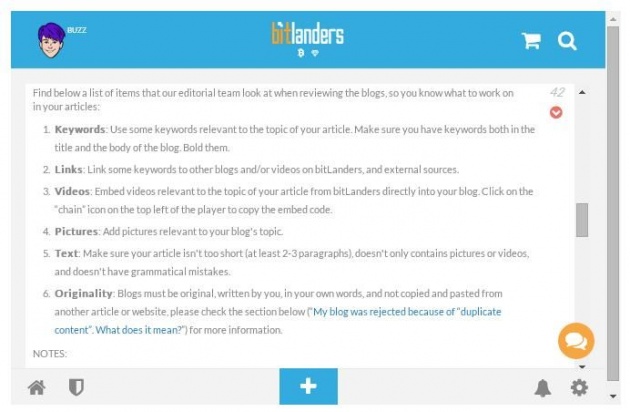 A proper and creative blog should contain proper knowledge about the topic, not too long or not too short. Make important words bold or italic, you can also underline these. Make a blog containing at least 1000 words. Use appropriate pictures as many as it suits to your blog. Adding video to your blog will force it to be attractive for the readers. Finally adding perfect tags is necessary step of making a perfect, attractive blog. Use your gems and submit your blog for review.
You can read many blogs of top writers present on bitlanders, I will add the names of some top bitlanders here like adgoggleko, soari-sam, minato, ako-eto, abid-khan, lucky-star, nid-nehate, jean-beltran and many others. You should first point out the way of writing blogs and catch some other useful things by reading their blogs. I had also read many blogs of all these bloggers. I was then able to write and i also was then impelled to write blogs. If you are having trouble in understanding of the options here on bitlanders then you just read my blog
http://www.bitlanders.com/blogs/a-detailed-journal-on-bitlanders-for-newbies/3574735.
If you are using your Android phone or Iphone for creating blog, here is the link you should go with
http://www.bitlanders.com/blog-admin/add
Now you have two options to carry on your journey of bitlanders. But if you are not good at photography and writing blogs, you still have a chance to make movies. You can make movies and get a chance to shine in top 30 on bitlanders leaderboard. It merits mentioning the name of the one guy that is MANNY THE MOVIE GUY, he has created many videos. He is also part of the leaderboard nowadays. You can have a look of his videos that will give you the idea of creating videos and submitting it for review here. Here are some tips in this video for making movies.
Video courtesy Youtube.com
If you are using your Android phone or Iphone for creating blog, here is the link you should go with
http://www.bitlanders.com/movie-admin/add
This is the one platform for Photographers, Bloggers and the Movie makers. You do not need to go any where else. Everything is just in your hands and mind. Use your hands and your brain to make awesome and professional content to show your skills to the world.
All images and videos are mentioned with specific courtesy.
Content of this blog are original copyright to ric4iqbal2. Do not copy or plagiarize.