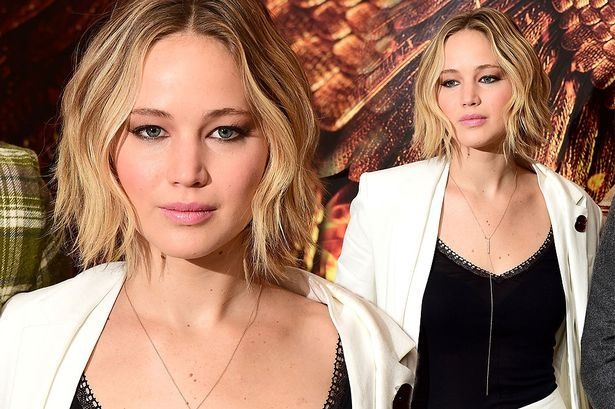 Trending Kimye MOBO Awards Victoria Beckham Katie Price baby Jason Orange

Sport
Technology
Money
Travel
Motoring

Home
3am
Celebrity News
Jennifer Lawrence

Sick Jennifer Lawrence is "all white" in London as she joins Hunger Games co-stars

Nov 09, 2014 22:43
By Claire Rutter

The poorly Oscar-winning beauty wore a white suit with wide leg

1 Share
Share
Tweet
+1
Email

PA
MAIN Jennifer Lawrence attends the photocall for the film "The Hunger Games: Mockingjay Part 1" in London

Jennifer Lawrence might have been battling with a throat infection, but the blonde beauty showed no signs off illness in London.

The Hunger Games actress, who is promoting the latest instalment – Mockingjay Part 1, joined her co-stars in London on Sunday rocking a wide-leg white trouser suit.

Reuters Julianne Moore, Liam Hemsworth, Jennifer Lawrence, Donald Sutherland, Elizabeth Banks, Sam Claflin, Natalie Dormer and Stanley Tucci attend the photocall for 'The Hunger Games: Mockingjay Part 1', in London, November 9, 2014


It's a bold move from the actress, who wore a simple black vest beneath as she joined stars including Natalie Dormer and Julianne Moore at the Corinthia Hotel in London.

The 24-year-old isn't alone in her suffering, as Josh Hutcherson is also suffering from strep throat, which is a nasty bacterial infection that gives you inflammation and an agonising sore throat. He was too ill to even attend.

Getty iam Hemsworth (L) and Jennifer Lawrence attend a photocall for "The Hunger Games: Mockingjay Part 1" at the Corinthia Hotel London on November 9, 2014 in London, England
Something to see there Liam?


Earlier this week the cast appeared on the German chat show 'Wetten, daas..?' to promote latest movie.

Along with co-star hunk Liam Hemsworth, the blonde actress kept apologising to the hosts that she didn't want to touch them in case she passed on her illness.

The two film stars were supposed to be joined by Josh Hutcherson, who plays Peeta in the young adult series, but he was even sicker than Jennifer.

Rex Jennifer Lawrence 'The Hunger Games: Mockingjay - Part 1' film photocall, London
Something she said?


This prompted the hosts to joke that Jennifer and Josh had been playing a bit of tonsil tennis and Liam said he felt left out because he wasn't sick too.

The 24-year-old looked every inch the movie star she is despite her illness, wearing a nude fitted mini dress that showed off her super toned figure.

Getty Jennifer Lawrence

Jennifer was in high spirits as she joked about other guest stars One Direction, mentioning that there is one huge fan of the boyband in her house - her dog.

"Every time he hears Story of My Life, he sings the entire thing from beginning to end. He howls it and so now I've become a fan."