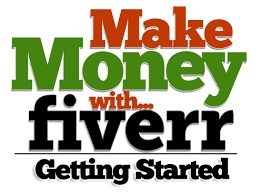 You already know that fiverr is a service website and every services there start as from five dollars. You can do virtually anything just fiverr dollars there.The only down side is that fiverr admin takes 20% on any completed gig.
I will be sharing a method i have been using to make passive income using fiverr in the past months. By using this guild you will be able to make money in your spare time using fiverr if you are commited and dedicated in making money online Ok, Lets get started, first visit fiverr.com and click on 'JOIN' then fill the necessary details and verify with your email. Make sure all your profile are filled acurately. Look for a popular services like logo design or article writing and find other gigs similar with the ones you will be providing and go through there description, Don\t copy the exalt words, Make your own and have a unique gig ready to be purchased. Then you need a good image to be added to your gig.
Go to canva .com a create any image for your gig. You may not worry about video for now, when you start making money you can go for that Make sure the description is good like a sales copy to be able to convince the buyer to buy from you; with a good keyword in place. If every thing is good, then publish your gig and expect buyers to come, but in fiverr you need to rank your gig so as to expect buyers, to do that get traffic from any where on the web to visit your gig
Then you may need to buy your gig your self 2-3 times to rank it on top, after then you will start receiving buyers from all over the world. If you follow this guild you will start making money from fiverr in no distant time. If you have any question regarding this guild you can ask in the comment box below. Thanks for reading.