Prititit... Prititit... Prititit.
You must read the above words in the tune of the Sinulog music. If you are not aware of how it sound, check this video below:
So why am I telling you this? Well, it's the time of the year again for
SINULOG
!
Interacting on bitLanders had earned me one good thing today, I somehow received a helpful encouragement from a co-bitLander user, @wanderfulsoul to blog about Sinulog. Well, I was not hyped up with the coming event which is happening by the weekend but since she gave me hints on what to blog, I somehow got interested and started to think of the best topic about this year's Sinulog.
Last year, I did post some two blogs about it:
1. Sinulog Festival Queens

2. Cebu's Sinulog Festival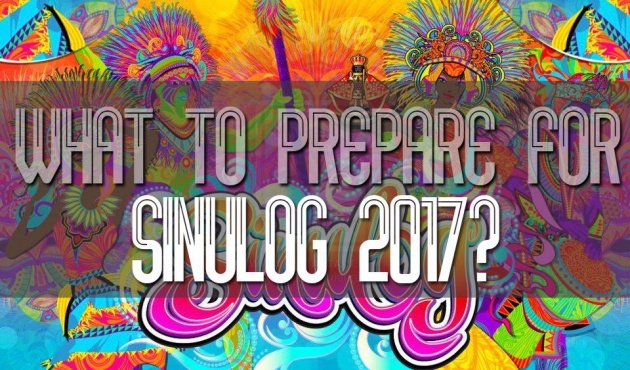 This time around, I am sharing the top things that anyone who will be participating the event should prepare and what to be expecting of it when you are on the streets. This list is my personal opinion based on my own experience, quote and quote, experiences. Yes, I had also tried to watch and join my friends from college before and be on the streets, taking photos and just plainly be observing what the other people usually do. As you can see, I am not a party type of person. I prefer to be at home on this day where roads are closed for walking alone. Oops, I know I should wait for the list, that's a bit of a spoiler. I should start listing this down now.

1. Get your Sinulog OOTD Ready
As per this writing, my husband brought home a Sinulog Tshirt and I thought he bought it until I saw their company name at the back of the shirt. Another free tshirt from Arcanys! He said that's given as free marketing strategy. Good strategy then!


photo by Kryz Uy
So in relation to that, there's a specific Sinulog outfit of the day that you need to might want to get ready of because you can't just walk around in the streets with all those jackets and long pants, well except if you are cold or sick and you just can't help but go out. Know as well that the Sinulog is a marathon, like literally so you don't want to be bringing all your baggage in a marathon, you know what I'm saying here? You better be on your lightest get up.
Also note that when the party gets started, you will get sweaty and dirty and a lot of party people at the corner has something surprising waiting for you, yeah like paint!
Now, here's the get up list:
• Sinulog T-shirt /Tank Top
Preferably, a white or black t-shirt or tank top for the men with Sinulog prints on it. There are lots of available ones which are for sale anywhere in Cebu and even if you are not in Cebu, other provinces in the Philippines are also selling those. In fact other shops have been marketing them since last year.


One of the most famous shop to get one is the Islands Souvenir, not promoting them by the way. I am just stating facts here. But the image above is a design by my college friend, Nerio Saguin. Check out his other designs on his FB Page.


• Summer Shorts, Pedals or Skirts
If there's one consistent participant on each Sinulog Festival event, that would be rain. Yep, all these years that I have been in Cebu during the Sinulog celebration, rain comes and goes on that day. I believe there are other instances where it didn't rain but base on these instances that I personally was here, it rained!
Why am I stating this? Well, because you don't want the edges of your pants to get drenched or worse, soaked with mud! Honestly speaking, when it rains in Cebu, the roads become messy, like dark colored liquids in the streets multiply (blame it to a failed drainage system).
You don't want that to happen so you should wear anything just above or perhaps within the knee area, above or a little below that will be perfect.


• Slippers or Sneakers is Okay!
This is for comfort-ability. Slippers are light and sneakers are safe ones. Slippers if you like to free up your toes but sneakers if you don't want to get wet and dirty feet.
Note that during the celebration, no vehicles are allowed in the city so you may want to wear something that won't hurt your feet after walking more than 21 kilometers or more. I assure you, you'll never stay in one single spot during that time, for sure, you'll be moving here and there and back again. You may actually be in downtown Cebu during the start but then you'll find yourself in Ayala grounds for the fireworks display or perhaps you'll end up in SM Seaside since they'll also be setting up their second time Fireworks display too.

• Head Gears
Head gears are for fashion and for protection at the same time. These head gears range from head caps, hat, towels or bandanas. They'll help you get through the heat of the sun and the sprinkles of water from above.


photo credits to island souvenir

You can actually bring an umbrella but then again, you don't want to be bringing a lot of things specially those that may be use for hitting or whatever so it would be better to bring a head gear instead of an umbrella, you can still bring one if you insists though.

• Shades
Sunglasses are needed to protect your eyes, of course! I did mention that it usually rains during Sinulog but that didn't mean there's no sun at all.
But aside from the sun, you will have to protect your eyes to neon colors too. All day long, you'll be watching street dancers dance in the street, they wear light colors, neon ones and that may also hurt your eyes if you constantly get your eyes fix on them. Wearing the sunglasses will help your eyes, I promise!

• Other Accessories
You might end up losing the head gear or the sunglasses on that day but you'll never loose that cool Henna tattoo.
photo courtesy of xagros.deviantart.com

These are safe and temporary tattoos, you'll see the artists waiting at the corners, signage will be available anywhere in the city. But make sure to get it dried out before moving around, they have a tendency of bring messy and dirty too!
You can also bring a whistle! That will be something you can use to help with creating more noise and sound during the celebration. Plus it has another usage of catching an attention of your companion from a distance. Wise huh?
I should state that the Sinulog Festival Celebration is an opening for summer, indeed you will be on your Summer feels when in the streets, shorts, tshirts or tank top, sunglasses and slippers!

2. Do not Bring Your Valuables
But be extra careful with bringing lots of stuffs during the event, as mentioned, streets will be full of people so there's a huge possibility of loosing them. Do not bring too many valuables with you.
Certain valuables are mobile devices, laptops, jewelries, wallets with lots of IDs and etc. You don't want to loose these stuffs so you can bring a mobile device but it would be better to bring just one. Have a bag which can be attached to you all the time, slipping it into your pocket may be very tricky too at times. So you should secure it to be always and always be attached to your body.
Cameras, you can bring if you are a photographer yourself who participated the photography contest during the event but if you are not, you can bring the light camera gears, don't bring that huge lens! Jewelries are also one top not to bring items. Leave them at home.


3. Money Gets You Through the Day
I am not listing this in the Do not Bring bullet because you will definitely need this to get you through the day. Anywhere you go during the Sinulog event, you might be spending amount of cash.
From Henna Tattoos, to those hats, to water, to beers... Everything will be for sale. There was a friend of mine who had earned a lot of cash during the Sinulog celebration from selling water! Yep guys, water is the most in demand thing during the Sinulog. All these people around gets thirsty, gets really tired and want a refreshment to energize them so your drinks, water or other flavored drinks will help them and that's an opportunity for income right there.
If you are a business minded person, you may grab a spot in the side street for your own drink stall where you can put up your ice cubes and store your bottles because there will be lots of customers moving here and there on that day.
So if you are not the business man selling that water or food along the way, you should be ready with your cash, an enough one which you believe will help you get through that day. If not, you might end up going home to your mom and ask for money but by that time, you won't be able to get back to the streets.


4. Batteries and More Batteries
May it be your first time or if you have been joining Sinulog celebration year after year and you want to keep photograph souvenirs with you, or you may be a photographer who had joined the photo contest, or if you are just a normal audience and want to keep random shots of the dancers, the local personalities or artists who are part of the floats during the celebration, you definitely don't like to get a drained battery phone if that's what you use for taking photos.
Note, there are lots of Instagram worthy scenes during the celebration, you don't want to miss that out so you better get ready with your power banks if you can afford to bring more items or you can save your mobile battery by turning off some battery draining applications, turn off data and just turn it on if you need to post something.
As a photographer, it is important to bring extra batteries. You won't have the opportunity to charge your batteries so extra full batteries are the only solution to that.

5. Grab a Mobile App
This year's a bit stricter in terms of mobile usage. In fact the networks will be shutting down their mobile connectivity to prevent certain "bad" events to happen. I don't want to state it here but the Cebu City government is doing its part to prevent any bad elements in the city to do whatever their evil plans.
Shutting off the mobile network will be a problem for those who are planning to get connected with their friends. But there's a solution to that actually. Introducing Firechat.
My college friend had shared this and I got really interested about it as it can be used even after Sinulog. This application uses Bluetooth and Wifi to get connected in a specific distance range. But then if more and more users are using it, its network also expands so you'll be able to still communicate to your friends or your family. There's an option to group chats too!
Learn more about Firechat below:
That's pretty it and if you are not yet really sure on what to be prepared of, just check the video by Adi Bontuyan below on how they enjoyed their 2014 Sinulog Party.


If you are joining the pack this Sunday, January 15 for the 2017 Sinulog Festival Celebration, be prepared! You have read the top things to be prepared of and what to expect so you can now go and have a fun but safe celebration.

Regards,
Jean Beltran-Figues