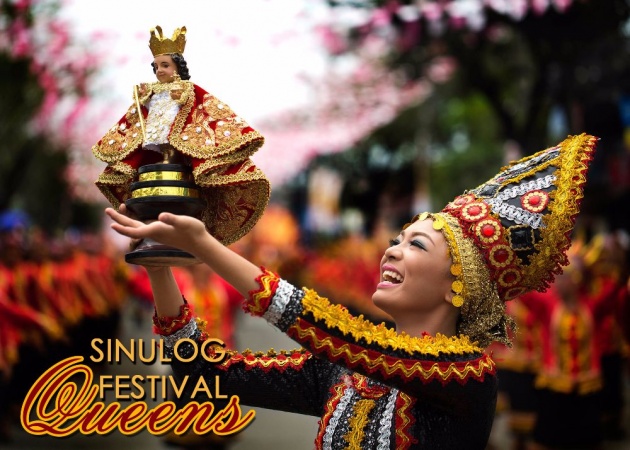 A week ago, Cebu had just celebrated its annual festival called Sinulog. I had blogged about this specific event which is really a famous one in the country that even the foreigners are visiting the city everytime it is celebrated. Because of that, the festival has been so called the Mother of Festivals in the Philippines.
You can read more about my blog in the link below:
However, I thought the Sinulog's Festival Queen would be an interesting topic to blog about and so let me share to you what Festival Queen is all about and how this specific contest had been realized.
What is Festival Queen?
A Sinulog Festival Queen doesn't mean a lady with just a pretty face. It is actually more than that. A Sinulog Festival Queen means the best Sinulog Lead Dancer. She will be hailed the best lead dancer among the numerous lead dancers of all contingents who had come to join the Sinulog Grand Parade. For years, the entire Cebu and the neighboring provinces which have been joining the said celebration has been anticipating for this glamorous competition since it involves ladies which have given their talents, time and effort in practicing and memorizing their dance steps to win the sash that bears the title Sinulog Festival Queen.
There are actually guidelines on how one can be named Sinulog Festival Queen and it is not that easy as you think.
Let us start with the Qualifications:
1. The candidate must be the Lead Dancer of her contingent and must participate during the Grand Parade and the Final Performance.
2. The candidate must be single. Single unwed mothers are not qualified to join the contest.
3. The candidate must be between 14-24 years old. That means she must be young.
4. The candidate must be of good moral character as certified by her Delegation Head.
5. The contingent to whom a candidate belongs must submit an original copy of the Certification of Guarantee issued by the Sinulog Foundation.
It is indeed not easy to be a contestant of the Sinulog Festival Queen. Then there are also judging on the day of the grand parade so to hail one of the participants as the final Sinulog Festival Queen.
Judging of the Sinulog Festival Queen
There are also other things to consider when joining this competition. There are four phases:
Pre-Judging :
This is when a contestant is being judged according to her beauty and figure. Personally, I thought this shouldn't be necessary.
Opening Production Number :
This will be judged according to coordination with Back-up Dancers, Mastery of Dance, the Costume. Her projection and again the beauty of face and figure. There's also content and mastery of Opening Spiel. Here's an example of the opening production number of the latest Sinulog Festival Queen 2016 which happened last week.
Group Production Presentation :
They will be judged according to their choreography and performance.
Solo Performance :
This finalizes the competition and they will be showcasing their individual artistry and sense of style based on their performance, projection and costume. Here's another video coverage of the latest Sinulog Festival Queen 2016 for the contestant's solo performances.
When was Sinulog Festival Queen Started?
While Sinulog was first initiated by faithful devotees of Senior Santo Niño after their conversion from pagan beliefs to Christianity, Sinulog Festival Queen started a bit late, it only had started on 2002. It was new to the public yet it was not new to the tradition because even before, every contingent for the grand parade would still showcase one lady who will be the lead dancer. It was already present but by that time, the organizers had made it a point to also make another competition and another set of activities for the Sinulog Celebration.
It had been warmly accepted by the crowd and that it made the Cebuanos look forward to it in every Sinulog celebrations. Aside from the beauty pageants that would take place every year, this has also become one of the most exciting beauty and dance competition.
This year, it has celebrated it 14th year of competition. Through the years, the competition has also been giving a good exposure to the participants and to the ladies who are able to grab the title of being the Sinulog Queen. In fact, some of the Sinulog Festival Queens who had won the crown before had also been engaged to other sets of competitions like the Bb. Pilipinas and had even won the said title.
Surely, this has been a successful idea and I believe that this will stay as long as there's Sinulog.
Sinulog Festival Queen Prizes
Well, becoming a Sinulog Festival Queen may be hard to achieve but once a contestant would be hailed as one, she'll be going home with a hundred thousand pesos.
The other ladies wouldn't go home without some amount as well because the first runner up gets half of the prize, the second will get 30,000 pesos and the third gets twenty thousand and fourth runner up gets ten thousand pesos.
Guess their efforts won't be useless at all because of the prizes though.
Who are the Past Sinulog Festival Queens?
This year, it was the 14th year of the Sinulog Festival Queen and let me share some of the winners of the past Sinulog Festivals. I will be sharing the top five from 2016 - 2011 instead.
2011 - Steffi Rose Pearson Aberasturi
Steffi Rose represented the Lumad Basakanon of Brgy. Basak San Nicolas, Cebu City. She has been actively joining beauty contests and even had won those competitions. She was also crowned as 2012 Ms. Campus Femme, she was also crowned Miss Mandaue 2013 and for the latest one was Reyna ng Aliwan Fiesta 2014.
Here's her performance :
Steffi or Tepyang to her chums is a USC Tourism student. More than being another pretty face with a crown, this bubbly 18-year-old is an animal-lover, a diligent college student, an aspiring entrepreneur and a travel enthusiast. Steffi has lofty plans for her future, and these don't necessarily include beauty pageants or show business. Food and fashion being in her top list of interests, she hopes to open her own restaurant and clothing boutique in the future.
2012 - Apriel Smith
Apriel represented the Lumad Basakanon of Brgy. Basak San Nicolas, Cebu City. She bested 13 other candidates and won four special awards which include Best in Sinulog Festival Costume, Best Festival Costume, and Best Solo Performer.
April Smith, Lumad Basakanon's Festival Queen, solid performance in this routine catches the attention of the panel of judges chaired by the Philippines noted choreographer, Douglas Nierras.
Apriel, 5'9 Fil-Black American is the daughter of the late African-American basketball player Daryl Smith. She actually is not new to winning beauty contests, having won the Miss Milo Little Olympics contest in 2010. She also won as Miss Dumanjug 2011 and is also the youngest model in the Philippine Fashion Week held in Manila last 2010.
Smith is currently an OZAR model and is also the Team Captain of the Abellana National School volleyball team.
2013 - Jamie Herrell
She garnered eight special awards such as Miss PLDT, Miss Lecit-E, Miss Uratex, Best in Runway, Best in Group Presentation, Best Solo Performer, SM Festival Queen and Best in Opening Production. 2013 was the start of Jamie's journey into pageantry as she was also crowned as Miss Tourism Ambassador of the Philippines and Reyna ng Aliwan.
Jamie represented the Tribu Himag-ulaw of Placer, Masbate. She won 9 awards which included Best Solo Performance and Best in Opening Production Presentation. Jamie represented the country as in Miss Earth 2014, and she emerged the winner of the prestigious contest.
Jamie spent her childhood in the United States and then settled down in Cebu City where her mother is from. In Cebu, Jamie was a Mass Communication student at the University of San Jose-Recoletos before transferring to International Academy of Film and Television to study acting. Aside from studying, Jamie also manages her own dance company called Mactan Dynamics. She was also a former managerial director of Solid Source Trading for the Visayas Region.
Before winning Miss Philippines Earth, she also won Miss MegaCebu 2013, and Reyna ng Aliwan 2013.
2014 - Christine Jael Abellanosa
Christine Jael is 19 years old when she was crowned as Festival Queen, besting 10 other contestants. She represented Tribu Tinubdan of Tuburan, Cebu. She won most of the major and corporate awards which includes Best Festival Costume and Best Solo Performer.
BS Tourism student from the University of Perpetual System Dalta and hails from the municipality of Tuburan. She represents Tribu Tinubdan sa Kauswagan. Her costume won the Best Festival Costume, an award given to the designer of the winning gown which is judged not only on over-all aesthetics but also according to its functionality in the context of dance, performance and choreography.
2015 - Julienne Hazel Penserga
Julienne Hazel Penserga, a third year mass communication student of the University of the Philippines and the reigning Miss UP Cebu, was crowned the new Sinulog Festival Queen, besting 15 other lead dancers from different contingents.
This 5'7''- 5'8'' stunner is a professional model under Wafer Models and is no stranger to pageants. She won last year's UP Cebu Intramurals' Miss Fitness 2013 and Miss Southwestern University 2012. And she's not just beauty she is also an honor student of UP. She had walked many runways and has even graced in local newspapers.
2016 - Cynthia Thomalla
The 20-year-old Tourism and Events Management graduate of STI College in Maasin City, Leyte received the crown. The Festival Queen of Tribu Himag-ulaw from Placer, Masbate bested 10 other Festival Queens.
Thomalla is a dancer, a model, a sports enthusiast, and a bookworm. Most of the people who have seen her refer her as a doll - an alluring face can really blossom into the rarest of roses.
I believe that the next year's competition will be more gigantic and each tribe which will be joining the 2017 competition is now on search for the next representative who will rock the Cebu Sports Center. Who will be the next Sinulog Festival Queen of 2017?
That is something to look out for.