SIQUIJOR CAPTURES MY HEART
Traveling, it leaves you speechless then turns you into a storyteller - Ibn Battuta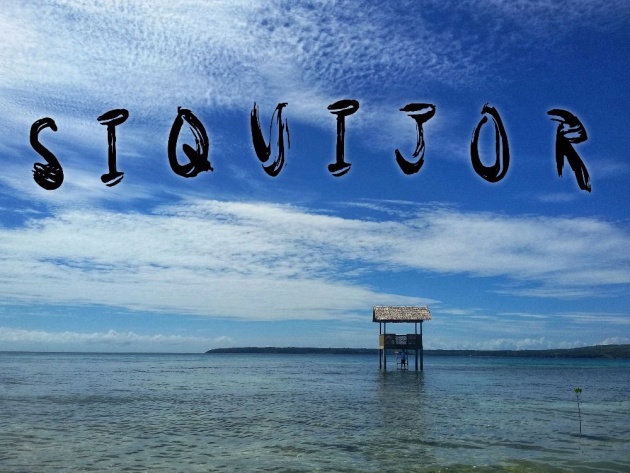 Image Credits: kneelyrac via facebook
Siquijor has known by Filipinos as the island full scary folklores and because of that, some Filipinos are afraid to visit this mystical island of the Philippines. If you happen to visit Siquijor, hoping that through this blog it will convince you to include Siquijor on your travel list, check the soil and you will notice that it looks like a dead coral. The legend said that Siquijor does not exist in the Philippine map long before. But, due to strong storms, it emerged from the sea and, then Siquijor exist s carried by a huge turtle.
PLACES WE VISITED
Now amid the scary folklores Siquijor have, I must tell that Siquijor is bestowed with great beauty from the Almighty One that every individual should be grateful for. With that, let me do the honor to share with you some of the places we visited in Siquijor.
Capilay Spring Park and St. Augustine Church
It is a bit strange to see a park with a very long pool along the highway. The Capilay Spring Park is located in the town of San Juan, Siquijor. It consists of three chambers: Spring Pool, Swimming Pool, and Laundry Pool or the River.
Image Credits: kneelyrac via facebook
The water is green in color with freshwater fishes, like Tilapia, that come and go. This park has cottages and benches which is a good place to have a picnic plus a good and refreshing dip. There are also food stores in the Spring Park.
Did I mention already that Capilay Spring Park has no entrance fee? Yes, this public spring offers you a free entrance.
As we roamed around, we found stairs leading to the old church which is the St. Augustine Church. Beside the church is a school. It is like the era of Spaniards where in one place you can see school, park, church, and stores.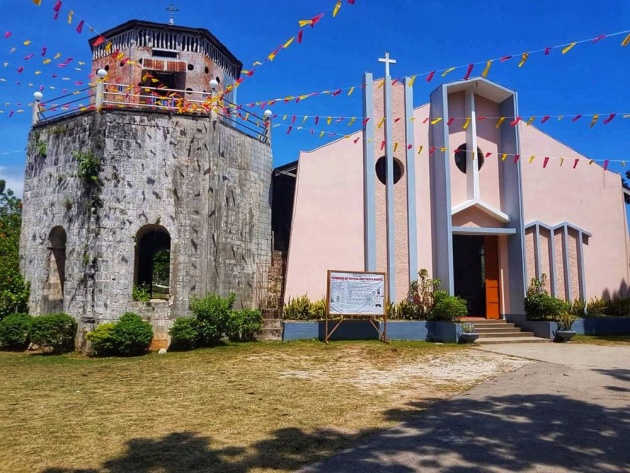 Image Credits: kneelyrac
We just passed by in Capilay, felt the coldness by submerging our hands to the water and then, we took some pictures.
Entrance Fee: FREE!
Old Enchanted Balete Tree, Fish Spa, and Mini Zoo
Balete Tree is known by Filipinos as an Enchanted Tree. Those who are living in the province, if they happen to see a Balete Tree, they would say, "Tabi apo.", even if you are just passing by or staying for a while. This kind of gesture is a sign of respect to those unseen elements who are living the said tree.
Image Credits: kneelyrac via facebook
Now the Balete Tree in Lazi Siquijor is one of the oldest and largest trees in the Philippines. It is said to be a 400-plus-year-old. Also, this place offers you a fun-filled fish spa.
It was my very first time to have a foot spa not to mention that fishes in different sizes are the one who will be cleaning and massaging my feet using their mouth. If you are a ticklish person like me, I bet you will have an instant Snow White like voice.
At the left side of the fish spa section facing the Balete tree is the fluffy and bubbly animals: a dog and a monkey. And above is the mini zoo that plenty of the tourists missed out. Luckily, I was observant enough to notice it.
Image Credits: kneelyrac via facebook
In their mini zoo, they have ravens, snakes, lovebirds, monkeys and a lot more. My suggestion to the management is they need to put an arrow sign to their mini zoo and every animal should have a name and description on it. I just said a lot more because I don't know some of the names.
Well, well, well, as I mentioned that Siquijor is known for its folklore stories, now this place is selling a lumay, lana, habak, voodoo dolls, bags, shirts, mugs, foods, keychains and other stuff that you can buy as your souvenir or 'pasalubong' in Filipino.
Image Credits: kneelyrac via facebook
'Lumay' is a love potion which has the mixture of some herbal plants
'Habak' or 'anting-anting' is known as an amulet or a talisman to keep away those bad spirits and to keep you safe from people who try to do black magic against you
'Lana' is an ointment with some herbal plants from Siquijor which boils and turns to black whenever someone is trying to poison you.
Entrance Fee: P5/head
Lazi Church and Convent
Image Credits: kneelyrac via facebook
The Lazi Church which is also called as the San Isidro Labrador Parish Church is considered as one of the oldest church in Siquijor since it was built in 1884 using stones and hardwoods by Filipino Artisans. In front of the Church is the Lazi Convent which is declared a National Cultural Treasure.
Image Credits: kneelyrac via facebook
The Lazi Convent is also declared as the largest and oldest convent in Asia. Inside the convent is a museum where you can see religious artifacts, however, when we went there, it was under construction. So, we just had a picture of the exterior design only. Hopefully, when we get there, soonest, we can see with our own eyes the beauty of Lazi Convent History.
Museum Entrance Fee: P20/head
Cambugahay Falls
Image Credits: kneelyrac via facebook
Before reaching this three-tiered falls, you'll have to go down in a hundred and thirty-five steps in concrete stairs. This majestic multi-cascading waterfalls, the Cambugahay Falls, is fed by the watershed, above which resulted in a refreshing turquoise water.
It was very tempting to jump in the last station, the lower chamber of the waterfalls, but I refrain myself from doing so since my buddies said that it was deep and floating in a freshwater is hard. I'm not a master of holding my breath and floating in the water above 10 seconds so I went up and jumped in the station or part where I can touch the waterbed.
Also, if you want to become a Tarzan or Jane in an instant then this falls offer you a Tarzan and Jane Swing. Okay, I just made that name, but yeah, there's a guide who will push you and then you let go before it goes back. You can also request to pull you back before pushing you forward.
Video Credits: Drone Downunder via youtube
As I've said, I chickened out in the last chamber, so I went up and there, I do the Tarzan and Jane Swing for five times. I was about to do it in the sixth times but was told that we're going to our next destination already.
Tarzan and Jane Swing Fee: P20/head, unlimited
Salagdoong Forest and Salagdoong Beach Resort
Upon reaching the shore, you'll have to see the green and tall trees with branches that intertwine with each other. You can either ride from the Siquijor Circumferential Road to the Beach Resort or you want to do some experiments just what my buddies and I did. Yes, we walked at least 30 minutes just to reach the Beach Resort.
The Salagdoong Forest is a man-made forest in which I must say that if you're riding a vehicle, stop the car or motorcycle and please do all those insert-name-here poses. Yes! The Salagdoong Forest is an 'instagrammable' setting that every Instagram feeds should have.
Now after reaching the resort, you'll see crystal blue seawater that shines and shimmer under the heat of the blazing sun. The famous part of the Salagdoong Resort is their cliff jumping! You can choose to jump either in a 24 feet high jumping board or the 36 feet high jumping board. Either of the two gives a nerve wracking experience to those who are not expert swimmers! High five people!!!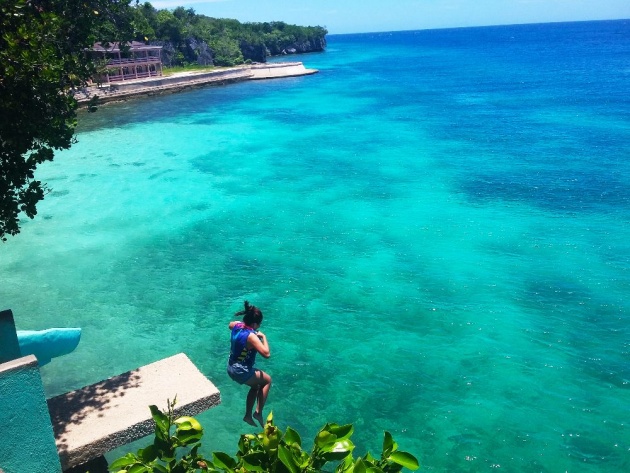 Image Credits: kneelyrac
But I tell you, your trip to Salagdoong is incomplete without doing this one. It's worth a shot; worth the displacement of your heart from your chest to your throat; worth the butt pain; worth the tears; worth the shout; in short, it's all worth it! Now, if you don't know how to swim then you can rent a life jacket for a hundred pesos ($2) and ask for the lifeguard to look after you. They also have a large lifebuoy if you want to.
I've said this in my previous blog that I know how to swim but I can neither hold my breath nor floating in the water, not more than 10 seconds. It took a lot of courage just to jump both in the 24 and 36 feet high jumping board almost 10 minutes to jump in a 24 feet high, but, as I've said, it was all worth it. I even ended up jumping thrice.
Just a reminder: If you want to jump then jump! Don't look down to avoid a sudden increase in nervousness! Just don't stop in the middle of running and jumping! It might lead to an accident.
When I was on the jumping board, I saw a dolphin, a turtle and a school of medium size fishes! Truly the water there is a combination of beauty and bounty. By the time the clock ticked to 3 in the afternoon, the water was starting to be in a low tide and it's risky to jump. With that, we went down and just had some snorkeling and some of them are doing some kayaking.
Entrance Fee: Php25/head
GOING BACK
My two-day stay in Siquijor was full of fun and memories! We weren't able to visit all the places like the Coco Grove, but I tell you, I will definitely go back here and be mesmerized over and over again. Truly Siquijor is one of the many islands of the Philippines that must be visited and included in the travel list!
I'm looking forward to meeting Siquijor by the year 2018, soonest and someday. Hopefully, at that time, I'll be able to carry the right gear so I can capture all the moments in a high definition.
I'll end my blog by sharing with you our travel video made by one of my colleagues, Reu Sanchez!
Video Credits: Reu Sanchez via youtube
Until the next blog guys!
- kneelyrac ~