SLIDING ROCK,North Carolina (pt 1)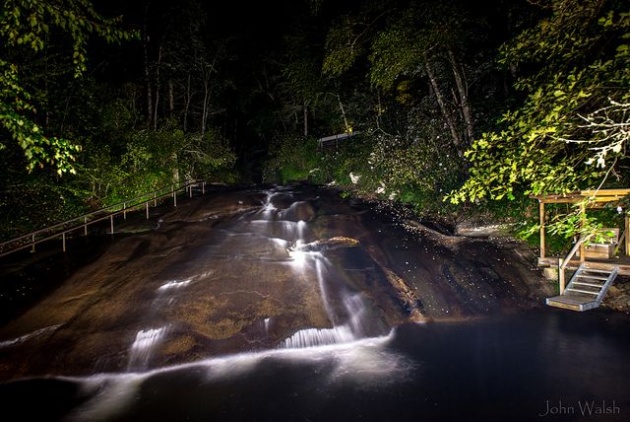 In this Blog I will briefly try to explain a little about the "Sliding Rock". Hopefully this information will come useful for somebody, and if not, I will try to make this as interesting as possible.
Brief History:-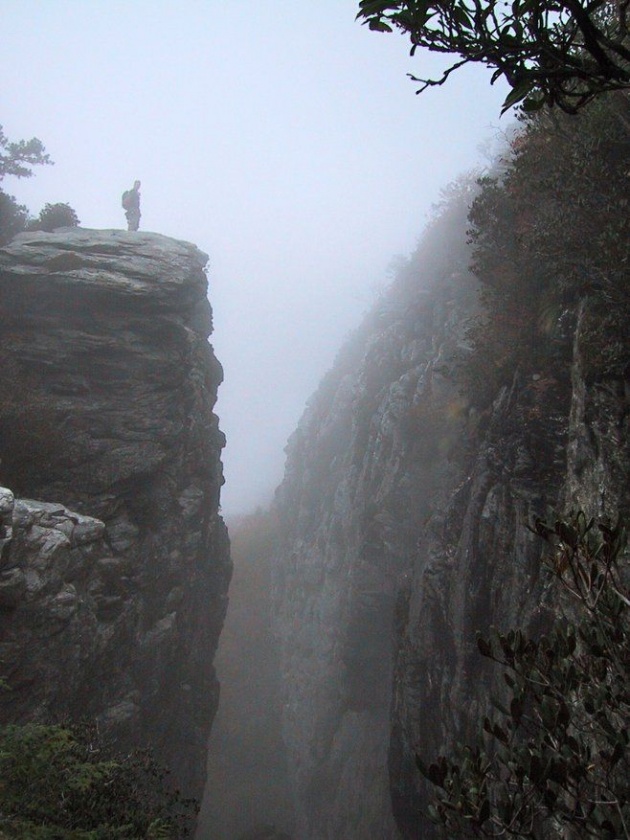 (IMAGE SOURCE: google.com)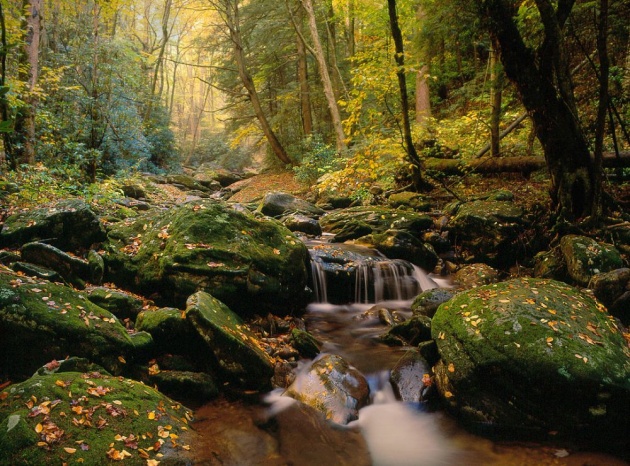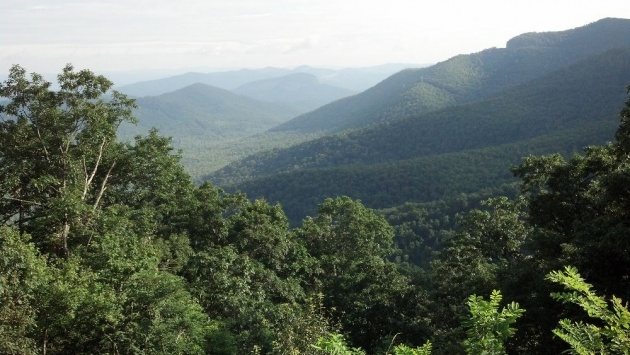 (IMAGE SOURCE: google.com)
Sliding Rock is Located in the United States first and North Carolina's oldest National Forest "Pisgah". The Forest first started out as a school in the 1800s, which was founded by the Vanderbilt Family. But the school designed for the preservation of the forest did not survive past the early 1900s. After Mr. Vanderbilt passed away leaving behind a widow and his estate's upkeep fell solely on his wife, who sold app. 89,700 Acres of Forest land to the United States government. The land was part of the Blitmore family Estate. Due to the excellent work of the United States Forest Services the original 89,700 Acres have grown out to app.. 500,000 Acres of Forest Land!!
Sliding Rock Location:-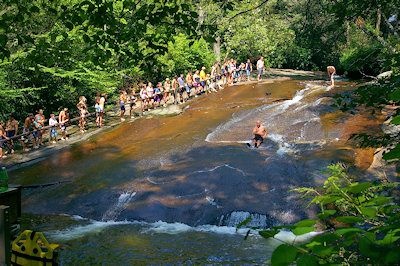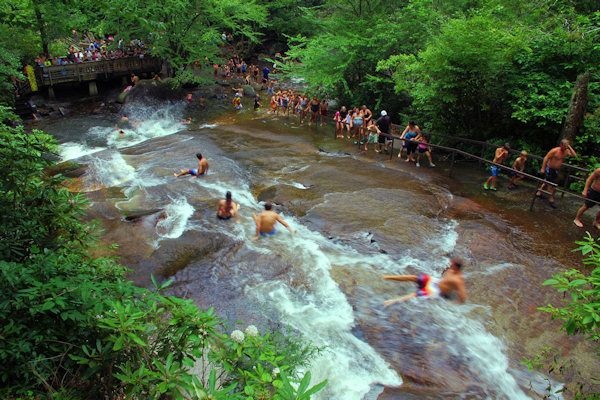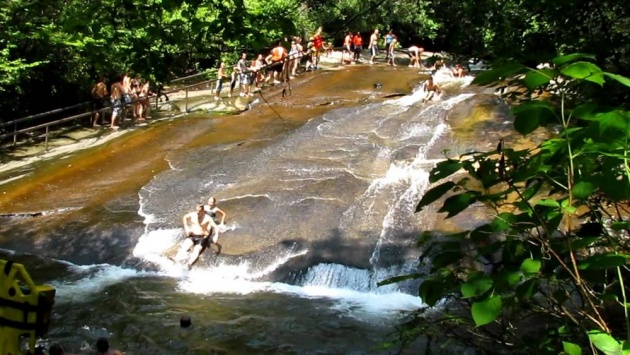 (IMAGES SOURCE: google.com)
The Pisgah National Forest is so Huge that it covers 15 Counties!! Sliding Rock is located 38 miles from downtown Asheville near Brevard, North Carolina. The Slide it self is a little mountain that is flat and its about 60 feet slid down to the pool. Oh there is also water (chilly 50-60 F) running down the flat rock about 11,000 gallons of it every single minute!!! People wait one-by-one patiently in line to slide down the sloping boulder into an 8 feet deep pool and stroke their way to the shore.
Hours of Operation and Rules:-
People can slid down the rock at any time during daylight hours. But lifeguards are on duty from May 23rd to August 16, from 10 A.M. - 6 P.M. Changing rooms and Restrooms are available and open when the staff members are present on site which is usually through Labor Day (Sept, 5th). From Oct. till April there is no staff on duty, but the sliding Rock is open. Also it is strongly recommended to NOT slide on the rock during thunderstorms and high water, people who choose to slide anyways, may do so at their own risk.
Fees:-
With so many people visiting the site, the Forest Services Department has set some very minimal fees. For Adults the fee is $2 per person when the staff members are on duty and children 6 and under are free. It is also free to visit during "off hours", but the restrooms are closed and annual/yearly passes are $25.00
Directions:-
Take I-26 East to exit 40 for hwy 280, then make a left on Hwy 280 W. and drive 16 miles towards Brevard. Once in Brevard, North Carolina, its a small town, there is a shopping center (Walmart store) on the right side and once you pass the shopping center turn Right onto Hwy 276 North towards signs for Forest Heritage Scenic Bywy to enter the PISGAH NATIONAL FOREST. Then, drive about 7.3 miles to a parking are on the left. Also, from Blue Ridge Pkwy take Hwy 276 South and drive about 7 miles.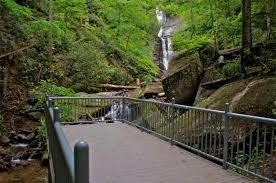 (IMAGE SOURCE: google.com)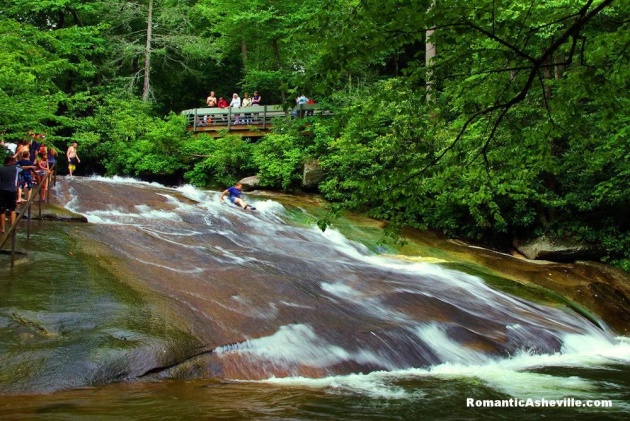 Tips and Hints:-
Children 7 or under must slide with an adult.
The area offers many observation points to watch the people slide even if you do not want to get wet.
Rugged Shorts/Swim suites and water shoes are recommended.
Lifejackets are the only floating devices allowed.
Since the parking lot fills up quickly best time to visit is during off peak hours of 12-4 pm in Summer.
Slide in sitting position and no Alcohol is allowed
Picnicking is not allowed in the parking are rather there are picnicking spots available are Pink Beds about 4 miles away.
Better to bring a little snacks because the nearest Food place is 8 miles away near Brevard!!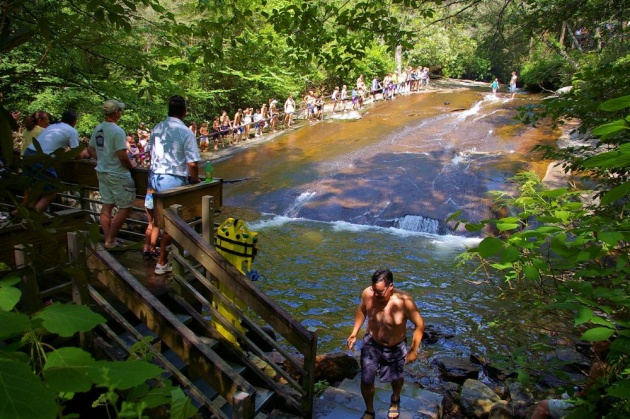 This is all the information here for this part, please check out my second Blog about this location for more details #Pisgah. Thanks!