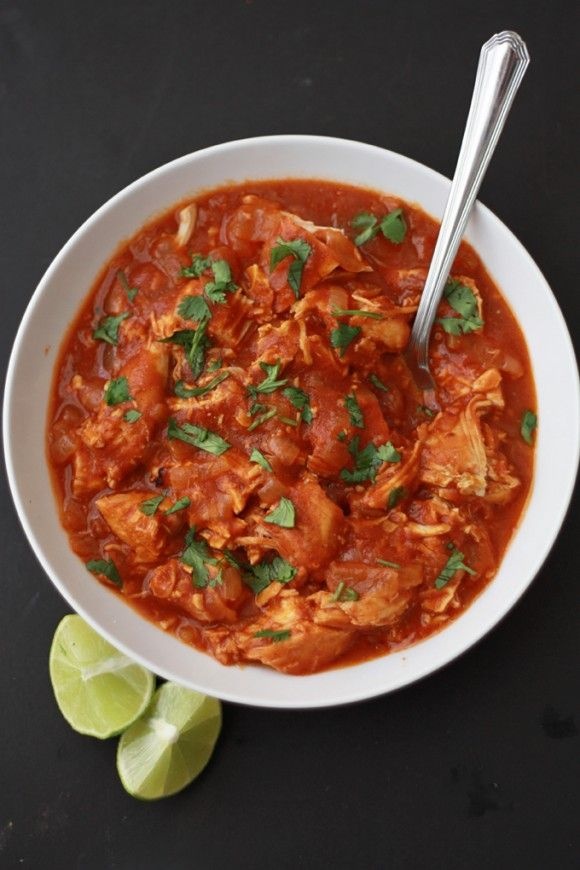 I love playing with some of our old favorite recipes and updating them. Sometimes, I'm just sorting out removing the dairy or gluten, others I want to make a bit more child-friendly, and some I'm just cleaning up a bit. This recipe for Butter Chicken happens to fall into all three categories.
I used our old recipe and made a few substitutions –I've used coconut milk + lime juice in place of the half and half and made the sauce more velvety by changing out the diced tomatoes for tomato paste. I've kept our same spice blend, and simplified the entire recipe by making it slow cooker friendly.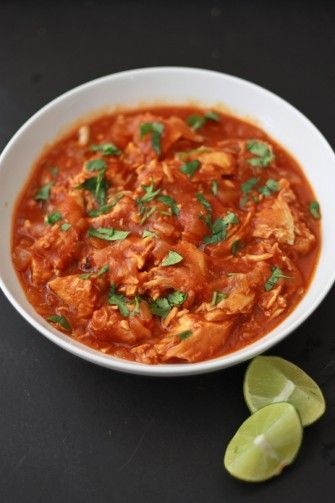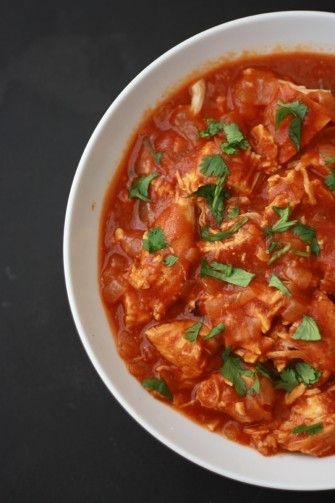 Right now, I'm in love with my slow cooker
. Since we've been in and out for doctor's appointments and extra therapies, our schedule has been a bit more hectic than usual, and I love the simplicity of having my meal ready when we walk in the door. I can prep when I have time, then set it and forget it till I'm cobbling together a few side dishes or a salad to tie things together. It's the best. The. Best.
This Butter Chicken has saved our bacon in the last month–we've made it 3 times, which almost never happens. The first time, we proclaimed it the best butter chicken we've ever eaten and were both so sad when it was gone. The second time, it was to make up for how quickly we finished it the first time. And the third, well, I made it to use as a freezer meal on a day when we had an easy dinner planned. It held up beautifully in the freezer fully cooked. I freezed it in a quart-sized freezer bag laid flat in the freezer till solid. Stored this way, it will thaw in 15-30 minutes in a pan or bowl of warm water, and you can pour it into a saucepan to heat up while you make a side dish and cut up some fruit.
I love it paired with green beans (confession: I mix the green beans and butter chicken together and eat it that way). Sophie and Milo eat it mixed into a little rice, and Michael pines for our old favorite naan. If you're grain free, it'd be smashing with some grain free naan, or some cauliflower rice.
It's warm and filling. The flavor is rich and savory without being overpowering, and it's not so scary to little ones as a bright yellow curry. It's a great intro to Indian flavors and it's bound to become a family favorite.
QUICK NOTE ON THE RECIPE:
Not sure you want to buy cardamom? It's one of my favorite spices. It's great in this Warm Spiced Granola, our Chai Spice Banana Smoothie, Pear with Gruyere Pie, Pumpkin Cake with Dreamy Brown Sugar Frostingor Gingerbread Waffles. I'm sure once you taste it, you'll find all sorts of good uses.
Cheers, and happy eating!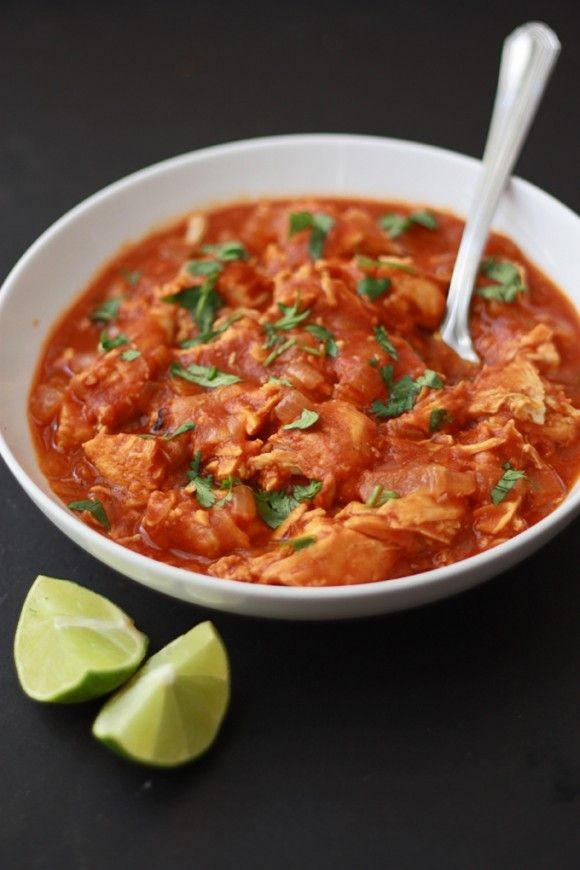 SLOW COOKER BUTTER CHICKEN (GF, DF, PALEO, WHOLE 30)
Author: One Lovely Life
Serves: 4-6 servings
INGREDIENTS
1 lb boneless, skinless chicken breast or chicken thighs
1 medium onion, diced
2 tsp coconut oil
4 cloves garlic, finely minced
1 tsp fresh ginger, finely minced
1 tsp coriander
1 tsp cumin
1 tsp cardamom
½ tsp salt
¼-1/2 tsp cayenne pepper (optional)
1 (14oz) can coconut milk (full fat, please)
1 (6oz) can tomato paste
juice of 1 lime
¼c Cilantro, or to taste
INSTRUCTIONS
In a medium saute pan, heat coconut oil over medium heat. Add onion and sauté until translucent and fairly tender. Add garlic, ginger, spices, and salt. Cook 1 minute longer, till all the spices are fragrant and amazing. Stir in coconut milk and tomato paste and stir until well combined.
Add chicken to the slow cooker. Pour sauce over everything.
Cook on high heat for 3-4 hours or on low heat for 6-8 hours.
Shred or dice chicken into the sauce, squeeze in lime juice, top with cilantro, and serve with your favorite vegetable, rice, or naan.