Video Credits: Small SEO Tools via YouTube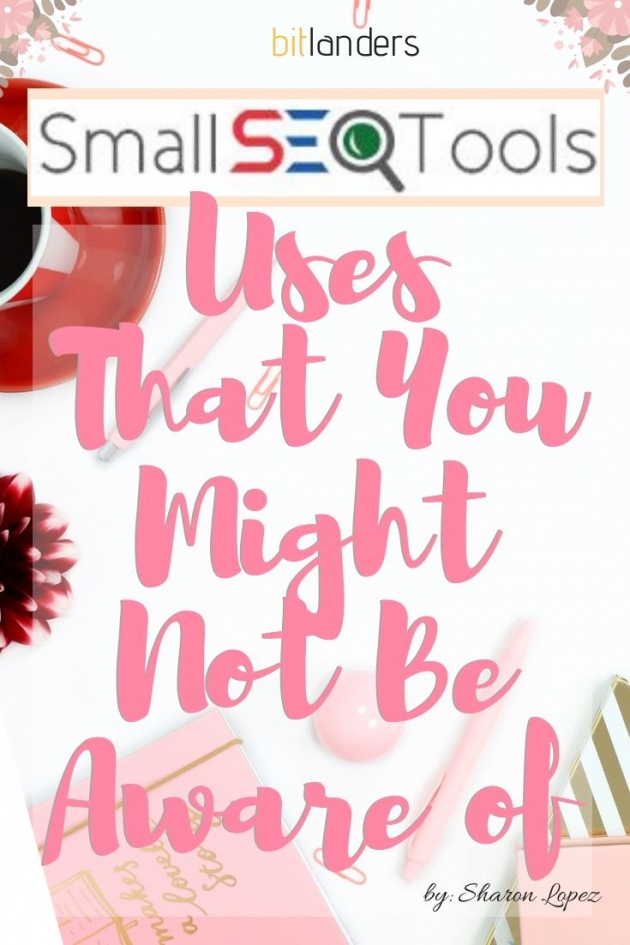 Image Credits: Sharon Lopez via Bitlanders
Small SEO Tool is quite popular when it comes to detecting a duplicate or a plagiarized portion of our contents. I usually use this tool before publishing my content whether in my own site or that of other sites that I currently work with. I would see to it that I attained a 100% unique content before finally publishing a post. Plagiarism is a serious issue that we should give due consideration if we want to succeed in the field of blogging. However, with millions of articles and blog posts circulating in the world wide web, it is somehow impossible to detect duplicate contents without the use of a reliable tool. With the use of the plagiarism tool offered by Small SEO Tools, we are assured of having unique and original contents every time.
When I discovered the importance of having a unique content, I conducted a research for different sites that could help me check the authenticity my contents. For several sites that offer similar functions, I found Small SEO Tools as the most effective, user-friendly and easy-to-use site. We don't even have to create an account in order to make use of their tools.
But did you know that Small SEO Tools does not limit itself on checking plagiarism?
Yes, expect more from the site by exploring more of the services they offer!
WHAT IS SMALL SEO TOOL?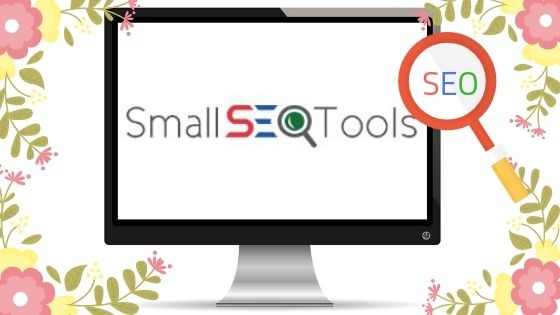 Image Credits: Sharon Lopez via Bitlanders
Before going further, let us first have a glimpse of the background of the site. Small SEO Tool was founded in 2010 by Tausif Akram, a well-known publisher, and entrepreneur. The concept of providing high-quality SEO tools is what drive the owners of this site to create Small SEO Tools. The objective is to provide premium quality SEO Services which is accessible for everyone. Meaning, anybody can access the site and make use of its services for free.
Small SEO Tool has a humble beginning. From a small company with a few SEO basic tools, it has already transformed into a company with a vast number of SEO services. Millions of people in the world are using their services and being recommended by popular websites and companies all over the world.
Here Are Some of the Services Being Offered by the site:
SMALL SEO PLAGIARISM CHECKER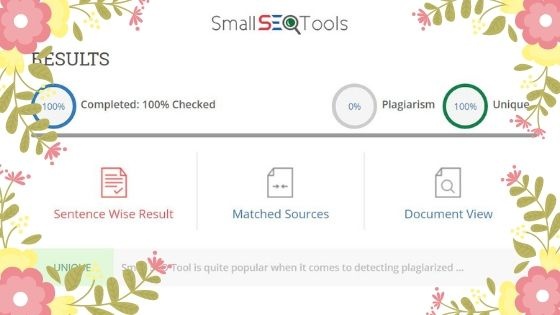 Image Credits: Sharon Lopez via Bitlanders
With today's advanced technology, everything could be possible. Some individuals would steal other people's ideas and would claim those as theirs. Google does not allow this practice and will penalize those sites with duplicate contents.
As professional writers and bloggers, we aim to be unique and genuine. We know the consequences of having plagiarized content so we want to check the authenticity of our work before finally publishing those. One good way of checking is with the use of a plagiarism checker. Small SEO Tool is a reliable tool when to comes to checking the originality of our contents.
With the site's simple platform, we can paste our content on the designated box and click Check Plagiarism button which is presented in a red button below the text box. We can wait while our content is being scanned. The process will usually be done within a few seconds.
Once our content has been scanned, we will be notified if the content has some parts which have duplicate contents appearing in the worldwide web. If none, our content will be declared as 100% authentic.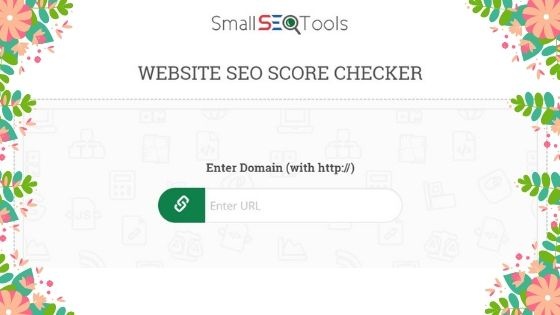 Image Credits: Sharon Lopez via Bitlanders
Here is another tool from Small SEO Tools that we need to know, the Website SEO Score Checker.
As bloggers who aim to bring more traffic to our site, looking into the performance of our blog is something that we should prioritize right from the beginning. In order to achieve our blogging goals, it is imperative that we know which part are we performing well as well as those areas that need to be improved.
We need a tool that could be able to tell us our weak and strong points, issues and how to resolves such things in order to raise our site's standard. Small SEO Tool is a reliable tool that we can turn to. We simply place the URL of our blog on the box intended for that purpose and the result will be given within a few minutes. On the image below, the overall score was given.
Image Credits: Sharon Lopez via Bitlanders
With SEO Score Checker, we will be able to know the SEO Score of our site. We will be given a code so that we can place it on our blog to let the readers know our SEO Score.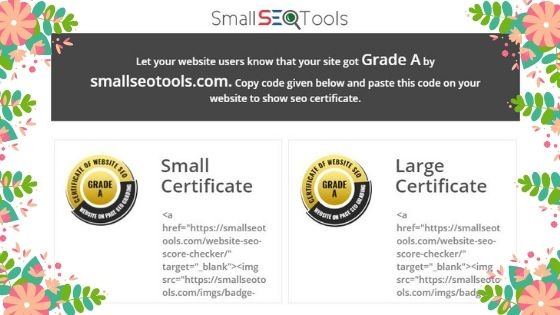 Image Credits: Sharon Lopez via Bitlanders
Additionally, detailed data of our site's overall performance will be shown giving us tips and recommendations on how to improve further. The site checks the 6 areas of SEO such as the General SEO, page screenshot, the keywords, social stats, server and security, and advanced SEO.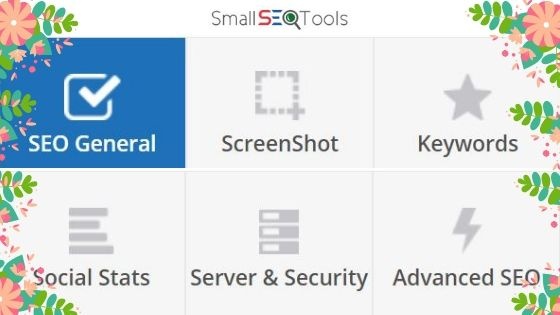 Image Credits: Sharon Lopez via Bitlanders
Moreover, The tool checks the proper use of Page Title, Meta Description, and Meta keywords.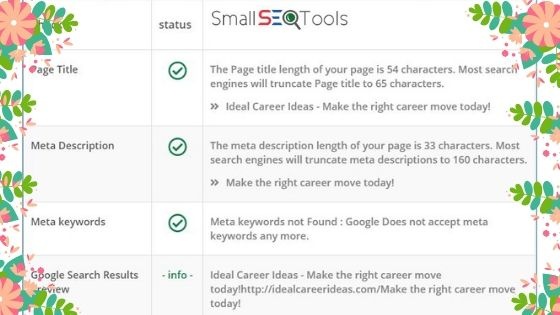 Image Credits: Sharon Lopez via Bitlanders
The Keyword Density Test, Keywords test, the use of Sitemap, and Proper Use of Headings among others are likewise being checked.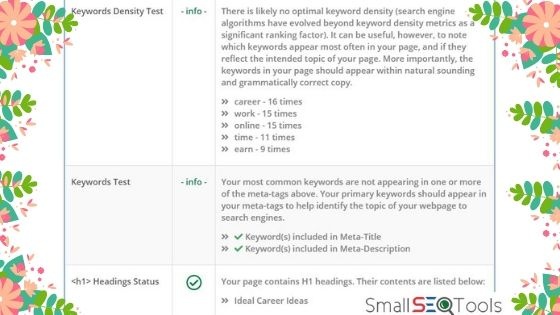 Image Credits: Sharon Lopez via Bitlanders
If you want to learn how your site is performing, run the test today. It's a great way to know the factors affecting our SEO Score in general.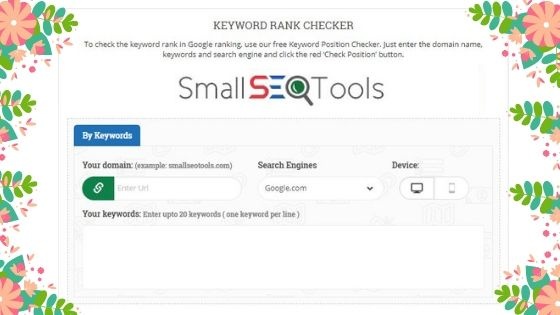 Image Credits: Sharon Lopez via Bitlanders
Do you know which of your keywords is ranking in the search engine? Small SEO Tools' Keyword Rank Checker is the best tool for this purpose. An effective tool to learn which of the keywords you are using is helping you rank in search engines.
How Does it Work?
We use keywords in order to get the top rank in the search engines particularly that of Google. However, we could not tell from the start which of the keywords we used are actually helping us to appear on the top pages. With the use of Small SEO Tools Keyword Rank Checker, we would be able to know which among the keywords are actually helping us rank.
The video below is a tutorial on how to use the Small SEO Tool Plagiarism Checker. Thank you for watching.
Video Credits: Karen Cafaro via YouTube
On the final thought:
Small SEO Tools does not only provide software for preventing plagiarism but for other SEO related services as well. There are a lot of SEO tools that you can use for whatever purpose. We will discuss those in my next blog posts. Meanwhile, you may visit their site for more SEO related topics, ideas, and tools which may be helpful in your blogging activities. Visit the site HERE.
Thank you, everyone, for dropping by. I hope that through this post, I've been able to impart additional knowledge that may be of help as we continue our online journey.
-oOo-
DISCLAIMER: The views and opinions expressed in this blog post are that of the author and does not in any way represent the agency or department she currently belongs.
ADDITIONAL NOTE: The sites mentioned in this post are for information purposes only and links are provided for easy access. The author does not receive any remuneration from the said companies or sites.
♥-♥-♥-♥-♥-♥-♥-♥-♥-♥-♥-♥-♥-♥-♥-♥-♥-♥-♥-♥-♥-♥-♥-♥-♥-♥-♥-♥-♥-♥-♥-♥-♥-♥-♥-♥-♥
Written for Bitlanders
by ♥Sharon Lopez
Date: December 05, 2018
Visit my blog profile for more ♥BLOG POSTS
Sharon Lopez is the Author/Owner of IDEAL CAREER IDEAS
Want to earn from sharing your opinions through blogging? Join us in Bitlanders and claim your 1 DOLLAR REWARD upon signing up. CLICK HERE TO JOIN