To make Dubai as the happiest city on earth.
The Smart Dubai initiative was founded following the vision of His Highness Sheikh Mohammad bin Rashid Al Maktoum, Vice President and Prime Minister of the UAE and Ruler of Dubai, to make Dubai the happiest city on earth.

Smart Dubai is the government office charged with facilitating Dubai's citywide smart transformation, to empower, deliver and promote an efficient, seamless, safe and impactful city experience for residents and visitors. Smart Dubai is committed to a collaborative and agile approach to Dubai's smart city transformation, empowering strategic partnerships with the public and private sector and academia to design and implement services and elevate citywide thought leadership, in line with its mission to make Dubai the happiest city on earth through technology innovation. - Information from smartdubai.ae
Technology is a fastly growing, constantly changing and is ever evolving into greater heights. What we knew today can change in just a finger snap so it is just right for us to have an open mind, to accept the inevitable and cope with what is commencing in our environment and in the world.
A few years ago, I have been given an opportunity to work in Dubai City in which technology is given such huge importance, where digital cameras are stationed to capture individuals who are doing things which are against the law. Where public train and bus systems are assisted by centralized technology and I have seen it in my own eyes how this city is giving their citizens, locals and expats alike the best services possible.
This time, Dubai with the insight and primary initiative of their ruler, is cooking something bigger, something that will make the city on sand the smartest and the happiest city on Earth.
Participate in the Smart Dubai: Making Dubai the Smartest and Happiest City on Earth Querlo Chat below to learn further about this amazing goal in the making: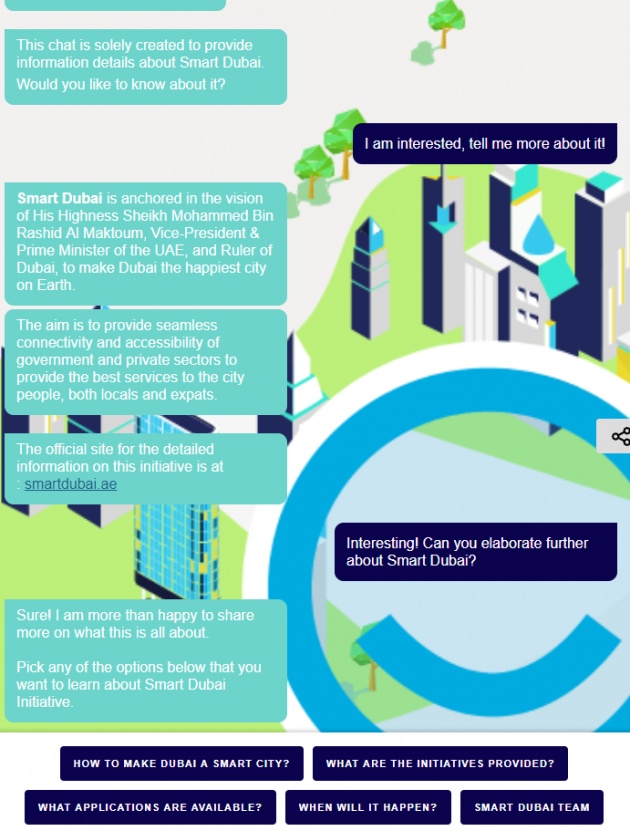 Image credits: Jean Beltran uploaded via bitLanders
Let me share some of the wonderful things which I have experienced there which I can´t find in my country. But before I give that, please don´t get me wrong as I love my country but I am just displaying here how technology can certainly change a city, and further a nation.
Dubai: Rich Sand City
Grabbing the world record as the city with the tallest building, it is still a mind-blowing fact that a city based on a desert could build such a tall and powerful building. Every single time that I visit Dubai Mall which is sitting just right next to the Burj Khalifa, the tallest building of the world, I have this awesome feeling. It was a blessing to be in that part of the Earth and I can´t contain my happiness whenever I could witness its Dancing Fountain together with Burj Khalifa´s light-emitting walls.
True enough, this mind of mine is too small to comprehend all that is happening. The mall with such beautiful sparkling ceiling, a huge aquarium in a public shopping center, beautifully made and accessible to all.
The same type of awe-ness was felt when I started seeking for a job and further started working as train and public vehicle systems are all centralized. I believe that this is not really unique in Dubai but it is still amazing to fully be emerged in this system where plastic cards are powerful to bring one to places, to different stations and other deserted stops only to find that a courier company is situated in a green building, fully powered by solar system and of which following exact time schedules is a trend, that being a minute late is a huge issue.
Getting a hand on government services is just a click and dial away, sending out a response is fast and has been given a dedicated lane. It struck me how fast their ambulance was when a friend of mine had an emergency and I was asked to accompany her in the ambulance. Our office was in the center of a desert, around 20-30 minutes away from the city but the ambulance came and we reached the nearest city hospital in less than 15 minutes.
Conclusion
So with the richness of Dubai and their aim to provide the best to its people, it is not impossible for it to grab the title of becoming the smartest and happiest city of all. I do believe that it is capable of such and their leaders have the political will to make this into a reality.
Thank you for reading! Happy New Year!
---------------------------
About the author:
Jean Beltran-Figues is a photography enthusiast.
A traveler who wants to promote her beloved country, the Philippines.